Extra Income Online jobs That Are Easy To Start
There are still ways to make money online, forget the get rich quick scams telling you you can make 1000s without doing nothing, you get nothing for doing nothing.But if you are willing to put in the hard work, you can make good money online at the comfort of your home.
We are going to look at some legitimate ways you can make extra income from the comfort of your home doing the things you love or things you are already doing anyway.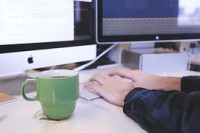 So What Are Some Extra Income Online Jobs
Be a content writer
If you like writing and enjoy doing it, there is a large market for you online, there are people looking for content writers all the time.
Before you get started, think of where you want to specialize, medical, beauty, dating the choice is endless.It`s advisable to start writing in things you enjoy so you can practice and expand as time goes on.
Join the many sites that connect writers and clients and be ready to deliver high-quality content.You may not have a lot of work to start with but as time goes by and you gain more trust, you will get return customers and before you know it, you`ll be making a good income online.
Sell on eBay 
eBay is a place where almost everything and anything can be sold and quite easy to get started.Have items in your garage you are not using, those old books, vintage cameras, old skis, unwanted unused presents and toys.
Consider it as getting rid of your junk and being paid for it.You can also sell new items on eBay.The good thing about eBay is that everything you don't need there is someone who needs it.Read my other article about selling on Ebay
Produce Videos
Some people prefer to watch while learning, you can teach your audience all kinds of things, anything you know how to do there is someone out there who wants to learn, you can teach your audience how to cook, how to apply makeup the correct way.
Videos are very lucrative and unsaturated unlike print material and you can make good money here.
See how easy it can click the image below to get started
Online Courses
Have you always thought of teaching but do not have a chance to teach in school?there are online schools which teach different courses.
How about opening your online school teaching Chinese, German, Igbo, Swahili and all the different languages out there?Get some Ebooks to familiarize yourself how to get started.
Or you can join my number 1 programme and learn how to get started.
Sell your own Work
We talked of selling on eBay, selling on eBay does not only consist of used items.you can create your own products and sell them. Are you creative,a good photographer and want to share your photos with the world? You can sell your creative work online and earn money from it.
Extra income online jobs do not always require learning a new trade, you can use the talents you have and start making money online from home.
Before you get started, to be paid for your online job you need to have PayPal an online payment system that will enable you to send or receive payment.
Want to join me where l learned to make money online? click below and create your own money making website.