What Is My Home Job SearchName:
My Home Job Search
Owner: Michael Anderson
Website: www.myhomejobsearch.com

Price: $29
One of the most talked about websites in recent times is myhomejobsearch.com.But what is my home Job search about?As the name suggests, this website is for people looking for home based jobs. But is my home job search legit? People have been scammed so often that being wary of such websites is natural.
To assess the genuineness of a website, you should know exactly how that website earns. So what is my home job search? Here is an assessment of the site, and I hope that after reading my home job search review, you will be in a position to decide whether or not this site is reliable.
Millions of people are looking for ways to make extra income online, and I'm sure if you are reading this, you too are looking to make money online.
Being home with your family and making a full-time income or making extra income without going to the office, working at your chosen hours appeals to most people but how do you know what to look for? how do you know if a program will deliver what they promise?
How To Join My Home Job Search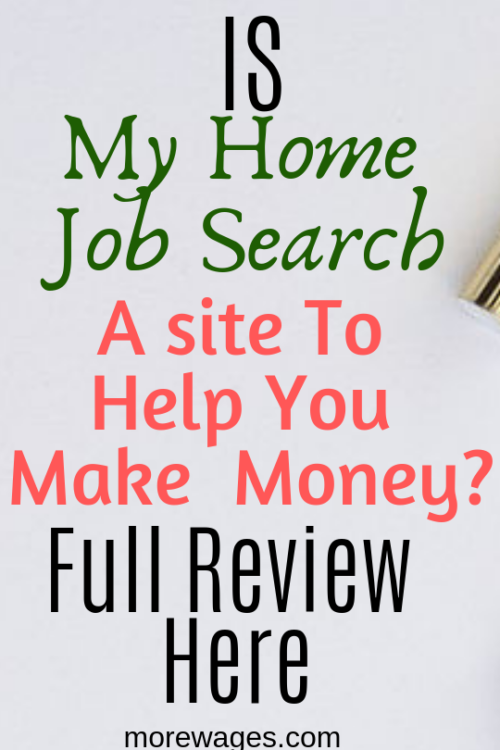 Signing up at my home job search is quite simple, you start by entering your Zip Code then you have to answer questions like how much you would like to earn weekly, the first option being $500 a week working less than 5-10 hours a week(bells ringing already) then simple questions like when you`re ready to start working or if you have typing skills.
One time fee of $29 Sign up fees:
You could join the website for free, or pay $29 to be the member of the site. The privileges of paid member include access to databases of employers to find suitable jobs. The free member can only earn from websites of
The free member can only earn from websites of my home jobsearch's affiliates, and that can't be much. In general, websites asking for money up front turn out to be scams. Even though the amount, in this case, is smaller, the same rule applies.
The Type of Jobs Advertised At My Home Job Search
The target market for this website seems to be those who have already burnt their hands at scam sites. Therefore, it does not offer you a fortune with some simple typing assignments, or other CAPTCHA work.
Instead, it gives you statistics about how the work from home trend is gaining momentum and companies like Amazon and Netflix are into offloading.
To make itself sound authentic it even lists the kind of jobs to be expected. This list includes jobs such as that of virtual concierge which the site claims would fetch about $14 per hour as starting pay.
Similarly, virtual customer service representatives' earnings are shown to be almost 30 dollars per hour and those of sales consultants are shown as 40 dollars every hour.
It suggests that people could find jobs here that would pay them almost 56 dollars per hour. That seems too good to be true for home based jobs.
But Then Why Fake Testimonials?
An honest site will not show fake testimonials, but "Scott from Arlington TX is a fake, the image is from shutterstock.com, stock images site the same goes for the other testimonies, all images are stock images. Does my home Job Search need fake reviews because you can not make money or because they do not pay?
Now it is possible that the guy uploaded that image there, and used the same image at My Home Job Search to give those testimonials, but the genuineness of the website now seems far-fetched you decide or read a post on Fiverr fake testimonials here.
Fake Ownership?
It's the same thing with the ownership. "Michael Anderson" the CEO of My Home Job Search, more than likely a pen name, maybe it`s ok to have a pen name, some of us have hard to pronounce, but the CEO of my Home Job Search gives stock photos as himself.
It is mentioned that you do not need any skills, you would become wary. and this is what made me write my home job search review, there is nowhere online where you get free money.
So it ambiguously suggests that you do not need to be a graduate. The employers would offer any training if needed, this is misleading, what they are trying to do is make you pay the $29 registration fee as no one will employ you if you have no skills.
Reliability Of The Jobs At My Home Job Search
It says it is offering verified "approved jobs", with guaranteed pay, and also has job placement service incorporated within.
This is just not true, as a freelancer, you only get paid if the employer approves work you provided. If you`ve outsourced or been a freelancer in the past, you know not all jobs will be approved.
If you`ve outsourced or been a freelancer in the past, you know not all jobs will be approved. Now before paying $29 to join my job home search, there are freelancing websites that cost you nothing to join and start making money.
The fact that the list of available jobs for any job details furnished by you comes up with the same number of jobs should be enough to suspect the genuineness of the site, but it could also be a problem with the software program.

My Home Job Search Disclaimer
The devil is surely in the details. It mentions that the site, as well as its services and products, are not endorsed, sponsored, certified, tested, reviewed, affiliated or associated with the big guns like Apple, Amazon, CBS, BBC News, Samsung, Forbes, etc. , and much more.
That, after having used video clippings or logos of those companies seems to be a deliberate attempt to induce a person to become a member of the site. The last few lines, however, contradict the entire content shown elsewhere.
It says "The typical purchaser does not make any money using this system", and "MyHomejobSearch.com does not guarantee income or success and examples shown in this presentation do not represent an indication of future success or earnings."
If the above inconsistencies and discrepancies have not thrown you off balance, there is one more aspect of this site which should make you sit up and think what is My home job search. As a free member you would be bombarded with products of affiliates of the site, and most of the services, offers, and products come at a price.
My Home Job Search review is not to say you can not earn money online, it`s to let you know it`s possible to earn money online without investing any money.My number 1 recommendation program to learn how to make money online is the same program where I learned how to build an online business from scratch. I would like you to check these 2 comparison charts to see what you prefer:
Conclusion On My Home Job Search Review:
From the looks of it, my home jobs research has nothing new to offer. It is just the same old things in another package. If you feel my home job search review has not convinced you it`s not worth the time, I`d like to hear your opinion.
As to scamming, taking $29 and not offering what you expect, is in itself sufficient to say it is not above suspicion. Freelance websites let you work on their sites without you having to pay a cent.