What Is Gaming Jobs Online
Product Name: Gaming Jobs Online 
Owners: ??
Overall Rating: 1/10
Price: $1 For 7 Day Trial, then $27 per month
Website: gamingjobsonline.com
Gaming Jobs Online is a website advertised to allow you get started testing video games and making money doing it. This is something that many people will find interesting because many of us love playing video games and the thought of being paid to have fun is appealing.
That was until I researched more about it and saw the sales page. Firstly, I knew right away without being told that there was no way to be earning what the website claimed. Can you imagine making $40,000 per year for sitting at home playing video games? Still, being paid anything at all to play games is appealing but making so much………..let`s be realistic here.
This is why I'll continue to run my online businesses and make my money that way and in my spare time I can play the games of my choice. Being that I create my own schedule, I can play games whenever I wish and only for fun than playing with the hopes that I will get paid to play.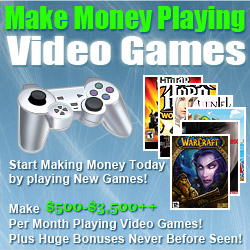 The Good And Bad Of Gaming Jobs Online
The Good:
This would be an awesome way to earn money online if it worked the way it should.
The Bad:
Shady Sales Tactics – These seem to be a norm when it comes to people offering make money online opportunities these days. You'll hear more about these tactics when I discuss the price of this program
Ridiculous Earnings Estimates – You won't be making this kind of money testing video games for companies because they honestly don't pay that much.
Unknown Owner(s) – I personally don't like not knowing who I'm paying money to. This is only another tell for the lack of value because if they truly had connections with these companies they should be proud to show their faces.
Waste Of Time – Once you pay to be a member of this website the only thing you'll become successful at doing is wasting your own time.
How Do You Earn Money With Gaming Jobs Online?

So how you earn with this program, well how you're supposed to earn is by testing video games for supposed big companies. A way you can supposedly be making these thousands of dollars doing something that so many love but if it was legit then no one would be working. I don`t think I`ll go out working if I could sit in front of my computer and make $3500 playing video games.
I also later found out what the real opportunity was behind testing video games. It isn't as lucrative as you would think or hope for. The two things that stuck out the most to me were that you won't enjoy the majority of the work because it is focused on discovering bugs and the pay is $10-$12 USD.
Another thing I noticed is that this isn't something you could only be doing from home. A lot of the main companies that offer these jobs require your on-site presence for work. Not for someone like me who live in a small village away from main cities.
Not as glamorous as it sounds. This is truly sad for people like me and you who would love to be testing out awesome new games and having early access to them as well. It sounded cool and honestly, a bit too good to be true and unfortunately, it was.
Gaming Jobs Online Support
You are supposed to receive unlimited support once you become a member. Support with any make money program is always a good thing but that is of course when it works. If it doesn't work or is completely useless then a lot of people would probably fail as there are many elements in any program that you need help with.
One thing you can expect from programs such as GJO that offer no real value is an unresponsive support team.
How Much Does Gaming Jobs Online Cost?
So as far as how much Gaming Jobs Online costs you have an option for a 7-day trial which costs $1. I found this to be nice and a trial like this is usually associated with a quality program but in this case not so much. After the initial $1, it will cost you $27 per month to test games. so join and enjoy playing for $27 a month but don`t join expecting to make money.
When I started to look around the website more I noticed a shady sale tactic which honestly wasn't to my surprise. If you try to leave the page you are taken to a new page which suddenly offers you bonuses. Why aren't these just offered in the beginning? because they want you to spend money on products you don`t really need or want.
In my personal opinion, any program that is offering bonuses should offer to every paying customer and not just the ones who are trying to get away from their website and aren't buying what they're selling. That being said I wouldn't get my hopes up of seeing these bonuses either.
Sadly this isn't the only tactic used by these people. When you go to buy the product you will see a special sale that ends in minutes or a day.
These are always there if you were to check you would see that it ends the following day. This is very shady because it would have you thinking that you are getting some kind of a great deal that will soon expire when in reality it is always available.do not feel pressed to buy if you don`t want to.
Yes, there are video game tester jobs but the pay is not what Gaming jobs online say it is so if you decide to join this program, be prepared for disappointment.
Final Opinion On Gaming Jobs Online
Product Name: Gaming Jobs Online 
Owners: ??
Overall Rating: 1/10
Price: $1 For 7 Day Trial, then $27 per month
Website: gamingjobsonline.com
VERDICT: Not Recommended 
Overall Gaming Jobs Online takes advantage of a dream a lot of people have which is to get paid for sitting at home and playing games. It does not, however, help you get closer to achieving this dream in any way. This program doesn't offer any real value and you'd only be wasting your own time.
Want Another Way To Play Games For Money?
I can't offer you anyway to test or play games for any large corporation and get paid. What I can do is show you another way you can be playing games and get paid for your opinion about the games. Check my earlier post on trying products and giving your opinion and why it`s not one of my chosen ways to make money online. The way I'm showing you creates a real online business that can earn you a full-time income and more.
I want to show you how you can get started with your very own website and get trained on how to play games and write reviews about them. You can find out how you can get started with your online business with my #1 recommended training program. This is a sure way of making money online unlike some programs that promise what they can not deliver.