Working from home is what many people desire because of its work flexibility. It allows you to give more attention to family and personal needs.
It might also be your ticket to increase your productive hours without being confined to the four walls of an office. But, how to get a remote job is a challenge for a lot of people.
Whether you are looking at increasing your productive hours or time to attend to personal issues.
Finding flexible work from home jobs that is suitable for you should increase your productivity is possible if you know where to look. 
I will walk you through various remote jobs and how you can enhance them for higher productivity. 
8 Flexible work from Home Jobs
1-Virtual Assistant (VA)

This workforce continues to grow as new businesses emerge daily. A lot of companies need assistance with their daily task.
They need help with tasks as high as content management and other minors like organizing mailboxes.
One good way to start as a VA is to search on freelancing sites like Fiverr and Upwork. They are gig-based jobs.
Your earnings can be as low as $5. If you are looking at earning a higher commission, you will be starting your own VA business after you have gained experience.
But that`s not to say there are no higher paying gigs, depending on the experience you can command higher pay.
2-Proofreading 
If you like reading and vast at spellings and sporting out grammar errors in write-ups, then you can be thinking of proofreading amidst the flexible work from home jobs.
Your task as a proofreader is to note spelling and grammar errors in the document.
If you are looking at starting one, I strongly advise you to go out for additional training but, it`s possible to find low-paying proofreading jobs that require no qualifications.
You can seek opportunities on job sites like Flexjobs and other freelancing sites.
3. Transcription
Transcription involves transcribing audio files into text. The unique thing about this flexible work from home job is that you earn based on an audio minute.
Audio minute refers to how long it takes you to transcribe a file from audio file to text. 
Companies you can work with on this kind of job include Rev, Tigerfish, and a host of others. As a transcriptionist, you need a good ear and be ready to type fast.
4-Online Tutoring 
Tutoring is one of the best flexible work from home jobs. How much you earn depends on the subject you teach.
While some may not have any rigid prerequisites but subjects like mathematics will need a teaching degree. Skooli.com is an example of a website where you can find tutoring jobs. 
Remember there are people looking to learn another language, so don`t despair if English is not your first language, you`ll find students who want to be tutored in another language.
5-Social Media Manager 
If you are vast at using social media platforms, you can help companies handle their social media content and marketing. Virtually every business now has an online presence.
While some of these business owners do not have time to manage their social media presence, others are not familiar with how it works on social media. 
It opens an opportunity to you to fill this gap. You can create, manage, and market content for this business.
Good enough, the tools you will need are scheduling tools like a tailwind, Hootsuite. They will require more of your skill than certificates and degrees. 
When it comes to earnings, this is one of the flexible work-from-home jobs that allows you to set your desired earnings. 
You might like
How to use Tailwind to increase traffic
6-Freelance Writing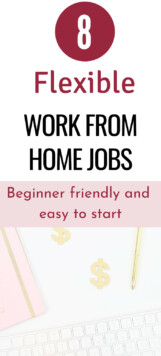 Here is another popular work-from-home job.
The demand for this job type is high and continues to increase as the internet continues to grow.
While you can start your own business as a freelance writer, you can also work at freelance writing sites like freelancer.com and hirewriters.com. 
The drawback to freelance writing is that most writing sites set deadlines.
To make this easy, you can always plan your work volume and the time you attend your writing gigs.
As regards your earnings, most freelance writers base their charges on the quantity of work they deliver. 
7-Micro Task
The microtask is well suited for people looking at making some side income during their leisure period. There are a lot of micro job sites that you can join.
They provide tasks you can complete within seconds, and their pay can be as low as $0.02.The good thing here is you can carry out as many tasks as you can.
Now $0.02 might not look much, but these are very short tasks done in minutes and you move on to the next microtask.
For this set of flexible work-from-home jobs, you will find a site like Mturk, Clickworker very uses. 
8-Blogging

It is the last on the list, but it is my number one recommendation amidst flexible work-from-home jobs. It may not be a source of immediate income but an investment of time and money that is worth it. 
There are various ways you can earn a decent income from your website. You can earn from advertising, affiliate marketing, selling digital products, and lots more. 
Starting a website can be a little challenging, but you can learn. A platform like Wealthy Affiliate makes both training and necessary tools available to you.
I did not know what a blog was when I got started and it`s hard to believe, but I thought WordPress had something to do with newspapers.
Blogging is very lucrative, but the thought of getting started scares most people, but you have no reason to be scared.
This platform took me by the hands and show me everything I know and you can join them too totally free.
How to be productive with flexible work from home jobs
The number of hours you decide to put into your work depends on you. You can choose to make it 40 hours per week or you want to work the normal working hours from the comfort of your home.
You must set yourself to be highly productive and you can achieve these goals in place, feel free to write down what you plan on doing each day and stick to it.
It will mean having a defined workstation in your house, making relevant tools available and functional, avoiding distractions, and creating a schedule for your work.
Below are proven strategies I have personally adopted over time. 
1. Set up a dedicated workspace 
Have a workspace that is quiet and keeps you off distractions. As much as possible, separate your workspace from where family members have access and ensure you use it for work alone.
2. Ensure you have a dedicated Internet equipment
If you can afford a dedicated wifi device, please get one for your workspace.
Separating your work internet connection from your house will help you avoid poor connectivity. Videos, Xbox games for your children will slow down your network.
3. Reduce distraction 
Distractions will decrease your turnaround time and reduce your productivity, avoid them as much as possible.
You can use noise-canceling headphones like these Bose QuietComfort 35 II Wireless Bluetooth Headphones to reduce the noise from your children in the next room.
One good strategy you can use is talking to your spouse about handling the children. You can take turns or use child caregivers when necessary. 
4. Include Socials in your schedule
You cannot work all day. No matter how dedicated you want to be to your work, it wearies out. You will burn out fast and get frustrated no matter how dedicated you are.
Plan to hang out with your family or other friends. For me, I start working at 9.00 am and stop at 4.00 pm daily.
That is my working time, I work as hard as I will in any office, no social phones, no Facebook(unless it`s work-related), no rushing to the fridge now and then for a drink.
That way, I can spend a good time with my family when I`m done working. It`s easy to be distracted when working alone so you need to be disciplined.
Conclusion On Flexible Work From Home Jobs
Whether you decide to start a business of your own or join other freelancing sites, working from home can be exciting.
But to be productive you have to understand your chosen industry,  be ready to learn, and improve your existing skills. 
There are enough platforms and courses online some free and some paid, you can learn just about anything.
This online platform has different courses from beginner to experienced members and you can get started totally free.
If you have any questions about working from home or finding online jobs, leave us a message below and we`ll get back to you.