An online hustle that can bring in some extra money on the side is never a bad idea. And as you can imagine, there are several online money-making opportunities in this millennial age.
But for the sake of this article, we'll be looking at blogging for beginners. What does it take to start one? How to get it up and running, content-related queries, and so much more.
Now please understand that this post may be long, but I wanted to explain things in detail.
Most experienced bloggers explain things but leave some basic stuff out, forgetting that starting a blog for beginners everything is new territory.
For newbies, perhaps the most common struggle is "where do I start!" Or am I equipped enough to operate a modern-day blog?
The truth is, you don't have to be tech-savvy or have taken a  course to become a blogger. It's one of those things anyone can hop onto and learn on the go.
Just promise me something:
1-Read the whole post.
2-Understand that blogging is not a get-rich-quick scheme, you get out what you put in.
3-Believe me that starting a successful blog needs only 4 things and nothing more. You don`t even have to be an expert to start blogging, let me show you how to create a blog from scratch in four simple steps. It`s the same steps every successful blogger follows when getting started.
So get rid of your mental block and let's begin to unpack all the intricacies that come with operating a blog.

Best Place to Start Blogging for Beginners
Unless you've had some experience with other blogging platforms, WordPress is a viable option for many reasons. One, it's simple and pretty easy to understand.
It comes with custom themes that help you to optimize the design of your website. It has excellent web hosting providers the likes of Bluehost. Plus, their 24/7 customer support is unrivaled.
Remember the easier it is to navigate a site, the better. Before you can learn the advanced features and extra tools, a platform that isn't complicated at first is always a good idea.
That said, let's get into the preliminaries of starting a WordPress Blog.
1.    
Find Your Niche
Before you can get into the details of creating a website, you have some homework to do. And that is to figure out exactly what it is you'll be writing about. This is like the overall mission or theme of your blog.
It is important to take your time and sift through different inspirations before concluding because this is what readers will identify your work with.
Once you have zeroed into one, ensure the topics you write about marry with your niche for consistency's sake.
You could choose to specialize in anything really, from fashion, health, DIY, art, tech, the list is endless.  But there's a catch. Discovering a niche is not merely a guess game.
There's the right way to go about it or else you might end up in the wrong field altogether.
A niche in marketing explained here in detail.
Ask yourself these questions
What is it you enjoy doing, or have a passion to teach?  It could either be related to your hobbies or simply a deep interest you have in a subject matter.
The good thing with picking something along the lines of passion is, it helps maintain a consistent writing schedule. It may not even feel like work.
What am I good at? (skills / experience)
Apart from zeal, draw from your previous skills or experience for a balance. This is what gives you some kind of leverage and may position you in the league of an expert. Therefore, the perfect niche is that which combines all three aspects (skills, experience, and passion) into one snazzy package.
Is there an Audience for My Potential Niche?
Now, the truth is you can create a pool of customers out of the most mundane topics as long as you have the right tools and angle. However, there are those subjects that already have a huge following and will not be so hard to garner traffic.
If you intend to break ground with a more uncommon niche, it might be harder and not the best approach for a beginner. So as much as you're striving to be unique, stick to what is familiar and add a twist to it.
It all comes down to this. And all the above components will add up to whether or not you can make money from your blog.
Give readers something valuable, say some tips, skills, pro advice, or downright facts, and they will keep coming back for more.
In other cases, it's your style of writing that pulls in readers.  Whatever it is, leverage on the same and you're on the right track.
You might like;
Understanding how to make money with your blog.
2. Choose a Domain Name for Your Blog
Simply, a domain name is an address that directs visitors to your blog without fail. This too will require beforehand research to discover whether the name you have in mind is available.
Typically, it pairs with a suffix linked to your web hosting provider.  For example, "www.yourdomain.com". In this case, we strongly recommend using Blue host for web hosting and we'll explain why in just a few.
As a beginner blogger, sometimes choosing a domain name might be challenging, so if things get too thick, you can opt to buy one instead. Be sure to work with reliable sites if you choose to go down this road.
Even then, double-check that the name is indeed no longer in use or wanted. Trustworthy sites to partner with are the likes of Domain.com, GoDaddy, and NameCheap.
The only problem with this is that it adds to the initial costs something averse to a budding business.
You want to save as much when you're starting so don't be afraid to craft a name from scratch. It might even prove more profitable if you can come up with a distinctive name.
Depending on your country, there are different extensions available. For instance, the most common in the US are ".com, .org, net."
By all means, strive to secure the .com suffix because it is more popular and what the majority key in when searching the web.
Important Reminders When Choosing a Blog Name
Keep it simple. Hyphens, numbers, and repetitive dots complicate domain names and may land users on an error page.

Make it easy to remember, pronounce and spell.  Less repetitive letters.

Loop it back to your niche. Let it communicate your blog's identity and what exactly you offer.

Make it unique and brandable. Personal names are a great start when intending to brand your blog and work great for influencers. For beginners though, it may take some time but the option is not off the table

.

Focus on sustainability. Pick a flexible name if you ever want to diversify the content therein and grow your audience base.
Why go with Bluehost?
Being that there are a ton of web hosting providers, you may be wondering why we are championing for BlueHost. Well, it's for the following reasons;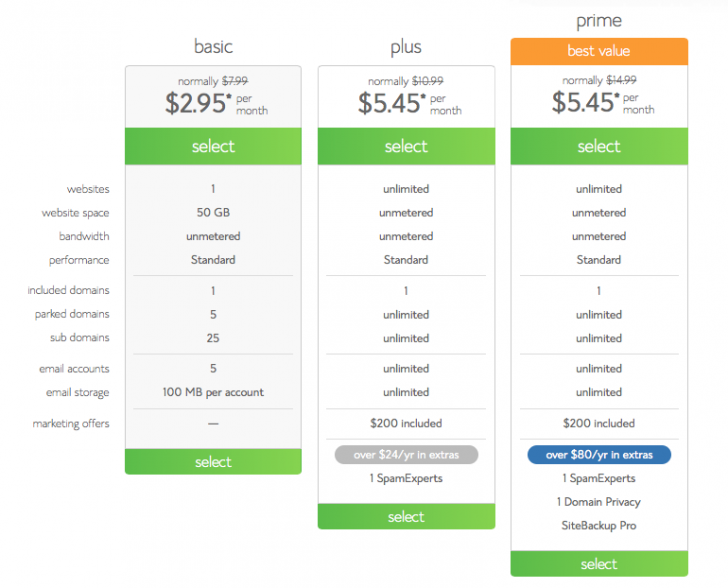 Affordability
Imagine 60% off your purchase when you choose to host with these guys. How cool is that! It's no wonder majority of beginners prefer Bluehost over other competitors.
Remember the cheaper the fee, the more revenue you have to spare for other non-evadable expenses. With only $2.95 a month, you're all set and that's a steal!
Free Domain
Remember the domain name we talked about earlier? With Bluehost, you don't have to pick your brains as hard since they auto-generate a domain name for you if you so wish.
Of course, there's the liberty to decide otherwise and create one yourself. But the best part about this option is it's absolutely free!
Round the Clock Support
When beginning, it's expected that you may have a list of questions regarding how to use the utilities provided.
Whether it's how to navigate the dashboard or customize your blog, there's a whole tech team just on standby waiting on you.
You can check here to see problems I`ve had with my other blog that I needed an answer to NOW.
As you can imagine, responses are almost instantaneous whether you choose to use a live chat or phone call. Such small details are what make all the difference.
Automatic WordPress Installation
Seemingly a minor benefit but this will save you a lot of steps and time that comes with installing the site. Your only task is to sign up for the hosting, sit back and wait for the magic to happen.
Time to Create an Account
Now that we have most of the groundwork done, all that's left is the actual opening of the account.
Again, this protocol is in reference to WordPress and BlueHost so in case you're using different providers there may be slight differences.
First things first;
Different plans fetch different price tags and BlueHost offers 3 options to choose from (Basic, Plus, and Choice Plus). 
For beginners, it makes more financial sense to go with the basic plan because it is comprehensive enough for entry-level bloggers. 
Sure you can scale it up to Plus but only if the provisions in Basic do not suffice. With time, as your blog starts to catch momentum, you can always upgrade to a better plan depending on what you need.
Pro-tip, longer terms attract discounted pricing. So say you select a 3-year contract, for instance, the fee is subsidized for you and you won't need to worry about hosting bills for the next 36 months.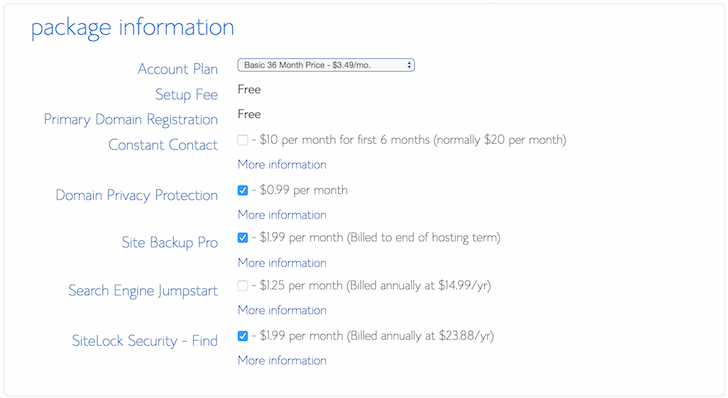 Enter Personal Information and Billing Information
The first is simple, basic information about location, identity, while the latter is how you will pay for the services. Credit cards or PayPal are viable options.
In case your domain name is already taken you could skip and click on the "create latter button" but if it's available then you can proceed.
For security purposes, you'll need a good password. Combine alphabets, numerics, special symbols, to come up with one that is not weak.  Be sure to save it digitally too.
 

Log into your account with the relevant details

 Fill in information about what type of blog it is
Answer the gaps to help you optimize your blog and paint a picture of exactly what kind it is.
You can also select a theme that will resonate best with your blog. You'll be surprised how incredibly well free themes work so before you can rush for paid versions, explore these.
 Let the installation process finish
As mentioned earlier, WordPress will be installed automatically so give it a couple of minutes for everything to be synched. And voila! You're all done. Now you officially have a blog that's up and running.
What Next?
Congratulations on reaching this far!
Now that you're here, you should know that the real work comes in creating meaningful content. We are in a Google-driven era where SEO pieces are what attract the most clicks.
So this is your competition. The goal is not only to be specific but equally relevant that you climb up the search engine rankings and gain greater visibility.
How to Create Great Blog Content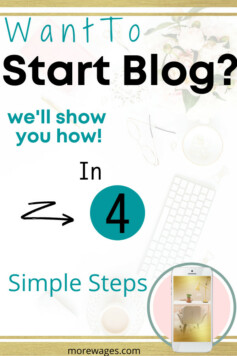 Typically, your content will be generated from in-depth research on the topics under discussion. But it takes more than great research skills to fine-tune your blog.
You have the internet for instance. A simple keyword search avails a drop-down list of related questions that web users are asking. The higher the ranking, the higher the clicks.
So for your content strategy, you may want to borrow some inspiration from top related articles and tweak your blog to suit what is most trending.
This way you stand a chance to feature in Google's algorithm. And while you do that, do not forget to use the keywords generously.
I use this tool to look for keywords, you can try it and get 30 free searches. Just enter a keyword and watch the tool do its magic.
In fact spread them across your main heading, introduction, subsequent titles, and even in the URL. Just be careful not to overdo it because then you will water down their effectiveness.
When at first all this comes off as tough, do not be discouraged. You get better as you keep at it and soon enough you should be churning out articles like a pro!
Fundamental Writing Tips Every Blogger Should Have
Fair enough a blog doesn't need a professional to run it, but at the baseline, certain principles cannot be overlooked.
Remember, your writing will either attract or repel readers just at the first glance. And for the latter not to happen, you need to;
Keep your sentences short and clear.

Avoid lengthy paragraph blocks. Keep it 3-4 lines maximum.

Break text with visual content and ensure the quality is crisp.

A conversational tone is good for building a connection with your audience.

Establish a flow from beginning to end.

Use correct punctuation marks to improve readability.

Subdivide your work with different subheadings to create a distinction.

Use bullets for quick summary points.

Employ a white background to make it easy on the eyes.

Proofread your work before publishing to correct grammatical errors.
Monetizing Your Blog
Unless you plan to run a blog for a hobby, the real objective is to make some money out of it. So here you are with an active website, excited and probably thinking money will start to flow in the next day.
It doesn't work that way. On the contrary, it takes planning, patience, and consistency before you can begin to generate income.
So buckle up for a ride and be willing to put in the work for the most part. Luckily, we have outlined some money-making strategies to help you get started on the right foot.
They include simple tips as well as more detailed approaches that could convert your blog into a real money maker.
Here goes!
Simple Quick Tips…
1.Polish Your Blog to Look Professional
Have a clean layout from jump even if you have nothing to post yet. This means a catchy theme, high-resolution images, and most importantly a nice profile or bio.
Your online audience is interested in knowing the writer behind the posts so take a clear picture of yourself with a warm smile.
Don't shy away from briefly explaining who you are, what inspired you to start a blog and your mission.
It's such small details that rope in undecided prospects and introduce a personal feel to your blog. Before you know it you have a loyal community behind you.
2. Create a Logo
The sooner you start treating your blog as a brand the better. A logo identifies you from other bloggers and could put you a step ahead.
It doesn't have to anything complex, just a fancy font some nice colors to go with it, and bam!  You're good to go.
If you feel you`re not confident in creating a logo for your blog, you can have one created very affordably at Fiverr.
3. Develop a Financial Strategy Early
If you're thinking to postpone this until you have a couple of posts up you are frankly planning to fail.
What if your article makes waves but there was no strategy in the first place. The multiple reads do not translate to money, which is such a waste.
So be wise and implement ways to get more readers onboard and convert that to profit. Prioritize this preferably before even publishing your first post.
The Tough Work…
To build on the monetization strategy, here is a list of practical ways to go about it.
Now if you`re going to join any affiliate marketing course they should be able to guide you through different aspects of blogging. This program offers all these and more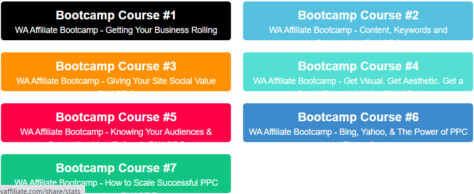 You need these courses and you need them in one place, I'm not a fan of investing in different single products as it makes things that complicated.
4. Affiliate Marketing
This is one area that if explored correctly can prove very lucrative. Using your blog to sell or market products on behalf of companies earns you a percentage commission of the sale price per item.
It's even better if you collaborate with a brand that you have engaged with before, say by using one of their tools, products, or services.
It means you have firsthand experience. And as long as it's within your niche, then it will likely be of relevance and benefit to your online audience.
Becoming an affiliate marketer isn't that complicated. Do a Google search of the brands you'd like to work with and check whether they have an affiliate program.
A huge advantage with this approach is that gives feedback on what goods sell best or poorly amongst your audience if you ever decide to start selling your own products in the future.  
Check this post explaining affiliate marketing in detail and why you should learn affiliate marketing as a blogger.
A different technique still in line with affiliate marketing is publishing review articles, comparison articles, how-to posts, the list goes on. Sponsored ads also make all the difference.  
Important reminder, when marketing as an affiliate, be sure to place the special links strategically in the blurb and the image.
5. Make Pinterest Your Friend
Social media is one of the quickest ways to grow your traffic online particularly when blogging. 
The best part about Pinterest is you can just as easily add your website to your account soon after verifying it. It provides an avenue to display your work hence getting several click-throughs to your blog.
Here's how to make the most out of this app;
Apart from your name and website, use keywords in the title and description to tell fellow pinners exactly what you do.

Go ahead and create board topics that match your niche. For inspiration look up suggested topics when you search the

keywords. Alternatively, pick up some tips from a top blogger with an interest in the same subject.

Expand on your board descriptions. Why? It puts you front and center in the smart feed algorithm.

The more specific your descriptions, the likely your board will get featured in that particular niche.

Pin more and pin consistently. There are rewards to using the platform frequently, one of them being recommending your boards and pins to new members.

Create attractive pin graphics. These can be modified as you keep fine-tuning your blog but at the very least let the visual display speak for itself.
6. Think of an Email List
Fun fact, emails convert higher than social media. You don't believe it?
Emails form a close-knit audience over which you have stronger influence compared to if you were selling blindly on social media.  They are personal and if drafted wittily can do a tremendous job of converting prospects to subscribers.
The thing with email lists is consistency. Whatever schedule you choose to follow, whether weekly or monthly, keep at it. Breaking the flow could lose trust and credibility amongst your readers.
So the million-dollar question is, "how do I create an email list from zero?"  You could gain momentum first with weekly newsletters to groups you are in, but either way a direct plunge right into it is doable too.
First, begin with an introductory email the kind that welcomes your audience and lets them know what to expect.  Generally, this is going to set the tone so take your time and think through.
Now onto growing your email list bit by bit. The secret lies in providing value to your readers so they keep coming back for more. Ever heard of freebies and incentives?
It's how you reach new visitors and convince them to stick around for more content.
Some great freebie ideas include a course, workbook, lessons, webinar, printables,  Ebook, guide, etc.
The catch however is reserving some special VIP content or deals only to paying subscribers. So as much as there's something for everyone, the crème de la crème is reserved for your loyal followers.
You could also throw in some discounts or first access benefits for this category of people as a way of luring visitors to join in.         
7. Schedule your Posts
Tools such as Tailwind are useful for this purpose. In case you're wondering why you need to schedule your pins, the answer is simple. Prime hours increase your pin's visibility and by extension that of your blog.
Automated pins are timetabled using a set and forget approach so you don't have to spend hours glued to your screen waiting for the right time to publish. Talk about ease and efficiency all at once. 
You can sign up for tailwind here and get a full month free if you use this link.
8. Promote Promote!
It's not easy to come out the gates swinging when you're just a beginner blogger. For the lucky few who've done so, kudos! But in most cases, this is not how it plays out.
Being that you need to make waves to generate income, get busy promoting your blog as much as possible.
Again, this is where social media plays a big role. Facebook, Instagram, and Pinterest are viable platforms that could get you noticed faster.
As for Pinterest, pin your post on relevant boards to gain traction. Start with personal boards before pinning on group boards. On Facebook, share on your wall, and don't forget to include the URL leading to your site.
9. Get to Writing
Now that you have the tools and knowledge, time to put down your first blog article. Remember the initial posts become the foundational ones, but don't panic if you don't get everything perfect.
The good news is you can always be back to make changes later. 
What you should focus on is developing an outline that will guide you into writing the most ideal post for your monetization strategy. Once you get the right foothold it becomes easier to produce better income-generating reads.
Above all, keep your spirits up. The first 3-6 months may not be as rewarding, but with consistency, hard work, and the right tools you should make your way to the top.
Conclusion On  Starting A Blog For Beginners
Hopefully, the above guide gives you a rough idea of what it takes to run a money-making blog. There's no better time to start than now, so kick away your fears, get your content up, and enjoy the journey. Cheers!