When I got started and could not qualify for Adsense, I didn't even know there were Google AdSense alternatives out there.
When it comes to monetizing your website or blog with Ads, Google AdSense is the most popular and most known amongst other blog monetization platforms.
But there are other platforms out there that you can use to monetize your blog even as a new blogger.
There are various ways of monetizing your website. Although other forms like the selling of digital products and affiliate marketing have been highly resourceful.
But making money from your blog with ads is one of those easy and quick to run forms of website monetization.
Amidst various ads platform, Google AdSense happens to be the most popular but not the only platform in the market.
If you are in search of another platform to replace AdSense or increase your ad revenue, there are Google AdSense alternatives you can take advantage of.
I have selected the best eight advertising platforms that can replace Google AdSense to monetizing your website.
While some will deliver the exact value, others offer additional value so you may need to shop around to find what works best for you.
Best 8 Google AdSense Alternatives
1-Media.NetMedia.net is the baby of Google's biggest competitor – Bing and Yahoo. It prides itself as one of those platforms that deliver the same benefits as Google AdSense.
Media.net is rated as one of the top 5 largest ad tech companies globally by market cap.
They proud themselves of a robust technology that auto-learn and displays the most relevant ads. The platform is easy to use, scalable with 100% uptime, optimized for high speed and can cope with high traffic.
When it comes to customer service and issue resolution, you can count on their team. They are composed of excellent account advisors and traffic analyst that are professionals in online monetization and advertising.
Their Minimum payout is $100, which is higher than some other Google Adsense Alternatives but the same as AdSense itself.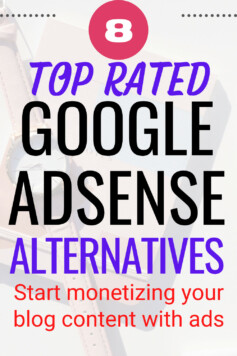 2-Amazon Associate
Without missing words, Amazon is one of the largest eCommerce stores in the world.
Lots of blogs and bloggers focus on Affiliate marketing with Amazon's product; they are not aware of the adverts. Amazon also has its share of the contextual advertising industry.
It is called Amazon Native Shopping Ads.
Native shopping ads enable Amazon to place relevant ads on each page of your website. They are a unique Google Adsense Alternative.
Unlike other ad agencies, they do not pay for clicks but pay for purchases. You only get paid when the purchase is complete. Their minimum payout threshold is $10.
3-Skim Links
Skimlinks is one Google Adsense alternative that prides itself as the world's largest commerce content monetization company.
The site generates not less than $2.5m of sales from over 48,500 merchants whose ads are spread on content from their 60,000 publishers.
They have grown to be a one-stop solution that provides technology and data to help you start and grow your content commerce strategy.
Skimlinks take off the worries of dealing with multiple affiliate networks. They have more than 48,500 merchants in their network.
They will scan your content for mentions of any of their merchants. On mentioning any of their merchants in your content, they will automatically add an affiliate link to your content.
It gives you a chance to earn an income even from affiliate networks you are not aware of. As regards payout, the minimum they pay is $10.
You might like
How to make money with Google AdSense.
4-Sovrn/Commerce
Amidst Google AdSense alternatives, here is another one that is closely related to Skim links.They will help you monetize your content by adding contextual advertising links to your content.
Like Skim links, they can also help you add affiliate links to products mentioned in your content.
Sovrn is unique and not like others that use banners. They only add links to content.
If you`re never sure where to add links or what products to promote, let Sovrn take care of that for you.
After you've been accepted to the program, they will automatically reroute product links and send users to the exact same product at retailers with the strongest commission. Their minimum payout is $10.
If you are looking for a Google AdSense alternative that has both publishers and advertisers in mind, then Infolinks should be a choice.
As a content creator, you can leverage their unique positioning to increase your click-through rate.
With their robust technology, you can be assured of delivering ads that are relevant to your content. Such that each of your ads engages with users.
Infolinks have their headquarters in Ridgewood, New Jersey, their market is spread over 100,000 websites across 128 countries.
6-Monumetric
Monumetric is another ad platform that enables bloggers to make a decent income while maintaining a quality user experience on their blogs.
Unlike other Google AdSense Alternatives, they use CPM, so you get rewarded per impression and not click.
Amidst CPM platforms, they offer one of the best rates, so you can be sure to make higher revenue than you would with AdSense.
The top of it is that they give a choice of not displaying ads from certain advertisers. Making it a good choice for increasing passive income
The drawback is their traffic requirement; your website must have a minimum of 10,000 monthly views.
They target publishers that can drive traffic to their advertisers. As such, you must be confident that you can do it.
I find this to be an issue especially for new bloggers who can not drive enough traffic. But by doing proper keyword research, you can find low competition, high traffic keywords.
I use this tool to help me find low competition keywords people are searching for. You can sign up and get 30 free searches.
7-Propeller Ads
If you are looking for one of Google AdSense alternatives that can provide native banners with contextual ads or ads that move users to the most relevant offer via smart links.
Propeller ads should be a go-to for your business if you are out for aggressive marketing tactics, Propeller is also well suited for you.
With this platform, you can still send ads to users after they have left your website using push notifications. They are also vast at using popunder and interstitial ads which appear after specific pages.
Popunders can be a real distraction and cause a very poor UXP so you should really limit the number of ads displayed.
When it comes to payout, they have a friendly system. They offer a weekly payout, and you can withdraw as low as $5.
8-PopCash
As just mentioned, creating ads with popup and pop-under does not create the best user experience. A lot of users get annoyed when ads continue to pop up when they visit websites.
But lots of advertisers still make them their choice method of advertising owning to their high conversion rate.
As a publisher, you can also take advantage of this high conversion rate but joining PopCash.
Registration and acceptance are quick( it takes less than 1 hour to be accepted) you need just $10 to cash out.
You can earn more by referring  your friends and earn 10% passive income from their activity without any limits.
If you`re looking for AdSense alternatives for instant approval then pop cash is your top choice and as the payment is so low, you can have money in your bank account faster than waiting for Google Adsense's $100 minimum payment.
It`s also our top choice when you think of any AdSense alternatives for small websites.
They specialize in displaying ads with a popunder ad scheme, where ads are displayed via new windows under current browsers.
Your traffic rate is not dependent on just your website visitors but on diverse factors.
When it comes to payment, they make payments daily and have a minimum withdrawal of $10 and advertisers to are allowed to make deposits as low as $5.
My Recommendation
Now, flex offers work like Skimlinks or  Amazon Native Shopping, and although they do not pay you for clicks, this is a platform that pays you when a user makes a purchase.
With Flexoffers.com, it`s easy to make extra income as you can invite as many friends as you like and make 10% passive income from their income.
Best AdSense alternatives for small websites
Selecting one out of the numerous Google Adsense alternatives can be challenging.
They all have something to offer, you will be considering the types of ads you want to display, how much control you want on your ads, and how aggressive you are with monetization.
Create a high traffic website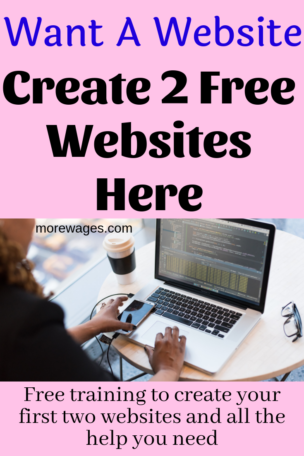 Struggling to create a successful website? You don`t have to do it alone this platform lets you create two free professional websites in minutes.
Best of all, it`s free to get started and you can have your website up and running and start making money online.
Click here and create a free website with help from online marketing experts.
Worth Mentioning
The list above does not complete Google Adsense alternatives but accepts new blogs with less traffic. Sites like Mediavine will only accept you once you have over 50,000 sessions a month ,so this keeps out many new bloggers.
Their payment might be higher, but it all depends on the amount of traffic you drive.
You can start with smaller sites then move on to the larger sites as your site continues to grow.
Conclusion To Google AdSense Alternatives
Blog monetization with ads is a hands-free way of making money online, all you have to do is drive as much website traffic as possible.
Some bloggers make more money online with ads than selling products, you just have to find what works for YOU.