If you are into selling a course online, the chances are that you have come across free Udemy courses.
The program not only allows you to design and sell courses but also popularizes your work by adding your content to their gallery.
If your target audience decides to buy your course, Udemy will take a percentage of your earnings.
The platform may have helped people get creative, but it isn't the best place for ambitious people.
If you are looking to grow your business around selling courses, this Udemy review will highlight some of the reasons why it may not be fit for you.
Worth Knowing Before You Start Using Udemy
1-Udemy relinquishes your rights of ownership
As a course creator and seller, you will want to establish a personal relationship with your prospective and returning buyers.
Getting either negative or positive feedback gives you the zeal to improve your creative course skills.
But what happens when you lose your rights of ownership?
When you fail to get 100% of the revenue or don't own the platform, you cease to have full control over your key business elements. Imagine if you had your own site.
You won't have to split revenues or lose ownership of all of the student data.
That not only leverages your site for better marketing, but it also gives you full control of your business.
2-Not ideal for something with long-term growth potential
The only way your business can establish years of trust is by gaining full control over it. Udemy doesn't let you do that.
They take over some of the complicated tasks that business owners have to manage.
Because it is a prime real estate, tasks like adding watermarks can be daunting if you decide to do it on your own.
As an ambitious course creator, you will benefit from watermarking your course videos with your logo. This helps you to establish your brand even if you are a startup.
But when you upload it on Udemy, the platform will prevent your target students from seeing your brand.
So if you want to sell courses and grow a business that gives you full ownership, it is advisable to use a different platform designed for course creation and sales.
3-It exposes your strengths and weaknesses to your competitors.
Now that your work is out there for all to see, you risk losing your credibility to your competitors.
Imagine what they would do if they discovered some of your weaknesses. They will use it against you to steal some of your clients.
You are better off creating your site or seeking assistance from other platforms that won't steal your highest selling points.
4- You Don't Get Access to Complete Analytics.
Once you sell your courses on Udemy, you will only see your buyers' names and how much they spent on them.
However, you won't get access to the student's email address or even their personal details.
This not only prevents you from personalizing your services, but it denies you the opportunity to reach out to new prospects.
In short, Udemy won't let you know about the detailed analysis of the course purchases made by your students.
5-Denies you the chance to sell your course effectively.
As millions of students across the world continue to use Udemy, it won't be easy to make a decent profit from your skills in course creation.
The platform only offers courses for as low as $10 sales throughout the year to market. Mostly, students will choose to go for the $10 courses because of the financial challenges they may be facing.
This will prevent you from generating a good amount of money, but there is a way out.
In as much as Udemy coupons are available, you can still offer yours to prospective students.
When a student uses your coupon to buy an online course, you will earn up to 97% of the total revenue generated from the sale.
The downside is Udemy will put ads from similar offers on your course without your permission.
Free is good, and the free Udemy courses are a blessing for those looking to learn something new and have no money to spend, but what's the point in creating a free Udemy course?
This brings us to the question:
Why are some Udemy courses free?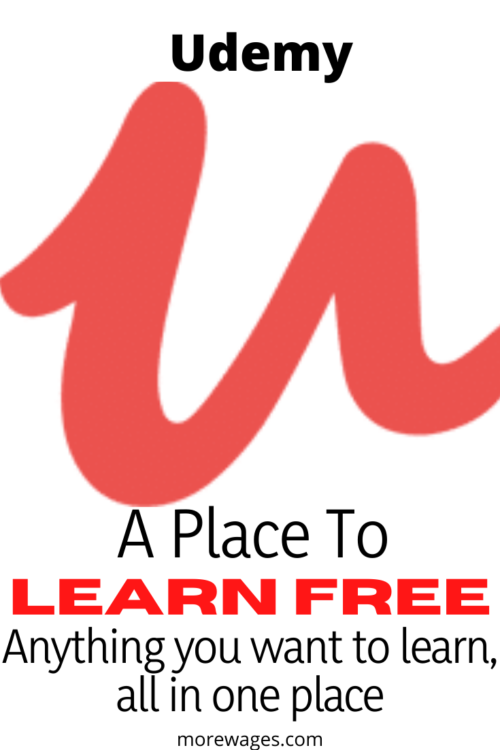 The answer is simple, the course creators are promoting a launch, or let's say promoting themselves.
The more course sign-ups, the higher their course will rank in Udemy, and like in any search engine.
The higher you`re ranked, the easier you are to find, giving you more exposure.
what better way to get more signups than to offer something people want for free?
You`re not going to Udemy to look for a course free or paid and go to page 10, you will certainly start checking courses on page 1(the higher-ranked courses).
It's worth mentioning that free online courses are not only on Udemy, but many online marketers will also offer a free course(usually a starter course) to get exposure.
Then they will let you know that to get more of the course, you have to purchase. You`ve tried it out so you decide if it`s worth it or not.
It's like going to the supermarket and being offered a sample of a new product to try.
The sample is just small, but if you like it, then you`ll start buying it, it's similar in with Udemy free courses and it's a win-win for the course creators to offer courses for free.
Verdict
For you to build your online course creation business, you need to dig a little deeper into your pockets.
Udemy only offers you the chance to do it for free, but it isn't the most lucrative option you have. With this in mind, get away from your comfort zone.
Go for alternative online learning platforms that give you an edge to a viable source of passive income, and give you an excellent opportunity to market your course.
Instead of spending time creating a course to sell at $10 in Udemy, how about other platforms.
Ok so you can`t create a course but still want to earn passive income online. It`s still possible, affiliate marketing is the best way to earn money online without creating a course or dealing with clients.
You create a free website, find products to promote, drive traffic to your website and if you make a sale, you get paid a percentage. It`s as simple as that. How affiliate marketing works explained here in detail.