One of the first questions I had when I got started blogging, was how long does it take to make money blogging?
Looking back, I could slap myself in the face for even asking.How could I expect to make money blogging when I did not even know what WordPress is?
The most common question I get from newbies who recently got into blogging is "how long will it take for me to earn from this" or "does it take much to start earning from a blog?"
Well, I would be lying if I would say to them "sooner", but there is no specific answer to this question.
However, just like any other investment, a blogging business requires a lot of patience from you.
Laying a good and a strong foundation for your blog is a very key determinant, as to how first you could start making some bucks from your blog.
If focused, determined, and with a good strategy, you can probably start earning within a year or less. But then, there are some blogs that never make money.
But, only if you take action, blogging is not about posting content then you`re done.
There are social media and backlinks, on-page and off-page SEO to help rank your blog.
Forget the quick earning, or the pressure from those who started earning.
With a lot of precession, a good plan, and good execution, your blog could earn you a lot and for a very long while.
Nonetheless, understanding what would make your website grow first is vital.
A well-built website would generally reflect good results on its own. Below are some of the factors to consider for growing your website.
These are not in a  specific order as we feel all need to be done at one time or the other and you might want to do things in your own specific way.
Having said that, we`re assuming that by this time you are already familiar with creating your own website.
Quality Content Creation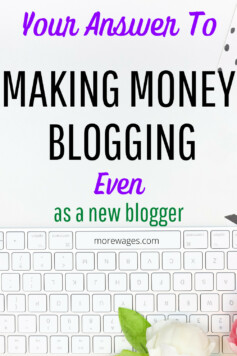 Writing is the basis of the blogging business. The quality of your content would determine how quickly you will start earning.
If you write creative content, readers will automatically come back for more.
However, if your writing sucks, no one would be interested in even finishing the first one.
What and how you write, will prophesy how far you can go with blogging, and how first you can start earning from it.
If you`re not a good writer, you can always get quality articles written by talented native English speakers at affordable prices here.
Niche/genre
This is a key factor that will eventually determine your success while blogging. When it comes to blogging, is mostly advised that you go for a niche of your specialty.
Writing and posting about your hobbies or talents is well recommended.
Unlike choosing another genre, blogging about your hobbies and talent will save you from boredom since you will be actively participating in everything you will be talking about.
Additionally, it is also advised to get into a niche that would attract many readers. This will place you in a position for your blog to grow and earn faster.
Profitable Niches
Every niche can be profitable, it`s only a matter of finding the right way to monetize your blog.
Some niches may be more profitable but understand that the niches that pay the most like hosting are also the most competitive.
For your first blog, you want to choose a niche that`s easy to monetize and the competition not so stiff.
How can you know that your niche is profitable? it`s by doing niche research.
This post will help you understand more about choosing a niche and what to look out for.
Learning Search Engine Optimization (SEO) Techniques
With SEO skills, you are equipped with skills to link your content to the readers.
You could learn how to set up keywords (search terms), which would be easily accessible to people when punching into search engines.
Setting up longer keywords would be best since there are already tons of short keywords, long-tail keywords are easier to rank higher in the search engines as everyone is going for the short hard to rank for keywords.
This would make you stand out from the rest. Get 30 free searches with the keyword tool below.
Learning skills in web designing
People coming into your websites might be excited by your content but turned off by your web graphics.
Better website designs would complete the feeling of satisfaction they receive from reading your content.
A good display on your website's background, quality images, and videos on your website will also play a big role in determining who comes back for more of your content.
Thankfully, WordPress makes web design so easy with drag and drop templates to choose from.
You don`t need to code, choose a WordPress theme that works for your blog then drag and drop.
Analyzing competitors
This is another factor that will facilitate the growth of your blogging business. In whichever genre you choose to specialize in, learning from the best would be a hack of being the best.
Establishing their strong points, how they do their work, and emulating the same would also escalate your chances of being at the top with them and start earning faster.
This however doesn't necessarily mean that you have to be a total copycat. Bringing in your new style and creativity would place you at an advantage.
Remember
Another blogger`s income is theirs, you don`t know how hard they work at it or how long they failed before succeeding.

Bloggers will happily show you "their income report" but believe me from experience, most will not tell you what they did to get there.

"It`s mostly things like" this course is what helped me make XX amount per month".Then they`ll put their affiliate link to some useless blogging course they are promoting.

Believe me, I have bought into the hype so many times, buying useless course after useless course, all along, loosing money while they proudly have more income report to show,finding more training courses and programs to increase in their so called income reports.
Interactions With Other Bloggers In Your Niche
Not only will you get to learn new things from them, but you will also get to share links which would, in turn, add traffic to your blog.
In addition to, getting to know their experiences, their journey all through blogging and testimonies, you can grasp some of the "do's and don'ts" of the industry early.
So, how long does it take to make money blogging? there really is no right or wrong answer, as you`ve seen above, there are different pieces to put in place to make a whole before you can start making an income from your blog.
My recommendation To New Bloggers
Without sugar coating things, vlogging and making money may require some investment on your part.
Now instead of learning everything differently, paying for courses individually, how about joining a program with ALL  the tools in one place. Individual courses can be very expensive.
Everything about blogging, keyword research, creating a blog, backlinking, website traffic, affiliate marketing training, and everything else you need all in one place at an affordable price of $1 a day?
This course has all the tools in one place and will guide you even if you`ve never made any money online.
The course has been creating very successful internet marketers for over ten years. Created by integrity-driven marketers and home to very successful online marketers.
Parting Shot
Starting up a blog would require a lot of patience for you to start earning some cash. Just like any other investment, blogging requires a lot of dedication and hard work.
Investing your time and money in your asset (website) will surely pay you back but it would require a good strategy.
Without the skills, it would take you time to grow and start earning. However, taking the right course would provide a good skill set to blog properly for long-term profits.
Always choose courses carefully, there are endless courses out there mostly junk. You`ll end up wasting time and money if you fail to choose your blogging courses well.
This post shares tips at what you should look for when choosing blogging courses.Even as a hobby blogger, you still need to set up your blog properly.