Blogging is one of the ways to reach the masses. The Best Blog Templates when blogging improve the readability and ease of use. This makes it crucial to choose the best blogging template for your success.
When you need to promote your product or service, or just want to reach people to ensure they read your content, choose your template wisely.If you`re unsure what a blog template is, it`s explained in detail here.
If you are a novice, and struggling to find the best blog templates for beginners, here are top choices for you.
Cali
This free WordPress theme is a perfect place for blogging. You can write anything here. It can be a magazine template or a place to pen down your travel experiences. The exciting thing about this theme is that it has enough space for the viewers and it is highly responsive to be viewed on smaller devices like mobiles and tablets too. 
The color adjustments are numerous, and you can make them suit the logo hue. Also, social media buttons can be inserted with ease here.
Bounty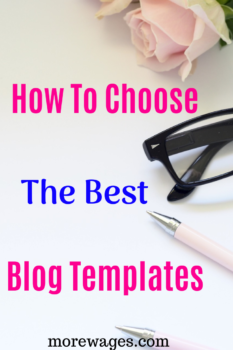 For a fast and dependable blogging site, then you need to consider Bounty. This is the blogging template for bloggers of multiple passions and interests. The myriads of options help you in finding the best choice for your content. 
You have opportunities to change the settings of the template or use the default as well. The professional look ensures the template suits your product or service and marketing blogs too.
Wordify
When your content needs to get the maximum attention, a minimalistic approach to the design is required. This is what the Wordify can offer you if you are an avid writer. This is an apt option if you are looking for building a community.
If your search is for the right blog for the SEO articles, it ends at Wordify. Contact form, social button, pagination, scroll bar, everything would perfectly meet your needs.
Quitelight
If you run a blog that is not about business, but only getting connected then Quitelight should be your choice. This Bootstrap Framework template has everything the modern-day blogger needs. 
The blog can handle readers across the globe seamlessly and can work perfectly on all the browsers. The boxes and widgets are neatly arranged, increasing the readability.If you`ve not yet created a blog, here is a post that will walk you on how to create a free website using siteRubix.
Cenote
If you are looking for light in weight features, then Cenote should be a good go. This WordPress blog is perfect if you are going to write for your pleasure and passion. But that does not prevent you from using it for making money.  
This flexible template is loaded with various features and has multiple options for colorsand this is why I consider it one of the best blog templates.
You can play with the widget areas by placing them on the header or footer. It has a responsive design and has a pack of social icons. The Custom CSS can make you go happy if you are an advanced coder.
Blog Way
The template from WordPress offers a clean and neat look and can be used for multiple niches. The readers can be directed to your social media sites with the widgets available here.
If you want to build a community, then you would certainly appreciate the comment threads. It integrates with WooCommerce with ease. 
For those who are planning for an online store, this blog should be the most right one. If you want to expose yourself to the blogging world, and the blog is personal, then there is no other apt choice.
Sensational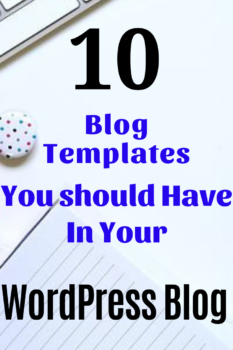 This template is highly responsive and neat. This means you do not need to look around for help to make use of this. It loads fast, making it a perfect option for those who are looking for readers from various parts of the globe. 
This SEO optimized blog means merely that it is a place for you to boost the business and gather more followers for your site. 
Apriezt
This cool template is highly responsive and user-friendly. If you are searching for a template that is apt for the magazine, then your search ends here. It comes with more than 15 styles, shortcodes, 2 styles slider, recent post widget, and recommended widget. 
Users can enjoy social icon, support advanced editor, and the template is compatible with major browsers.Still need a website create a free wordpress website here.
Skill Blogger
A professional looking template that is perfect for all niche and tech blogs is Skill Blogger. It has numerous features like the pop-up contact form, stylish read more widget, extra floating header with the menu, and it is highly user-friendly.
Tech Shadow
Again for a complete technology and niche-oriented blogging, this is the perfect template. The threaded comments, 3 column footer, and auto thumbnail post on home, socializer widget make the template stylish and user-friendly. This SEO friendly template can meet all your tech blogging needs.
Bottom Line
Pick the template that would be apt for your specific requirements. These are some of the best blog templates for beginners and are free of cost, to begin with. You can upgrade to the paid templates after gaining some experience or when needed in the future.
You can create a free website at Wealthy Affiliate and share your passion with your readers and start making money online.It`s free to get started.