How To Make Money As a Dasher With The Door Dash Business Model
The coming in of on-demand food delivery services has reduced our worries about eating during our busy hours.
One of these excellent food delivery services is DoorDash. They have been able to surmount the stiff competition in the food delivery industry.
Door Dash started as a macaroni store in Palo Alto. They were building an app to solve the day-to-day problems of a store manager – Chloe.
They could not solve her immediate problem, but she came up with a list of deliveries, but she had no drivers to deliver.
It leads to the birth of Palo Alto Deliveries on the 12th of January, 2013. The name was changed to DashDoor.
The team has consistently worked hard to ensure they deliver the best delivery experience.
If you are thinking of joining a delivery team, Dash Door is a good place to start.
The Dash door Business Model In Brief 
The business model wraps around lots of people signing up with Dash door as independent contractors. They are known as dashers.
The company believes that you can make a decent living once you are signed up as a dasher.
A few folks out there make as much as $700 weekly after a lot of hard work but there are just as many who make the bare minimum, (more on that later).
To do well in this business model, you have to work hard and work smart. You must be able to minimize your expenses and increase your profit.
We will share how to increase your productivity and be profitable with the door dash business model.
Lastly, I will show you my number one recommendation for making a decent living online.
Maybe before we cover ways of earning with Doordash, we should look at things like:
What you need to start working with Doordash.

According to their website, all you need is a Smartphone and a means of transport.
If you have a car , ,motor cycle or a bicycle,you can be a doordash food delivery guy(most dasher delivered are food from restaurants. You can be a Dash driver almost immediately.
With Doordash, you are an independent contractor, you work at your own convenient , the more you work, the more you earn.No complicated contracts.Click here to join Doordash.
We`ll not go into details of how to become a door dash driver because since you`re looking for ways to make money with Door Dash, we`re assuming you`ve already signed up.
Maybe before we cover ways of earning with Doordash, we should look at things like

How To Make Money With The Door Dash Business Model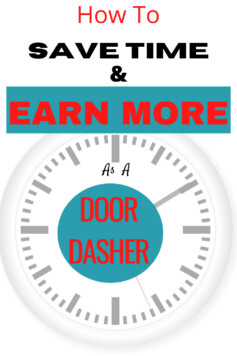 1.Know Your Route
As a Door Dasher, your primary function is driving around. Having a good understanding of your route will make it easier for you to find your way around.
Else, it will lead to a lot of waste of time and resources.
Be familiar with your city, know where to, and not to park. Another important thing is knowing the terrain.
You can use Google for GPS, but getting a paid tool that is much more reliable will be resourceful.
2.Avoid Orders That Are Not Within Your Route
As tempting as it may be, do not make the mistake of taking all orders. It is common with newbie dashers. They end up wasting their time on jobs that don't pay well.
March the value of the order against the distance and the time it will take you to deliver the order.
Let me sight an example if you have to deliver a low-value order at different ends of town. It may not be worth you investing your time and money in such delivery.
It may be of interest for you to decline such orders and wait for another one within your location.
I agree with you that getting orders might be challenging sometimes, but invest your time and money wisely.
3.Harness The Guaranteed Minimum 
The Door dash business model is a model that has lots of incentives. One of which you should watch out for is the Guaranteed minimum.
 The main objective is to encourage dashers to work when they are most needed.
It is such that a dasher does not earn more than a minimum amount, as long as you accept and deliver the order.
This incentive is offered during lunch and dinner time. The exact period is not the same for all cities. It may change on different days.
One unique thing about this incentive is that you must keep your acceptance rate high, which means you cannot just reject multiple orders and expect to earn an income.
4.Avoid Late Orders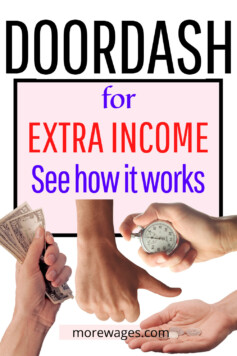 There are a lot of reasons why door dash will offer you late orders. The reasons vary from a dasher rejecting an order, a restaurant turned down an order, and lots more. Just avoid late orders.
Let us look at an example if you receive an order scheduled for 8 am at 9 am. Already it is late and overdue. But you do not know why the order is late.
It is likely because of a service failure.
Without missing words, you already have an angry client waiting for you.
He or she is not aware that you just got the order and not your fault. No matter what door dash does to compensate the client, you will be the one to suffer for it.
There is no point in managing a situation that is not your fault. Be careful to check estimated food delivery time and reject any order you won't deliver promptly, you don`t want to deal with disgruntled clients.
5.Take Advantage Of Televised Events Or Any Social Gathering.
From experience, dashers are usually flooded with orders when there is a big event on TV or a social gathering.
The probability of ordering food when people gather to an occasion or even to watch some program on TV is high, and many use on-demand food delivery services like door dash.
As a dasher, you will agree with me that such events will increase your productivity. So consider social and TV watches in planning your schedule. It is a sure way to increase your earnings.
Making Money with the Door Dash Business model is hard work
Like any other food delivery agency, it takes a lot of hard work and efficiency to make a decent income.
In other words, if you want to make an income as a dasher, you have to be smart, quick, and efficient.
But what if you want to earn money while staying at home?What if I told you there is a way to work once and earn passive income without being present on the job?
There is a smarter way to make money online, that is via affiliate marketing.
I must emphasize that it is not a quick-rich scheme, but a more productive way for you to invest your time(you can start in your spare time) and still succeed.
Rather than waking up to run the street in the odd hours of the day and night, you can make money anywhere, at any time, and even when you are sleeping.
Check how to create a blog here to start earning passive income online.
You may like
Learn how affiliate marketing works.
Like any other business where you need to learn and put in time and effort into it. The same applies to affiliate marketing.
You need to learn the rudiments and how things work. Permit me to introduce a platform where you can access industry-standard training and tools – Wealthy Affiliate.
On the Wealthy Affiliate platform, there are various types of training and tools.
They are focused on learning to build your website and creating content, then make passive income selling affiliate products.
Top of it is a community of affiliate marketers that are ready to share their experience and expertise with you. Worth mentioning is that you can sign up on this platform for free.