You've got yourself an awesome website and you're starting to get some traffic visiting your pages.
You`ve heard people say you can make money blogging but they fail to explain that there are different ways on how to make money from a website, so the typical question that comes up now is: "How do you make money from a website?"
There are a lot of great ways to profit from a website and I'm going to discuss eight of the most common methods. In many instances, multiple approaches can and should be taken.
Any of these suggestions that I'm going to discuss would be a great starting point for you to start generating an income from your website because I imagine this is the reason you started blogging in the first place.
Google AdSense / Banner Ads:
Banner ads are among the oldest and most time-tested methods of monetizing a website. Individuals and companies alike have been using banner advertising since the World Wide Web started to kick off in the '90s.
AdSense is the leader in the clubhouse when it comes to this method of advertising, although there are other players out there that you may opt to use.
The way that this program works is simple. Once you've signed up for an AdSense account and Google has approved your website, you will be able to start your first campaign.
You will be able to select criteria for the ads that will be displayed on your website and then Google will provide you with some code that will be placed on your webpages in various different spots.
After a couple of days, Google will begin to insert ads and banners that are relevant to the content that you are publishing on your website.
This a is a pay-per-click program that allows you to earn 68% of the revenue that Google receives from the advertiser.
An example would be a business that is paying $1.00 to Google each time that their ad results in a click. In this scenario, you would receive $0.68 and Google would get $0.32.
Because the ads that they feed to your website are relevant to your content, the click-thru rates for these ads should be higher and allow sites that have good traffic to make a fair amount of money from their websites.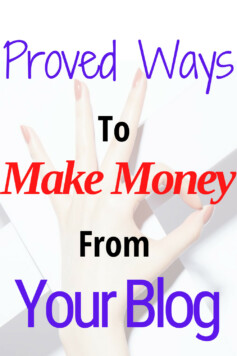 Worth Knowing:
Depending on who you ask, Ads may make your site look trashy. But, ads is a very hands-off way of making an income with your blog, all you need is traffic.
Ask For A Donation:
If you're providing valuable information, there is nothing wrong with asking for a donation.
I see it all the time when I go to sites that are providing some sort of valuable, free information.
Often times it will be worded something like "If you've found some value in this site, please consider buying me a cup of coffee".
There will then be a link that will allow users to click and specify an amount that they would like to donate. (don`t underestimate the power of $1.00 donations, they add up)
If someone has either saved time or money by visiting your site, they will often be happy to kick down a few dollars as a gesture of appreciation.
This is a great alternative to actually charging for a membership area, but it still provides people with the opportunity to reward you for the hard work you've put into providing them the information that they seek.
Worth Mentioning:
People will not donate just because, so have high-quality content for readers to feel "ok, this was worth a cup of coffee.
Flipping Your Sites:
Using sites like Flippa, many people will build websites only to turn around and sell them once they start to generate revenue.
This cool thing about selling a website is that once you've built one, you will then have the knowledge to know what is needed to replicate that success.
It will typically be much easier to build subsequent websites as you gain experience.
The sale of a website can also allow the seller to bring in a much larger chunk of cash, as compared to the money made from a single month's sales.
Try to list sites only once they`ve started generating income, as good as a site is, if there`s no income proof, you`ll struggle to find a buyer.

Affiliate Marketing:
The benefits of affiliate marketing are many. Affiliate marketing allows you to promote services and/or products that are offered by other businesses and you will earn a commission whenever a purchase is made because of a referral from your website.
Not only does this mean that you don't have to have any products that you're personally selling and required to inventory, but you don't have to deal with the customers at all.
Payment processing, shipping, and returns are all handled by the merchant that you sent the referral to. Why you should learn affiliate marketing.
One of the greatest benefits of implementing an affiliate marketing strategy for your website is the huge number of options that are available.
There are literally tens of millions of items and services that one can promote on their websites and earn commissions from.
Simply by signing up to becoming an affiliate for Amazon, you will instantly have access to millions of items that you can promote and earn commissions on.
However, there are tons of other great programs available, including my personal favorite with a 50% recurring affiliate commission.
For more information, be sure to read about the best way to make money with affiliate marketing. This article will provide you with all types of information on this popular method of cashing in with your website.
Sell Advertising On Your Site:
Once you start to see consistent traffic coming to your site, one option to begin generating revenue would be to sell advertising space on your webpages.
If you have a localized business website, finding local merchants that are interested in gaining some extra exposure is a great place to start when it comes to selling advertising space on your website.
This of course works best when the advertisers' business is somehow related to the content that you provide on your website.
When an advertiser makes a decision to purchase some advertising space on your website, they can either provide a banner ad for you to display, you can create one for them.
If neither of you are comfortable with the process of creating an advertising banner, there are sites like Fiver that will allow you to have a banner created for as little as five dollars. Click here to visit Fiverr and see what they offer.
Sell A Product That You've Created:
Do you have a product that you've created? If so, sell that on your website. Marketing a product that you've created and is relevant to the content on your website can be a great money maker.
If you don't have a physical product, consider writing an e-book that discusses areas of expertise that you have.
By creating your own e-book, not only can you sell it on your own website, but you will be able to market it on other sites like Amazon as well.
An e-Book can sell over and over giving you a passive income for years to come.
Other ideas might be to create some sort of video training series on your niche that you can sell.
For a website that is related to food, perhaps make some "special" recipes available for purchase.
Have a pet-themed website? How about creating and selling building plans for a dog house?
These are just a few ideas, but a little creativity can go a long way when it comes to creating your own product to sell.
Create A Membership Area On Your Site:
If you're among the many website owners that provide valuable content or instructional information in which people are searching for.
Creating a membership area on your website may be a great move.
There are millions of people that are more than willing to pay a monthly fee to have access to quality instructional information that will make their lives easier.
Or even save them money compared to hiring someone to provide them with the same information.
One example would be instrument instruction. I personally have taken up playing tennis and running in recent years after a long break, and there are countless sites available that offer lessons in a "Members Only" section.
Most of these sites are a great value compared to the cost of hiring a local teacher and many of the instructors are very good at explaining the information in an easy to understand manner.
Depending on the content that your website offers, you may be able to generate a very large profit from a membership area.
Conclusion On How To Make Money From A Website
Well, there you have it. You no longer have to wonder how to make money from a website, but you can use these methods to start turning your own website into the profitable business that you envisioned when you built it.
These are methods that have been proven to work time and again.  Remember, you can use several of these techniques at the same time and I would actually recommend that you try to implement more than one. No sense in having all of your eggs in one basket if it's not necessary.
I hope you've benefited from these tips and encourage you to share this post using your favorite social media platform.
If you have any questions please leave me a message below and I will get back to you. Do you have a website? How do you make money from a website you already have and keep working on?
I`d love to hear from you, or for you to share some other ways you make money with your blog.