Product Name:  
Pure Leverage
Website:  pureleverage.com
Price: $24.95(basic plan)
Owners:  Joel Therien
Overall Rank: 15 out of 100
Verdict:  SCAM! 

Pure Leverage is a Multi-Level Marketing (MLM) company that is backed by a multi-million dollar Internet Marketing company GVO.
Maybe you`re thinking of joining Pure Leverage because you've heard of their 100% commission rate and you want to find out if it's legit or worth investing in. Is Pure Leverage a legitimate make money online opportunity? Let`s look at some of the pros and cons of the program.
Pros vs Cons Of Pure Leverage
Like any make money online program, Pure Leverage has some good points as well as bad points, no product is perfect and pure leverage is not either so let`s take a look.
Pros Of Pure Leverage
-Pure Leverage is very cheap for an MLM.
-Some degree of support and training, although the quality of the training could be better.
Cons Of Pure Leverage
Well, it is an MLM, and I personally am not a fan of that line of work; as they tend to be nothing more than pyramid schemes.
Check Igor`s post here comparing and explaining MLMs and Pyramid Schemes if you`re unsure of the difference.
-Unnecessary upsells.
-Can't make a commission with them if you are on the basic $24.99/month plan.
Who is Pure Leverage for?
Someone who would like to make money by participating in an MLM, or someone looking for some tools to assist them with an already existing business.
If you join for the latter reason, I wish you the best of luck because most of the tools that Pure Leverage offers really do nothing except help you promote Pure Leverage.
Which you can't even make any commission of off with the basic price plan.
You are not given a choice to promote and earn an affiliate commission if you can`t afford to or choose not to upgrade to a more expensive membership level.
Pure Leverage Tools and Training
The basic $ 24.95-month program comes with a number of training modules and tools, but mostly it just teaches you how to promote Pure Leverage to other people.
Some of the tools and training that are offered are:
Easy Lead Flow Capture System:
This is a system that allows you to make single "lead capture pages." However, it is very limited in what it can do, and you will not be able to use your own domain name.
You will be using a sub-domain (yourwebsite.pureleverage.com), so this is pretty much another tool to promote pure leverage.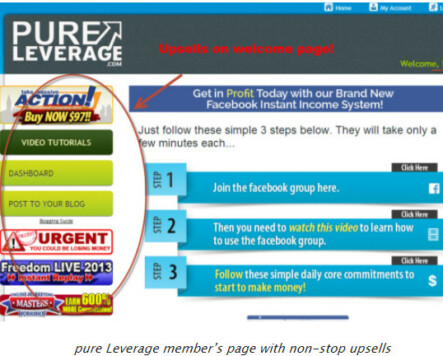 Elite Coaching Program:
This one essentially teaches you how to promote Pure Leverage to other people; by "certified trainers of course.
You will learn how to convince people to join underneath you at Pure Leverage.
Keep in mind that you cannot make any commissions of people that join under you unless you pay some extra money, but I will have more information on that shortly.
Web Presence and Blog:
 You get the ability to create a blog and have a so-called "presence" on the web…however, once again, you will not be able to use your own domain name.
Your blog will be under the pure leverage sub-domain.  So, once again, this seems like another tool designed to promote pure leverage.
Live Conference Room:
This service simply allows you to meet up with other members of pure leverage to conduct presentations and conduct meetings with whoever you may be working with.
The problem with this is that you can do this for free with Google Hangouts, and there are probably tons of other free programs and services out there that offer the same thing.
Pure Leverage, cheaper than empower network, but at the end of the day, just another shady MLM.
Pure Leverage is part of a company called GVO (Global Venture Opportunities) , which is a company that offers hosting and auto-responder services, and ran by the same person (Joel Therian) that runs Pure Leverage.
So, you may be wondering why I gave this a rating of 5 when usually I give programs such as this a 1 or a 0.
The reason why I gave this program a 5 is because it is at least much cheaper than other MLM programs such as this one.
It is NOT because I think this program has any kind of quality or that you could actually make money with them.
They still are very deceiving about the price, which seems to me is a bit unnecessary, seeing how it is only $150 (per month) max.
There are some people who may be able to make some money off this program, but it would probably be only 1% of you at best.
The program does have quite a few interesting tools, but they are all designed to promote Pure Leverage.
This means you can forget about promoting anything else but Pure Leverage, which as I have said before, cannot be done by paying just $25.
Pure Leverage Price
The price is advertised at 24.99 per month, which it is if all you plan on doing is using the tools.
However, the tools are almost completely worthless unless you are promoting pure leverage, and to become an affiliate of pure leverage, it is going to cost you some extra dough!
To be able to promote Pure Leverage to others and make money from it, it is going to cost an extra $19.99 per month.
And to go all in and make all the commissions from any sale that you may make; you are going to have to enroll in their "VIP" program which costs $97 per month.
So, that makes the total cost around $150 per month, which actually is not that much compared to other MLM programs like this.
So all in all, the price of $25 is just a way of baiting you to join. After you join, you are strongly encouraged to upgrade.
100% Commission
100 percent commissions? 
Sounds great, doesn't it? Except that it is just another empty promise. The 100 percent commission that they promote is ONLY for the first month of membership.
The first month is when you are least likely to make any money seeing how you will be brand new at that point and you probably will not have anything established.
It will probably take at LEAST a month to get anything going or to get any rankings in the search engines…not that I think you will be doing that anyways under their sub-domain.
Besides, how would they make any money if they gave you 100% of the commissions that you earn?
Does this program have ANY redeemable qualities?
 Well, besides the cheap price (for an MLM scheme like this), not really. Some of the tools are OK, but you can mostly get better quality ones elsewhere, cheaper, and sometimes free.
Pure Leverage Support
is notoriously bad (flaming new people who ask questions, etc.), but I did not have any experience with it myself.
Pure Leverage is a product for those who cannot afford the expensive MLM products out there, but still want to start somewhere but if you look well, there are cheaper and much better products out there.
Conclusion On Pure Leverage
You may be reading this thinking that I am being negative, but really I am not.
I gave a typical down line MLM scheme that is deceitful about their price and their commissions a 5 out of 10!
There are some good things about this particular program, such as the fact that they do not try to bankrupt you in order for you to participate and I considered this in this Pure leverage review.
Some people may make some money (I don't really see how), but I do not recommend this program for anyone.
At A Glance 
Name:  Pure Leverage
Website:  pureleverage.com
Price: $24.95
Owners:  Joel Therien
Verdict: Not Recommended