Website: www.online-home-jobs.com
Verdict: Scam
Online Home Jobs is one of the sites that lured and trapped many unemployed people in its web.
You would be well advised to read reviews of sites like this before joining them.
During our investigations, we discovered quite a few reliable reviews, but as a recap, we will offer valuable information that can help you smell other scamming sites.
We will guide you on how to recognize a site that is likely to scam you, with reasoning, and also offer remedies if you have already been a victim.
---
What Indicates Online Home Jobs Is A Scam Site?
• For starters, the name of its owner, Mike Atherton should ring alarm bells. Yes, he is the same guy who owned 365jobs4u.com.
That site failed, and many were scammed. Some people can be fooled once, others all time. Atherton proved that clearly because he did that again with workforhome.com, and is now doing it with online-home-jobs.com.
Moral of the story is, always check the background of the site owner before signing yourself up.
---
The site has been around since 2006. You would think that is a good reason enough to think it is a reliable website. Though longevity is often used as a criterion to decide on the reliability of the site, there are exceptions to the rule as this one.
Ask yourself why the site has moved from New York to the UK and operates from Bangalore, India now.
Maybe the management has changed, or maybe not. Whatever be the reason, it smells fishy when you look at the contacts page. Look at the contact email! It is a Gmail address!
For a website that has been around for as long as this, one would think it would have the address with its own name.
---
False Promises
The money that is being promised, seems unusually high for the jobs that only require minimum computer skills.
Most people fail to read "up to" anyway. Ask yourself, does any regular job offer $11,250 per month for form filling or $12,500 per month for ad posting, and that will make you realize that something is not right here.
The jobs posted at online home jobs are no longer in demand. "online" or "offline" data entry, form filling, "ad posting", "copying and pasting", "captcha works", etc., are jobs that are truly not necessary these days. In the past, yes, for a while these jobs were needed. They are no longer enough for earning enough.
Even "Google Adsense" and "Twitter jobs" can't fetch much; certainly not as much as mentioned.And remember you need a website to qualify and earn money with Adsense
---
 Registration fees!
There has to be an obvious catch somewhere, and this is it.
The amount of $93 or even $159 for different and higher privileges may seem reasonable, considering that there are legitimate websites like iWriter that do charge for giving access to content requirements posted by people who want higher standards be maintained.
But those websites are considerably more transparent in their operations when compared to this website, and also have quality control procedure.
There is no proper system or forum for expressing grievances and getting attention to them.
Fake Statistics?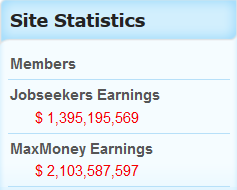 The statistics provided on the breakup of members, i.e., JobSeekers and MaxiMoney earnings do not indicate the earnings divided by the total number of members, and the number of years. In any event, those are not audited numbers there, though they may be real time amounts.
---
Other Flaws Related To Online Home Jobs Include:
The site itself is not designed in a manner that is user-friendly and there are many sections of it like the "Most Popular Questions", that offer little to no information. Likewise, there are sections related to MaxiMoney which have not been updated since 2013.
Any complaints on the net so far have been met by deaf ears. Most of these complaints are about the site not having made the payments.
It would be nice if the site included information about such complaints as well, along with the statistics of earnings of members. It would put things in somewhat clear perspective.
It has affiliate system which again asks for initial investment and has a fairly large payout threshold.
It does not look like anybody would be earning something from "paid to click" that fast anytime soon, if at all.
The site is also a hotchpotch of many money making options. MaxiMoney, for example, is an investment option, and the investments offer returns like HYIPs. Anybody who has invested in HYIPs knows how risky they can get.



Likewise, there is a franchise option, which requires a person to pay some deposit. Though deposits are refundable, but very few have received them.
---
Bottom line on Online Home Jobs Review: 
Does "online home jobs" pay?
To be fair, online Home Jobs does pay as of yet. However, not for every job, and certainly not at the rates that are mentioned on the site.
Such payment nowhere justifies the registration fees and earnings take a long time to accrue.
---
Major Negatives  of "online home jobs" could be:
• Risky investment option;
• Dishonest about how much can be earned from it;
• There are several complaints that go unattended and admitted, duly explaining what led to those non-payments;
• It charges for registration, and even for direct jobs! The charges are by no means small.
• The track record of Mike Atherton, the site owner, is not good.
• The amounts suggested as refundable are not really received by many people.
• There are no training steps. Such steps would be needed in links related to Google Adsense or tweet and earn option.
• There is nothing to indicate track record of earnings and disbursement and increase or decrease of members over the year. The about page is way too silent.
• There is no forum or support even though they have given the email address, and chat as well as phone support numbers and timings. It is not easy to contact them.
---
Conclusion:
On the whole, there is a lack of transparency in this site and a lot of confusion.
They have mentioned how they will accept the payments, but have not mentioned how they will disburse payments. There are people giving good reports about the site, as yet, but it may only be some contracts that are fetching from places like Fiverr.
For rest of the members, it seems to be a shot in the dark type of game.
In many cases, such as direct jobs, a member has to pay annual fees. Considering all such factors and the disparity in promises and deliverance of promises, this site is much closer to scam category than a legitimate site.
I hope that with all the cons of "online home jobs" program that I have mentioned above, are more than enough for you to stay away from that program. Instead, I honestly recommend you to go through 10 lessons of the certification course at Wealthy Affiliate for free.