What is the best way to earn money online? thinking hard, I might say none but read on to understand my reasons.
There are so many different opportunities online these days it can really be hard to figure out what are good and real opportunities and what are the ones to avoid.
Depending on the time you`re willing to invest and your level of expertise, there are endless ways but we can`t cover them all in one post.
What`s The Best Way To Earn Money Online?
Honestly, I don`t know, or should I say I`m not sure? what I know for a fact is how not to make money online and I learned this the hard way.
Survey sites
You read a blog that tells you they make $2000 a month(or whatever nonsense amount they out there) taking surveys and you should join the survey site too and you believe it.
They are not asking you to buy anything or invest in anything, just to join the survey so you can start making money in your spare time at home.
That is definitely not a way to make money online(more on that below).
Online Ebooks and Courses
There are loads of "this eBook or course helped me make XXX amount online as a new blogger in my first month".What a straight cheap lie.
NEVER listen to any cheap talk of making money on your first month as a new blogger. Because that almost never happens.
It`s like someone telling you they woke up one day and started speaking perfect Chinese, Swahili, Spanish, or whatever without ever having practiced the language.
Income Reports
Again this is something many bloggers will do, show you some vague income reports and claim "this course helped me make so much use my link to buy the course at a discount".
There`s just too much noise online. But, enough with my rambling after blogging for five years now, I believe I know a thing or two about how not to make money online and I shared it with you.
Below I've listed different ways that people make money online. These are not in any specific orders.
Online surveys
Blogging
Flipping websites
Websites
Search engines
Selling goods
Being social
Selling your knowledge
VA
Teaching online
Flipping products
Performing short tasks
Dropshipping
Writing/freelancing
affiliate marketing
These are only a handful of different ways to make money online but there really is an endless amount.
You may be familiar with some or all of these ideas but if you aren't, don't worry I'll explain them and (some have been covered in other posts)to you and I'll let you know which ones are legitimate.
Today I want to focus on the best opportunities to make consistent money without getting scammed or ripped off. But having said that, there are many legit opportunities to make money online.
It`s a huge thing to be concerned about online scams when searching for an online opportunity because this world is full of predators looking to make a buck at any cost.
Affiliate marketing, Websites, and Blogs are the best ways to make consistent money online. Now I'm not saying that the other options I listed aren't good or real options because they are.
But some ways of making money online from home are more hands-on than others, then there are those opportunities that keep on giving, you work once and the income potential is huge.
But that`s not to say it will be easy or that you can expect to see results in a day, some of these opportunities.
Just like brick and mortar requires you to build from the ground up. We`ll explain things as you keep on reading.
A lot of people have made money from things like paid surveys and search engines.
The only problem is that those types of opportunities don't pay very much, and are hands-on, you do once, get paid cents and you`re done, off to look for the next survey. Definitely not enough to make a real living from.
The reason I prefer Affiliate Marketing, websites, and blogs is because they are opportunities to make an actual living from home. Not just a few bucks here and there but a complete living where you can earn a lot of money.
Affiliate Marketing
---
If you don't know what affiliate marketing is don't worry, it's not that complicated and it really is something you can make money from even if you have zero experience.
There are plenty of programs online that will teach you how to do affiliate marketing the right way.
Basically, it means selling other company's products for a commission. With the massive amount of internet shopping nowadays there are a lot of opportunities for this.
So like I said before, don't worry if you know nothing about this because you can learn it quite easily with the right program.
So with affiliate marketing, you would need to come up with a certain type of product you would want to sell and then build a website promoting your products.
Here's a short video for you to understand the basics of how affiliate marketing works.
I personally own an affiliate marketing website in skincare. On my website, I review all different types of skincare products.
All of the products I review have a link on them with my own personal affiliate # on it. If someone clicks my link then it automatically brings them to that product on Amazon.com.
Amazon would then track that link back to my website and if a sale comes from that link, I would get paid a commission.
But what's great about Amazon Affiliates program is that after someone clicks my link, I get a commission on anything that person buys on Amazon in the next 24 hours.
So they don't even need to buy the product I promoted. This is a great way to make money because once your website is set up and running, it just makes money automatically. I usually add 1 post a week just to keep it fresh and to keep the traffic flowing.
The longer the website is running the more traffic it will get. Traffic is key when it comes to an affiliate website because the more shoppers you get on your website, the more money you will make.
Now you can do this too. You don't need experience or computer skills if you join the right training program which I'll tell you about later in the article.
The best part is that you can start an affiliate website about anything you want. Your website could be about whatever your interests are. If you like Tennis, you could review Tennis equipment like this site does.
If you like fishing, you could review fishing gear. There are millions of topics you could build your site around and make a full time living from.
Blogs and Websites
Blogs and websites are really the same thing, well kind of. A blog is just a series of articles that are posted on a website. So they aren't exactly the same thing but they go hand in hand.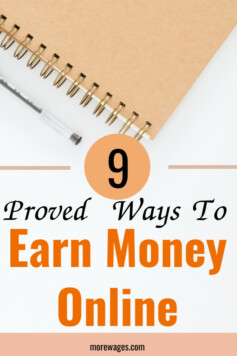 A blog can be about anything in the world.
Even if you think you have a lot to say that people would be interested in then you could make money from a blog.
A blog will only make money if people actually want to read it. If you write a blog that becomes popular and generates a lot of attention then you can start to profit from it.
Most blogs make money from Google Adsense and other Ads networks. What that means is simply ads on your blog.
So besides your blog, there could be a little ad on every post, and every time one of your readers clicks on it you get paid.
Usually, you will only make a few cents per click but, if you have a large audience and a lot of traffic, then you could make really good money from this. And these cents adds up fast.
This is a good option for people who love to write and have a lot to say or maybe for people who have a big personality.
Good And Bad Ways To Do Things
---
Just like I mentioned above, there are good opportunities, but there are make money online scams. Then there might be somewhere it`s possible to make money online but just not the right ones for you.
A good/bad example is Fiverr, People make money on Fiverr but there are also many complaints about the platform. Know the programs to avoid by doing research online.
Good Courses Online
So now for the good news. You can make money from affiliate marketing and from a blog. Yes you, even if you don't have any experience.
There's an amazing training program that will teach you exactly how to set up a website and turn it into a profitable blog or affiliate marketing website.
Not only does the program have the best training in the industry but it also has a huge online community of fellow affiliate marketers who are always there to help.
Be warned, they do not have whistles as you do see in many overpriced and over-promoted courses that offer no value. This is a program that`s been teaching people how to make money online successfully for over 15 years.
Once you sign up for your free trial you will have access to the training and the community right away. Sign up for a free trial here with no strings attached, you can stop any time with no questions answered.
The community is almost like a Facebook thing because everyone sets up their own profile and you can chat with other members and ask them for help.
You also get access to the owners of the website for any extra help you may need. This is by far the best way to make money online. Not only extra money but an actual living.
There are plenty of members of Wealthy Affiliate who do just that, they make 100% of their living from affiliate marketing that they learned from Wealthy Affiliate.
---
 Online Income Potential
How much money can you make online? there is really no easy answer to this as it will depend on what you have to offer.
I will give an easy example.
Taking surveys online for money pays about $.50 a survey, surveys take anything from a minute to thirty minutes.
Now it`s easy to think "I will take 40 surveys a day and make $20" But it doesn't work that way, depending on where you`re located surveys can be hard to come by.
I live outside of the USA, I tied surveys but soon realized surveys were few and far between, and sometimes a day could go by without answering a single survey.
Now $.50 a survey……..I have better things to do with my time.If you compare the time needed to answer a survey and what they pay, it`s not worth your time. More on online surveys is covered here in detail.
Second Example Freelancing
If you are good at writing, there are online platforms that you can join and get paid to write. With the many websites on the internet, there has never been more need for content than now.
But, sites like iwriter and hirewriters.com pay you just enough to make you stay, your talent is kind of wasted as you create content after content.
You`ll be making money but still not hands-free, you have to deal with deadlines and whatnot.
But, if you can use your talent on YOUR website, there is a real potential of making passive income. Creating a website is easy that if little nobody I can have a website, believe me, you can too.
Making money from home online is possible, you just have to be ready to invest time in learning and patience, no amount invested in courses or otherwise will work for you if
You`re not ready to learn.
Think it`s a quick and easy process.
You`re not patient.
Invest time.
You do not take action.
Ask for help when you`re stuck
Click the banner above to create your own website totally free and begin your online money making journey.
Conclusion On The Best Way To Earn Money Online
The best way to earn money online will also depend on what you`re good at but with the internet today, everything can be monetized. Love cats? you can create a blog and share your cat experience.
Avoid shiny objects and programs that promise you to help you make money in days, be realistic, just as in the offline world, there are no switch buttons to make money overnight online.
You`ll have to invest time and maybe some money(in some cases) before you can make an income.