Are you frustrated with not being able to edit your photographs, create graphics without buying Illustrator, PhotoShop or any of the other "professional" products? Do you struggle to find the right free online image editor? you don`t have to spend money to achieve a good result!!!
Can you not be bothered to learn a whole new program when just keeping up with Microsoft Word is a strain. Well, I've got news for you. You don't have to sweat dollars or tears to get this one.
In Comes Canva, A Free Online Image Editor
Name:           Canva.Website:       Canva.comPrice:            Free or $12.95 per month.Founded:     2011.Owners:       Melanie Perkins.Trust Rate:  100%
---
Canva, A Product Overview.
It allows you to create great graphics without the knowledge required for something like Adobe Illustrator. It creates in many shapes and sizes, but one of its great strengths is that it has preformatted sizes specifically for web apps or you can change and chose your own size.
So, for instance, Canva has normal A4, US letter, configurations. But then it goes far further than that, it will do social media posts (graphics) that are preformatted for Twitter, Pinterest graphics, Facebook and Instagram. It also does all the above social media mentioned, as Headers as well.
It will do images formatted specifically for blogs and e-books, so if you're writing a blog or an e-book, you can have your cover designed simply and quickly and you do not have to be savvy to use this free online image editor. It also helps you massively with Infographics. In an earlier post, I talked about finding free images for your blog, you need Canva if you want to alter the images or to add text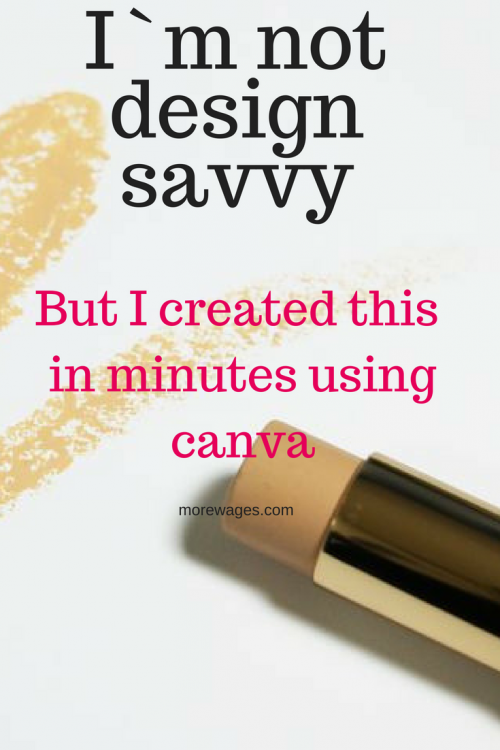 ---
I love Canva because even if you`re not an editor, Canva is very easy to use. Though it is purely drag-and-drop, it will produce results that you probably could not do unless you are a graphic designer.
How it does this is essentially giving you predesigned images, scripts, headers, crests and much more. What you can then do with these is drag them onto your pre-formatted "design" and then alter them to fit your style preference and message.
For Such A Simple System.
You can produce quite stunning graphics, and as a blogger or a web designer, these not only belong to you, they are unique. This is important because Google loves unique; searches for unique and ranks unique.
And if you're being a wee bit dodgy in your sourcing of, "unique material" by the time you have chopped, altered, stylised and personalized someone else's graphics, it will look very different from the source material (I am not recommending using copyrighted material).
So I Will Go Through What Canva Does Give You.
Firstly, in their layout section. They give you hundreds of cool layouts that you can use an alter. It really does take the designer out of the loop.
The elements section delivers free icons, grids, lines, illustrations, shapes, frames, photographs and "I love Canva" icons (shameless self-promotion LOL), though these are somewhat limited, they do give you a huge amount of possibilities to further personalize your image\info graphic.
My favorite area is what they call, text, which is a bunch of text-driven graphics that are super cool as overlays. You can spend far too much time fiddling with their bits and bobs; again. I will show you some simple examples of the above.
Lastly, backgrounds, images, you can drop into the background to create a pleasing result. You can, of course, upload any images that you have taken or downloaded from the web.
All this is of course for free, that said, there are many symbols and pieces of artwork, that they will charge a dollar for. But you don't have to use them, nor have I yet, but it doesn't mean to say you don't want to from time to time. And to be fair to Canva they do have to make an honest living.
If you want full access to Canva, then you can pay $12.95 a month. This is good value, though I have never paid that because I have found all the value I need for free.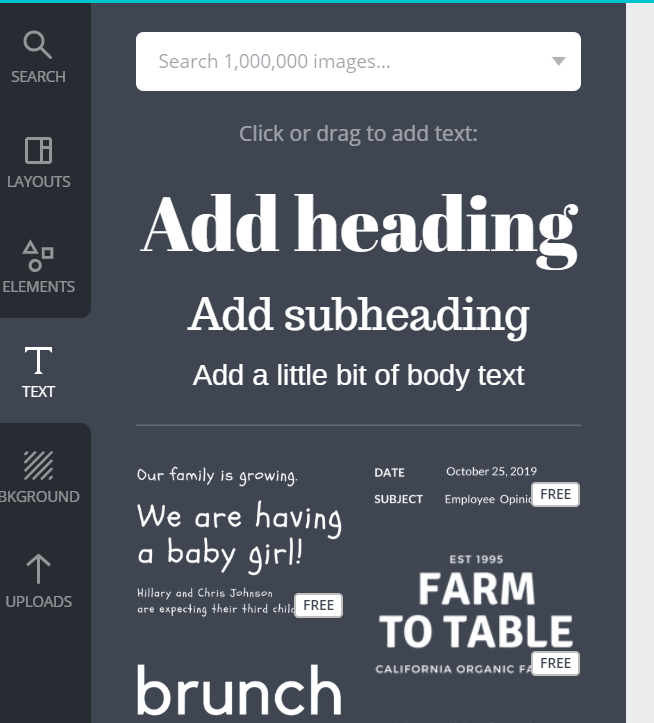 Need different fonts for your images? Canva has different fonts and font sizes and you can tweak colors to suit your needs.
The Good About Canva Image Editor
It's free.
It's simple to use and intuitive.
There are lots preformatted ideas.
Many designs are there for you to use.
It has many training modules.
It will make you look like a pro even though you aren't.
No new skills to learn.
The Bad
Compared to Illustrator it's limited.
Many of the designs you might want to use cost a dollar.
If you're a professional designer. It's a bit toytown.
Canva Tools And Training
Canva has a design school at https://designschool.canva.com/is quite literally is a massive resource. Teaching you how to balance colors choose fonts to create impressions and on and on. Go and click on the above link to get some flavor of what it does and can do. There is probably the best part of a degree course in several areas of design available on that one site. It is something that I love about the web, you can learn these days to a university level and perhaps beyond. While sitting at home!
My Final Opinion On Canva
Canva is a great piece of graphic design and a great resource if you`re looking for a free online image editor. You really can do without expensive graphics packages like Adobe Illustrator and Adobe PhotoShop, so unless you are doing professional design. I don't really think you need anything else. Incidentally, it is one of Australia's fastest-growing new companies. I will continue to use Canva, and learn more about it`s potential and become a better user.
Name:           Canva.
Website:       Canva.com
Price:            Free or $12.95 per month.
Founded:     2011.
Owners:       Melanie Perkins.
Situated:      Sydney, Australia
I hope you enjoyed the post and will try Canv, if I can manage to create images in canvas, I`m sure you can too.I`m not by any means gifted in graphics and I consider myself having 2 left hands but I manage to create some lovely images using Canva. But if you still feel you need some fancy graphic design, then this software will take care of all your photo editing.