Do you need some extra cash and looking for voice over jobs?
Many work from home jobs needs you to talk on mobile or type for long hours.
However, did you know you can make money online using your voice?
Do you want to learn more about voice over jobs you can do from home? You don't even have to show your face on camera if you choose not to, the only thing you need is your voice!
From doing voice overs to singing, there are several opportunities for you to earn some extra cash using your voice.
With voice acting jobs, you can comfortably operate from your home office. There is no need to always be making visits to the actual studio.
Read on this article to find out who is fit for this job, what you need to know before getting started, where you can find such jobs and more. Without further ado, let us get cracking.
Voice Over Jobs, What Are They?
Have you ever watched Family Guy or American Dad? Do you know that people behind these animation character's voices rake in thousands?
The likes of Seth Macfarlane and Scott Grimes are some of the top voice actors of this millennial. Even though what they do is self-explanatory, let us break it down a bit for you.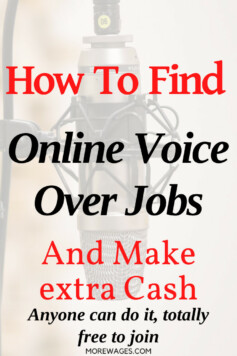 Voice acting, also referred to as voice-overs or dubbing, involves offering your voice to relay information to the target audience by representing a character.
You master the script and bring it to life with your voice. Typically, you are getting paid to lend your voice for a project that needs a voice.
Voice acting jobs are high in demand on video games, commercials, TV or movie programs, audiobooks, etc.
Who Is Best Fit for Voice Over Jobs?
All jobs necessitate one to have a particular skillset. Although you may have an appealing or smooth voice, and be a natural enthusiast, you'll need some training and practice.
The following are some of the skills you will have to attain to become successful with voice acting jobs:
Voice control and clarity- the voice actor's vocalization should be flawless.
Every word should be clearly understood, not garbled, mumbled, or swallowed. Also, the actor needs to control the pitch in their voice, breath, and volume.
Learn acting skills- Voice acting is all about characterization. You should breathe life into your character, which means you need to establish a connection with your script.
Be a good narrator- practice consistency with your energy, vocalization, pacing, characterization, and pitching. Besides, you need to have good narration skills.
What Do You Need To Get Started As a Voice Over Artist?
Voice over jobs requires you to operate from a tranquil place, similar to a studio. You'll also have to source the right equipment.
These include
Quality mic stand.
Headphones,
Microphone to make recording comfortable and
pop filters to enhance sound transmission.
Most materials are uploaded online, which means you must have an excellent internet connection and a laptop.
New to voiceover and need more examples? this post explains in detail Animaker's voice is totally beginner-friendly and free.
For editing functions, find a good audio editing software.
Best Places to Find Voice Over Jobs Online
Fiverr is an excellent site for freelancers specializing in multiple skills. Although it's popular for design and writing jobs, voice actors can land some gigs here.
Sign up with Fiverr and bid for voice training, song features, producer jobs, etc.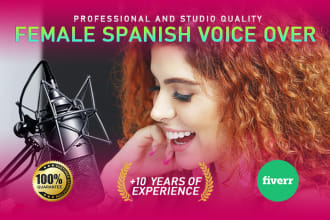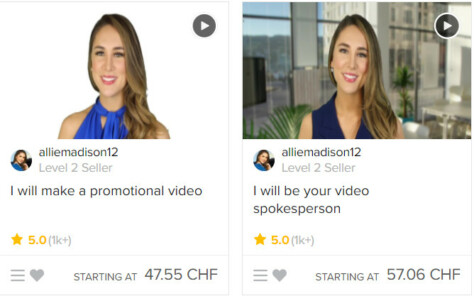 Both ladies above will voice-over in another language, there are no language limitations in this platform.
If you speak Hindi, Swahili, English, Spanish, Everything has a place is Fiverr so give it a try. This is a multi-lingual platform where employers need voiceovers in different languages.
You might also like
Make Money With
Are Fiverr complaints justified
Do people always tell you how great your voice is? Perhaps you can narrate audiobooks for some extra dollars.
The ACX site helps authors make audiobooks for their works. So, narrators can create an account with the site, upload samples, and begin applying for jobs.
In addition to offering voice over services, Ear Works provides copywriting, audio, and video production.
This media site hires talented voice actors to serve their clients. Check out their page to get more in-depth info.
You don`t have to be a professional to create professional videos.
Professional Voice Over Jobs with Voices.com
Voices.com has bagged multiple awards for providing freelance opportunities for voice actors looking to work on e-learning, film projects, audiobooks, and more.

Join either the free membership or premium account for a better profile ranking, which allows you to apply for more jobs.
With Voices.com, you stand a chance of earning a whopping $100 to $2,000 per work( but this will depend on experience and other factors).
Voice Over Jobs on Snap Recordings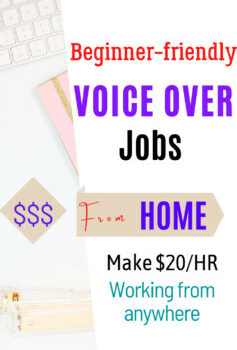 Just like voices.com, Snap Recordings offers excellent job opportunities for voice talent.
You can join for free and start bidding for jobs. However, Snap Recordings mainly specialize in recorded voice messages for entrepreneurial works, such as voice prompts, on-hold messages, and greetings.
There are lots of places where voice talent can secure jobs.
Aside from the platforms highlighted above, talented voice actors can check out sites such as Voice Bunny, Filmless, Upwork, Voice Crafters, Voice 123, etc.
Different sites offer varying rates, so check out for the one that offers the most favorable ones for you.
All in all, you can make some good money with voice over jobs if you put it the right effort, and be patient with your grind.
Free Voice-Over Mini-Course
There are mini voice over courses or if you need to read more about voice-overs, this post has more you can read.
Online school of voice-overs has mini-courses to get you started, where your questions will be answered and for you to see if you are in the right direction.
This mini-course is right for you if
You' want to narrate an audiobook as a way to earn money.
You are interested in voice-over work in general.
You want to work from home, doing something flexible and fun.
What Do Voice Over Jobs Pay?
I think if you've read up to here, there is the most important question that we did not tackle seriously up to now. How much does a voice actor make?There is no one voice-over project that`s the same as the last, they are all unique and so will your salary, but somethings worth mentioning. Every industry has a different rate.So there is really no fixed answer as much as I`d like to answer this sincerely. But to give you an idea, narrating an Audiobook will fetch you anywhere from $200 per hour according to Voices.com
However, with voice over jobs, payment is per project and sometimes might get it rough with clients.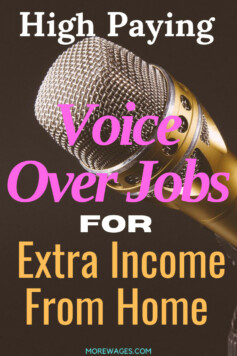 If Voice Over Jobs Fail
Online voice over jobs may be a good way to earn extra income online but that's about it, EXTRA INCOME, for now, you get paid once and you`re done, so you're left always looking for new gigs.
How about a more lucrative way of making money online?
No dealing with clients, no deadlines, no clients underpaying you?
This is a long term proven way of making money online on your own terms.
Instead of voice over jobs, I would advise you to get your head into the affiliate marketing business. Check out my recommended training for affiliate marketing.
As an affiliate marketer, all you need to do is market a company's products through your site's traffic or social media adverts and earn cash through conversions or sales. 
Thus, take time and research about some of the best affiliate marketing training. Like everything online, there are many courses out there, some of them quite useless.
If you`re new to affiliate marketing, you can read an earlier post that explained what to look out for to find the right affiliate marketing training to suit your needs.
This course will teach you everything you need to know about creating a blog and successful affiliate marketing.
Created by integrity-driven marketers, the course caters to beginners and experienced marketers alike.
Even if you`ve never made any money online, this course will show you from scratch, best of all, it`s free to get started.
I hope you found this post useful if you have any questions, please leave me a message and I`ll surely get back to you.