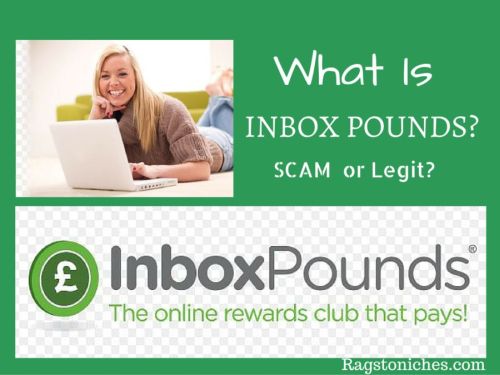 Inbox Pounds is one of the popular sites to earn money online. This site accepts memberships from the UK and the US.  US members join under Inbox Dollars.
The earnings from this site are not substantial unlike on other programs like Wealthy Affiliate that is my number 1 recommendation. Nevertheless, it can help supplement income as from a regular job.
What Exactly One Has To Do In Inbox Pounds?
One has to earn 20 Pounds Sterling for payout. Naturally, one would wonder how much time it would take to earn that much.  Well, it pretty much depends on how many hours you are willing to donate exclusively to this site, which makes no promises of livelihood.
How To Earn And How Much Can You Earn?
This is similar to any other survey site. On an average, each completed survey would fetch about 20 to 50 p. Those that fetch about 28 p or more may take more than 10 to 15 minutes for completing.
On the whole, it would take more than an hour to earn a single Sterling pound, but each pound helps to reach the stiff payout.
Of course, surveys are not available all the time, so it is not as if a person could continuously do surveys and earn payouts within a few days. Moreover, survey quotas get filled very rapidly.
There is a good chance that after answering some part of it, the survey would be aborted.



These offers are more rewarding when compared to surveys though not enough to replace livelihood. However, such higher earnings are accompanied by risks as well. Offers here include
Downloading apps, which can be a problem at times. Problems that can be encountered are battery being drained and the phone speed coming down after the software is downloaded;
Joining any website. It is better to know something about the site before joining it by doing the math as some sites do require people to pay something as a minimum deposit, and this money may be lost forever.
Sweepstakes here may allow third parties to contact you so there can be spam emails flooding your inbox because of such competitions;
Free trials offered on this site can prove to be risky if the membership is not canceled following the trial period.
They have their own search engine. So using their search engine can fetch some monies.
Watching videos;
Reading emails
It is actually opening the emails and being there on the page for a while. Nobody is likely to check whether you actually read it or not.
Not many emails are around, so it is not a major earning avenue here.  Moreover, each email only fetches a penny.
10 percent of the referral's earnings offered as the referral commission.
Gold Membership and earnings from pool of referrals;
After reaching the first payout, the member becomes a gold member, without paying anything for upgrading.
This membership entitles the person to a share of income from a pool of members who have arrived on the site and become a member, without anybody referring them.
All such members are clubbed together and 10 percent of their earnings are distributed among Gold members.



Members can earn by completing some mini tasks. These tasks may include doing some searches on the web for some answers.
To play games here, some fees would be payable, and a member can compete with other players for rewards.
On becoming a gold member, the member would receive more monthly offers, apart from higher referral rewards. In addition, the member would receive double search "loyalty rewards".
Has The Site Been Paying Regularly?
Yes, Inbox pounds has paid monies to its members regularly as and when the members have reached payouts.
Then Why Are There So Many Complaints Against Inbox Pounds?
There are members who complete "free trials" and then forget to cancel those memberships at the end of that trial period, which makes them liable. Most of the complaints relate to such lapses.
Another reason for people being unhappy with this site is because of its support. But that was in the past. Nowadays, this site has a live chat feature.
How Often do Inbox Pounds Pay?
Gold members are entitled to weekly payouts on this site. The site only makes cheque payments, which means by the time the cheque arrives, it could be almost 30 days since asking for that money.
Inbox Pounds in a nutshell: The review
Pros
It offers a joining bonus;
It upgrades its members to gold members, without having them pay for such upgrade
It has a referral system which helps to earn faster and higher on becoming gold members
Friends and family members can also become referrals
Most of the surveys here take up 10 minutes to 20 minutes for completing and the earnings from them are like on any other survey site.
There are surveys that pay slightly higher;
Rewards increase after cashing out the first time
There are many ways to earn from this site.
Cons
Cashout limit is 20 sterling pounds. Reaching it the first time can seem like taking ages, and most people are inclined to leave it before that;
Earnings are not much. There are other sites like Wealthy Affiliate which can give better returns for the time spent there and l highly recommend trying it out for free.
Payments are made by check which is certainly not as fast as online payment processors.
Surveys may reject a person saying that the person is not qualified or the number of respondents has already been reached. Effectively, the person's time is wasted.
Surveys do mention the time it would take the respondent to complete it, but at times there can be an error in it, and the person may end up spending more time.
Some offers or tasks require members to pay membership fees.
Depending on your geographical location, some offers will not be available to you.
Risks
There is the likelihood of getting spammed if they do not read the terms and conditions and participate in different competitions or contests.
There is likelihood of loss if the free trial memberships are not canceled in time;
Members may not recover any fees or deposits towards membership of sites mentioned in the offers.
Conclusion:
As mentioned before, this site cannot help to earn a substantial income. However, the tasks and chores are easy and do not require many skills. The site does pay monies so for all practical purposes, this site qualifies as a legitimate site so far.
If you're just after making a few extra pounds here and there, inbox pounds is one of the better survey sites you can sign up to.
Better Ways To Make Money Online
If you're looking to make real money online, paid surveys are not going to give you a decent side income and you can't quit your day job doing online surveys.
One of the main ways that I make money online is through affiliate marketing, this is where you recommend products or services to people and can earn a commission.
It's a low-risk way for people to start making money online because the start-up costs are so low or zero and it's also simple to learn and understand.Click here t
Click here to join Wealthy Affiliate and learn how to make real money online, you get all the training how to build your foundation and get making money online.
Why do I recommend wealthy Affiliates? for starters, they have been online for over 10 years and have trained complete newbies and turned them into successful affiliate marketers.The best part is that Wealthy Affiliates is free to join and get started so put your credit card away.
Loved my post?go ahead and share on social media so others can benefit from it.