A domain name system is an online naming system that makes it easy for people to find your website easily.  It gives servers a unique, memorable and easy to spell address which would have been hard to type if the technical IP addresses were being used.
Why you need a domain name
A domain name is your own unique identity so you can't share it with another entity. Therefore, when looking for a domain name, you have to find one which has never been used elsewhere.One of the main reasons why you need a domain name is that it helps you to establish your credibility as an authority in your area of specialization whether you are a business or an individual.Additionally, you can get personalized and multiple email addresses with your own domain name which makes it easy for people to find you online.Visitors to your website will definitely appreciate the fact that they are dealing with the owner directly.You can also create multiple emails for various departments and organization functions. This is essential in reducing the time it takes to respond to mail and it enhances customer satisfaction,having said that, read along and I will share with you where to buy domain name and why.http://morewages.blogspot.com or https:// morewages.com
what looks better?
Search engines are bound to give your website a better priority when you have your own domain name.
You will get a higher ranking when your home page is running under your own domain name than when you were to be using free web hosting or a sub-domain.
The search engine traffic you get with your unique domain name will help propel you to online success.
A domain name gives you portability whereby you can carry your website to any web host of your choice whenever you want a change.
If you are using someone else's domain, you will most probably lose your loyal followers and your hard work when transferring to another domain registrar.
This means that you will have to start building your traffic from scratch which is a waste of time you spent building your subdomain.
Why You Need To Buy A Domain Name
I believe you are reading this because you are interested in buying a domain name right?we`ll look at different options available.
The reasons why you need a domain name are innumerous. The most important thing you have to know is that without a domain name, your website will not look professional at all.
It will look like one that has been created by an amateur and people will not see the value of visiting it.
But you can now have a professional website in minutes with the help of my number 1 rated program. Don`t worry if you`ve never created a website before, they will guide you all the way.
Buying A Domain Name Explained
To get a brand name like example.com, if you have decided on a name already, you will need to register at one of the domain registers, prices start at around $9.99 for a year.
(GoDaddy to have offers from time to time where you can buy a domain for as cheap as $1.99 a year)Remember you have to renew your domain every year, or you can pay for an extended time if you chose to.
Where to buy a domain name
There are many domain registrars to choose from but the most common is Name cheap which provides domains for as low as $10 annually. Others include Dotster, 1and 1, GoDaddy among others.
Name cheap is the top of my list. Namecheap is user- friendly and makes buying a domain easy even as a beginner. As well as selling domain names, you can have your site hosted.
With a few clicks, you will have your domain ready. Another reason for having Namecheap as my top choice for domains is they don`t have upsells which I hate.
GoDaddy is another place where you can buy domains and as said, look out for their special offers from time to time where you can buy a domain cheaply if you need hosting, they offer this too. A real turn off at Godaddy is their upsells.
With over 11 million registered domains,1&1 is the leading domain registrations. At 1&1 you not only have a chance to buy a domain, but you can also have an extension to your domain.
They make registration easy and newbie-friendly. Do check out for special discounts that can be as cheap as $.99 for 12 months.
Paying For Your Domain
As said, Namecheap is at the top of my list so I will guide you on purchasing and paying at Namecheap start by going to Namecheap.com the name you want is available.
It will look like the image below, Showing you the price for the domain and alternatives with .info,. club,.com etc.
If you`re happy with your choice, click the shopping basket and your domain name will be placed in the basket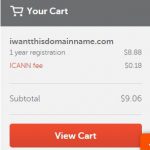 Check again to be sure you`re happy with everything if you are, on the right side, you`ll see your subtotal, click to confirm order.
The magic is done, you are a domain owner. Now all you have to do is choose the payment processor and pay.
Congratulations, you are done. Registering a domain name is a quick process that needs a few minutes to complete.
It usually takes 24-48 hours for a domain to become active. You can't start blogging immediately after getting a domain name but at least you have taken one big step towards having your own website.
Bottom Line
You will never find out what it means to establish yourself as an online brand until you have your own domain.
As said earlier, once you find the perfect domain name; never let it go because you never know if that could be the ticket to your online success.
My Choice. Wealthy Affiliates is my first choice for Domain names and creating your first website, Wealthy affiliate domains come with loads of advantages.
Wealthy affiliate is a complete website platform,you can expect more than just a domain name and then hosting.You can host at Wealthy Affiliate and have more.
Daily website backups

Hosting

 Expert website feedback, you have other eyes looking at your website and giving you an honest opinion on where to improve

Website comments this is great on improving google ranks
You can get started right now and the best part for the last? it`s totally free to join Wealthy Affiliate and create your website.
I hope that with my post, I have helped you make a wise decision on where to buy domain name/s and get started with your first website.
Need any more help let me know, will be glad to answer any questions, just leave me a message below.