Website traffic has served as a means of survival ever since the introduction of the Internet. How is it possible to sell something in case you do not have any customer? Almost every single entrepreneur out there faces this problem at present and some decide to buy website traffic.
We have come across some desperate online business owners that have opted for paid cheap website traffic services and did not achieve success eventually. Below we will mention some challenges which are confronted by a new company website. Numerous websites have to pay dearly for purchasing website traffic.
Buying Website Traffic Is Expensive And Unsustainable
The reason for this is that once a business starts, it does not succeed in creating any type of online buzz. All you need will be a reliable SEO service which will help you to rank well in the first place.
Unless you are already an established company, it will be extremely difficult to make a mark in the world of digital marketing even with the help of viral ad campaigns. For this, you require a lot of cash as well as time for creating an impact in a world which is already full of successful sellers.
The majority of the websites quit at this point and start buying traffic. However, there is a lot of risks involved in generating cash using this approach.
Cheap targeted website traffic is nothing but a myth. We all dream of getting a lot of users from our target group who will visit our sites every day. However, it is impossible to fulfill this dream unless you go out there and start promoting your products.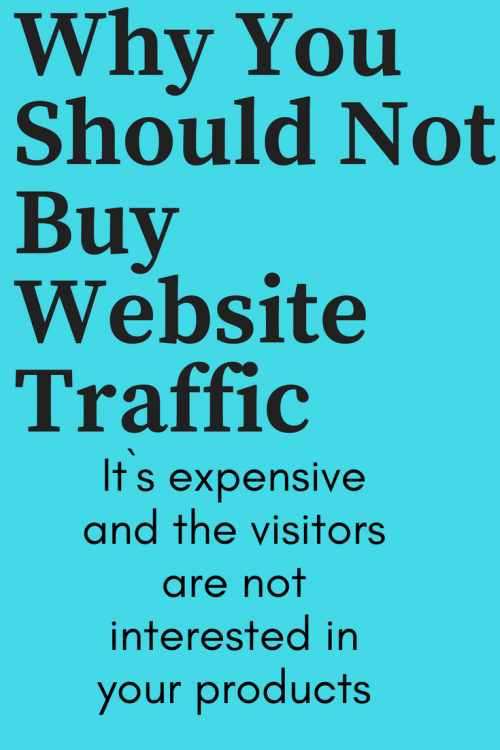 Even targeted website traffic has its own drawbacks if your content does not deliver what readers want. There is also a possibility of getting a high bounce rate in case millions of individuals start visiting your website and the products you offer does not solve their problems. Someone looking to buy dry skin care products will not care to read your sunscreen post.
While these individuals are going to get paid for surfing your site, the majority of them are not interested in purchasing your products even though they might fall within your target group.
This is actually a deal breaker so far as the new algorithm updates on Google are concerned. You are going to observe a gradual decrease in dwell time, and the website traffic is going to subside slowly by the time you need to renew the contract.
Your visitors might be generating cash by surfing your site, but they will also surf other sites as well. They are not interested in spending a considerable period of time adding products to their carts and then checking out.
Buying website traffic can also make you significantly poorer. In fact, it is going to cost a considerable amount of money. In case you are purchasing traffic from sellers who have a higher page rank, you will spend hundreds of dollars every week without any returns.
In this way, it becomes a one-way process where you will go on spending money without seeing any significant returns.
Moreover, Google is going to hate the strategy of buying website traffic. Apart from Google, virtually all the high ranking ad networks such as Bright Roll and Yahoo! Publisher Network will be able to sense any fake traffic as well.
You will be violating the terms and conditions of Google by purchasing traffic off the Internet. In case you do have any AdSense enabled blog which you want to boost using any type of paid traffic, AdSense has the right to ban your account.




Don`t Buy  Website Traffic, Promote Your Website For Free
Promoting your site free and getting website traffic may seem like a huge task but believe me, it`s not, with social media and proper SEO you can drive targeted traffic to your site
B. Why Should You Promote Websites In Social Media?
Before explaining the benefits of promoting websites in social media, it will be important to note that it is more advantageous to connect your site to active social files instead of the less active ones. Below we have thrown some light on some of the reasons why you should promote your websites in social media.
1. Promote your brand :
Promoting your website in social media will help to promote your brand and also establish your reputation. Your social profiles will be able to complement your site, and for that reason, it will be prudent to make use of social media strategies while using your site to promote your brand.
By connecting your website to social media, you will be capable of increasing the awareness about the products and services sold by you.
2. Increase awareness of your content:
Promoting your website in social media will help to increase awareness about your content. For instance, adding social media share buttons to your site will allow the visitors to share your content easily with their social media followers.
3.Obtain more followers:
Obtain more followers by adding social media share buttons will not only help to increase the awareness regarding your brand, but your audiences can also follow you on your social profiles as well. This will help to enhance your online following implying that more individuals are going to stay connected with your brand.
Your Answer To Website Traffic
I use this product and it enables me to post and promote my website on Pinterest, it`s free to get started and you get 100 pins for free. Pinterest drives more traffic than most social media out there and it`s easy to use.
Conclusion.
You do not need to buy website traffic, with some effort and patience, you can promote your site free. If you are already spending time on Facebook or any other social media, use that time to promote your website.