eBay offers a fast and easy platform to put selling items on display online. But what if you`ve never sold a product on an e-commerce site? This post will guide you on how to sell on eBay for beginners, so if you are a beginner or never managed to make money on eBay, this post is for you.
This post will explain exactly how to sell on eBay for beginners and how experienced eBay sellers do it and by the end of the post, you should be ready to get started.
It gives you access to a large number of potential buyers. You can check whether the product will sell or not and check out the competition.
It can teach you how to sell the product, how to communicate with users, and how to deal with negative ratings or negative feedback.
This post is also for those who`ve tried selling on the platform without success.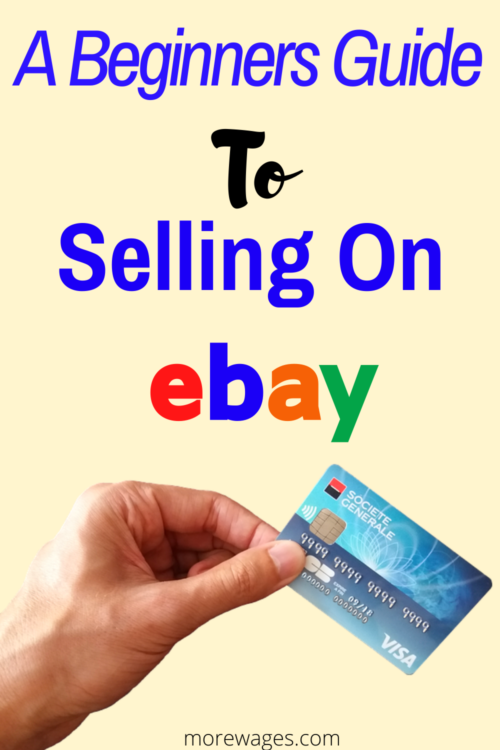 eBay's business is principally different from Amazon and other major online e-commerce players.
Amazon is an e-commerce site while eBay is an auction site that is used for buying, selling, and re-selling goods.
The items on eBay are sold through biddings that last from 3 to 10 days. Then the highest bidder purchases the goods.
Whoever wins the bid is able to buy the product.
It serves as a contest between the buyers which can be exciting at one time and frustrating at the other.
There are also items that can be purchased right away without the bidding war but at a premium.
Whereas on Amazon, the sellers have fixed prices on their products. Amazon is an online platform for independent sellers as well as businesses. (but, this post is about eBay)
The list of restricted products at Amazon, however, is huge while eBay has minimal restrictions on products that can be listed for selling.
Let`s be clear on something that many beginners fail to understand or just underestimate.
When you get started selling on eBay, unlike what everyone told you before, your income will be very low.
What many new beginner sellers on eBay do not realize is that they have to pay eBay to sell on the platform.
No need to despair, the payment is so low, every item you list on eBay will cost you just 30 cents.
Once you sell the item, 10% of the final sale price goes to eBay. Check more here to understand your take on eBay sales.
Before putting your product out for sale, it is important to go through eBay's Completed Listings.
It tells you all about:
The number of bids shows the popularity and demand of a particular product.

A detailed history of bids which includes both the starting price as well as the winning bid.

 The "unsold" completed listings tell what not to do.

It gives you an idea about how much the buyers are ready to pay for that particular product.
How To Access Completed Product Listings On eBay:
Go to eBay and enter a keyword related to the product into the search box.Scroll through the search results. On the left-hand side menu, you can see the "Show only" filter.
Check the "Completed listings".
Setting Up Payment Method On eBay
Setting up a payment method is the next important step. Check out the payment modes acceptable on eBay.
PayPal remains the most preferred choice of payment mode. PayPal also provides seller protection which is a plus point.
Another method is the Merchants Credit Card. For this, you will need an Internet merchant account with any one of the payment gateways approved by eBay.
eBay also allows personal check payment, cashier's checks, bank-to-bank transfers, or money orders.
But these methods are restricted to a limited category such as Real Estate. Wire transfer is another payment method accepted by eBay.
If you`re not comfortable selling on eBay, there is an earlier post here where you can check other places where you can sell other products.
Optimizing Listing On eBay For Search.
In a crowded online marketplace such as eBay, you need to make your product stand out.
Not to mention eBay itself has to compete for customers with mammoths like Amazon, Alibaba, etc.  SEO becomes crucial in that case and this is how you do it:-
In case you`re new to SEO, there is an earlier post here explaining how to simply SEO your article like a Pro, now the same goes for eBay SEO.
Believe me, you`ll not be professional selling thousands of products in your first week, but if you learn how to sell on eBay, you`ll soon be making money.
Because there are more difficult things out there than learning how to sell on eBay for a profit.
Start with your eBay store name and its URL
Pick a name that is easy to remember, catchy, easy to pronounce, and relevant to the items in your store.
The store name you pick becomes the URL of your eBay business account which is what matters in the Google search.
But having said that, do not worry too much about a name, I know eBay sellers who sell anything and everything, what they do is have clear auction-style listings for their items.
Go on and create your eBay account now then worry about the small things later!!
Next comes your profile page.
A completed profile attracts more users because it appears genuine. It serves as an assurance to the users that you are a legitimate seller. Upload a photo and information in your profile.

Product title is the next thing that is very important because that is the main thing a search will look into to list the product.
If the keyword you entered for searching is found in the product title, it is more than likely to feature in the search results.
For a better title, try to use general terms as well as keywords together.
Also make it relevant to the listed product's attributes such as its size, condition (whether old or new), product brand, and its color.
Next on the line is the photo of your product. Uploading a sufficient amount of quality photos from different angles.
A professional photo is a good way to go(professional I don`t mean hiring someone, just a clear good quality photo with your phone).
I said professional because I know people like myself who just can not take clear photos.
eBay gives you 12 photos at no cost on most of the eBay listings. An appealing image will skyrocket your sales as it has the potential to attract more users.
To get good quality and attractive photos
Mention dimensions in the images as well as the description. Take some high-definition close-up shots.
Take and upload some high-resolution photos so that they can be viewed clearly in the zoom feature too. The backdrop you use to take photos must be plain and uncluttered.
Avoid using flash while taking pictures. Natural daylight works best. Capture the product from all angles.
It is important to show the faults in the product (if any) to develop and maintain credibility. Especially if you are selling rare items.
In case you can not take quality photos "find the exact match on eBay and use it but remember to give credit to the image owner"  also let your readers know it`s a similar image but not from the exact product you`re selling.
Describing A Product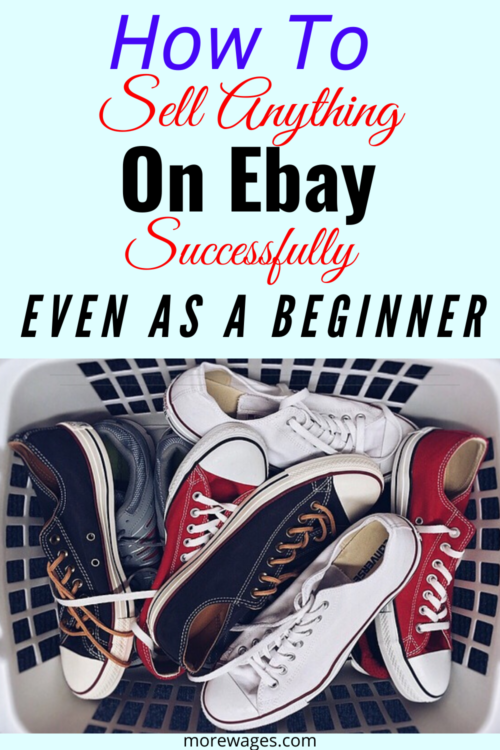 Selling products on eBay just like any other online platform needs commitment.
If you`ve never sold a product on the platform, you`ll realize there are millions of products and for you to make a sale/sales, you`ll need a good product description.
Some products sell faster and better, for example, handmade items sell very well, but that does not mean you have to sell a particular item or similar products, so get your items out there for prospective buyers.
To be a successful eBay marketplace seller, always find a balance in the product description.
Your description should be comprehensive, Structure the text well. Include all the important factual information about the product. Do not exaggerate or overdo it.
Never offer fake and misleading information, do not overuse the keywords, and keep it simple but to the point.
In case your item is not one of the top-selling products on eBay, don`t worry, eBay is a large enough market place and there is something for everyone.
Remember the saying "one man`s trash is another man`s gold"?everything and anything sells on eBay.
Prioritize Customer Satisfaction
A satisfied customer offers positive feedback which helps you at attracting more buyers.
Getting eBay positive customer feedback is simple as well as difficult. Positive customer feedback is the lifeline for most eBay sellers.
Would-be customers feel more comfortable buying from a vendor with much positive feedback than buying from someone with no feedback?
If you are serious about selling on eBay, you should use the eBay app so you can monitor your listings on the go. The eBay app is available for both iOS and Android.
You can achieve it by:
Not misleading your customers. Selling on eBay is about honesty.
Delivering the same product you have shown in the picture and as described while selling. It adds to your "Shipped what described" score.
Shipping the product within the time frame you have promised while making the sale. It gets your "Shipping time" 5 stars rating.
Reply to any queries from the buyers in a timely manner. A patient, professional and friendly tone is well appreciated by the users.
Taking your customer service seriously.
By doing this, you can get good customer ratings in "communication"
Advertise Your Product
You can promote your product listings on eBay by paying to advertise them. (but this is optional)
It may not get you a high ranking in Google search engines but it will get you a higher place in the search results.
All you need to do is pick a product or an entire category to promote. Choose the ad rate. You get charged if or when the promoted product is sold.
Try to find the best day for your products, not every day is a "market day", some days are slower on eBay, you can check these tips from pcmag.com to decide when is the best time to post your products.
But like I always say in everything I do, not one size fits all.
You can always source more products to sell on eBay for profit, this tutorial explains in simple and easy to understand step by steps on sourcing products to sell on eBay.
Minimize Shipping Costs
You can attract more buyers by offering free shipping. This also gets you higher placements in the search results.
Another perk of free shipping when how to sell on eBay for beginners is that once the item is successfully delivered to the buyer you get rated 5 stars automatically for shipping and handling.
The rating improves your listing in the search results.
You can offer multiple delivery services. You can also set up a real-time shipping cost calculator.
The calculator calculates the shipping costs according to the ZIP code of the buyer, the package's weight, and the shipping method chosen by the customer.
I hope by now you have a clear idea of how to sell on eBay for beginners to veteran online sales guys.
Worth Knowing About eBay Shipping
Postage costs can be lessened due to eBay having a partnership with top shipping services such as USPS, FedEx, and UPS.
These service providers offer discounts that you may qualify for.
"Having said that, this might not always work, I`m in Switzerland, the cheapest package cost CHF 7.00, so you do the math" so be aware of international shipping cost.
eBay Seller- Protection From Buyer-Fraud 
As a seller, you will need to watch out for "slippery customers".
When you are just getting started, it`s advisable to start with fixed-price items, this way, you`ll not try to get a heart attack trying to deal with auction-style listings.
New sellers are more likely to fall for scammers. Once you know about the types of scams and fraudsters found on the site, it will be difficult to be trapped in a scam.
Be forewarned and prepare yourself in advance. You can detect a scammer if:
The buyer is offering double the amount asked for the listed product.

Ask for a signature confirmation before delivering a product of over $750. Keep photographic evidence of the entire communication (if any) with the buyer.

Most importantly, take pictures of the entire process of packing the product and shipping the said product. 

Note and save the serial numbers of the product you are shipping.
Check the profile of the buyer before making the sale.
Selling limits on eBay
Last but not the least, be aware of your selling limits for the month on eBay.
There are all 3 types of limits: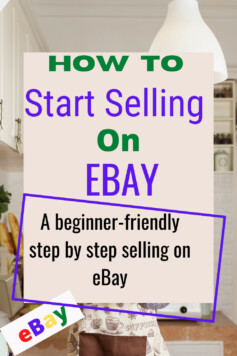 Account limits
Category limits
Item limits
Last Tip On How To Sell On eBay For Beginners
No need to worry if you`ve sold all your kids' toys and your garage is empty, most eBay sellers get products from thrift stores and garage sales. Remember you can sell anything in any condition provided you give the product description correctly and the would-be buyer knows the condition because some buyers need products just for parts.
Now in the next post, I will explain eBay seller fees, because yes there are eBay fees to be paid if/when you sell an item, then I will also explain eBay best practices so look for our next post soon.
Conclusion On selling on eBay
eBay is a great as well as a tried-and-tested platform to start a successful small home-based business. Follow these easy steps on how to sell on eBay for beginners, you`ll be surprised at how easy it is to sell products online with this very easy and profitable business model.
You can create your own online store or an eCommerce website.
I really hope you found value on this post on how to sell on eBay for beginners, if you have questions, just leave me a message below. eBay is great for marketing and promoting new business.
Selling and re-selling on Facebook, Instagram and Pinterest might be in trend but products such as electronics, jewelry, or clothes are frequently sold on eBay.
These sales don't seem to stop. A large number of customers come to eBay to find good deals on products they wish to buy unlike in the social media marketplace.
Did you find this article on how to sell on eBay for beginners helpful? Try your hand at selling on eBay once and leave us a comment describing your experience. Leave some tips if you have any.
Do share the article on Facebook or Twitter if you find it helpful by using the share buttons.