Fiverr is, hands down, one of the best platforms for freelancers that have been around for more than 10 years now.
But before you get started you might need to know which are the best Fiverr gigs. We`ve listed here 5 best gigs to try on Fiverr.
Despite starting as a humble marketplace, it has grown with time into one of the most sought-after freelancing platforms.
What this means for you as a freelancer is that you have to offer amazing services that will help you stand out from the rest of the freelancers.
You may quickly note when you start using the platform, however, that some gigs are better to plunge into compared to others for various reasons.
There are a lot of buyers on Fiverr who look to buy from a professional, be it holding signs up or dancing in your bikini, there is something for everyone.
If you've been trying to join the platform as a freelancer, here are the main gigs that you should start with.
I can confidently say that is If you are really out of ideas for now or have no time to do it, then Fiverr is the place to go. Check out the Fiverr platform you might get gig ideas listed
These are the most sought-after gigs and with the most income potential provided you`re good at what you do.
1. Graphic design
This is one of the niches that have endless potential for success on Fiverr. There are lots of freelancers who are making good income through logo designing, brochure and flyer designing, business card designing, and infographics production.
One of the top reasons graphic design has become an awesome gig for freelancers on Fiverr is that employers have discovered the value of outsourcing.
Tasks such as graphic design are not everyday tasks, and what that means is that there is no need for businesses to have an in-house team dedicated to providing such services.
2. SEO support
Every online business owner with an online platform and who wants to make the most out of their website absolutely appreciates the importance of SEO.
Whether it's a personal blog or business website, SEO optimization goes a long way towards encouraging more traffic to the platform.
If, therefore, you have SEO support services to offer you can sell them on Fiverr, and you'll definitely attract a good number of customers.
Some of the high-demand services that you can offer on Fiverr are SEO keyword research and renting out SEO tools or doing page optimization.
There is just so much you can offer in the SEO niche, think of how many blogs are out there. You can see what SEO gigs are offered here to have an idea of what`s on offer.
3. Video animation
If your heart and mind are in video animation, then you are welcome to try Fiverr gigs as your go-to marketplace for such services.
Whether you are a 2d or 3d video animator, it is possible to make substantial cash from completing a number of orders on a monthly basis.
With more and more businesses seeking video animation services to use in different ways, your services are definitely valuable to hundreds if not thousands of customers.
It's amazing to know that you can earn a good income from having the know-how to operate basic video creation software such as Adobe After Effects and others.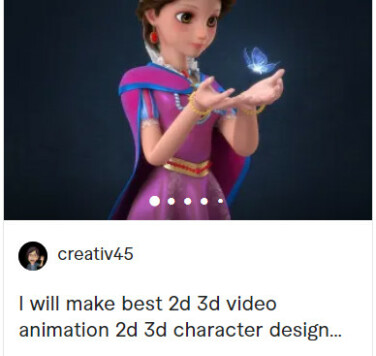 Whiteboard animation and social media video content creation are your best chances when it comes to exploring video animation on Fiverr.
But it`s not limited there, join the platform and find what your clients need and want, nothing is impossible in Fiverr.
4. Content writing
There are thousands of small to large businesses that seek outstanding writers to complete their work portfolio almost every month.
As a professional writer, you will have lots of gigs on Fiverr to choose from. The good thing about such gigs is that they cover a wide variety of niches.
You will have the freedom to choose the projects that you are comfortable working on ranging from editing, scriptwriting, legal writing, and several more.
Your experience and the ability to deliver quick, outstanding results will be your major selling points, so be sure to give it your best.
You may like
How to earn extra money from home.
Starting a successful blog for beginners.
How I find work-from-home jobs near me.
5. Business planning
We all know that launching one's dream start-up is never an easy process.
There are lots of potential business owners who are looking to hire business planning professionals on Fiverr.
As such, if business planning is an area that you excel in, you might want to try the different offers available on Fiverr.
Some of the areas that have tons of offers available include but are not limited to market analysis, business naming, and business plan creation.
Final word
As we come to the end of this article, one thing that you have to appreciate about Fiverr is that there is a sea of gigs to try.
While the gigs mentioned in this article are certainly some of the best on Fiverr, there are lots of other assignments that you can attempt.
The secret to excelling in Fiverr is to find a marketable niche that you are interested in and pursuing it wholeheartedly.
Having said that there are other places to make quick money, this platform has been my go-to for a long time.