Most new bloggers start with no money or with the bare minimum. They have to do everything themselves – creating a website from scratch but comes a time you look at your site and realize it`s time to hire professional website designer as you`re no longer happy with what you see when you look at your blog.
That`s ok if you`re just getting started, a tiny unprofessional website is ok.
But as you grow your business, as your business expands over time, you`ll find that your simple "home-made" website might not be enough to cover everything. It`s time to expand your website, make it look professional.
Chances are, you're someone who started everything with no money too, where you created your WordPress blog by yourself, and now as your business is growing, you feel the need to make it appear more professional.
It`s time to ask yourself, should you hire a professional website designer or do you go it alone? should you give away your money in exchange for something that you can do by yourself?
Why Hire a Professional Website Designer?
When you hire a web designer to do your job for you, you are doing more than just handing over the "dirty job" to someone else.
In fact, by paying a little money, you can let the designer worry about the little annoyances that always evade the main picture and only come haunting when you're halfway through the job.
That way, you will be more focused and have more time to spend on your actual business strategy.
( I should know, it took me months to create a landing page)the time I could have used doing something else.
Look at it positively, the designers you hire are professionals, they are good at what they do.
By outsourcing your web design jobs to them, you won't have to worry when problems surface because you can always get them to fix it for you.
Again, they will be able to pinpoint the problem and fix it faster than you probably will be able to.
But you know, it`s ok to build a starter website on your own, I know I did and even bragged about it here and you know what, it takes less than 10 minutes. It will not be a professional-looking website but yours, built by you.
The work you pay for will turn out more professional than what you can achieve on your own. The designers have been doing it longer than you have.
After all, they do it for a living so they have to be good! always think of not just work your business, but grow your business too

HOW TO HAVE MARKETING WEBSITES BUILT FOR YOU ON THE CHEAP
Normally, if you want to have a professional designer's custom build your site, you must be prepared to dish out at least a few hundred dollars.
All this can change if you know where to find the best deals, the best designs for the lowest price.
Finding A  Web Designer:
(please note I did mine differently but we`ll get there soon enough)
Understand that it is not a rip off to get companies to design websites for you.
Have you ever seen those advertisements in newspaper classified ad sections that offer a 5-page website for four figures?
These companies are established companies with physical locations, and they have to increase the amount they charge to pay off some overheads: office rent, designer's wages, advertising costs and so on.
To avoid this, it would be wise to find freelance designers who work from home.
These people are often working from home so they do not have a high operation cost like that of a company.
On the other hand, they will be able to design images with quality similar to those of designers from big companies, so it's a "no-brainer" decision.
Choose freelancers with care. The best way to do this would be to go to fiverr.com.
There, you can post the abstract of your project and get thousands of freelancers to bid on your project, so you will surely get the best deal.
You will be able to choose the designers based on their experience, past transactions, and ratings, so your value for money is secured.
( I talked about Fiverr and how the platform works at an earlier post that you can check here).
Now if you can`t justify paying money to have a website created for you, you can design your website yourself.
Why You Need A Professional Website Designer
Making it easy to use
Most DIY websites are not very user friendly, especially if it's your first website.
A professional website designer will create a professional website with your website users in mind, making it easy to navigate your site. An easy to navigate site is what Google is looking for.
Time-Saving
Creating a standard website takes minutes and that`s a fact, creating a functional, user-friendly, professional-looking site takes time and effort.
When you hire a professional website designer, you save time, frustrations, and effort.
The professionals do this almost on a daily basis so have them create your site. These guys have many professional web design techniques they use every day for the best results.
Trustworthiness
A well designed website creates trustworthiness, no one wants to spend time on a site that looks like it was created by a ten-year-old.
Gone are the days when websites were so rare that you had to accept how rubbish a site looked because it had what you`re looking for.
Today every niche has enough websites covering everything so find a way to make your readers trust your site by having it well designed.
Think about it, if you only need 5 simple pages to present some simple information, why waste hundreds of dollars for it?
Just spend a little time to sit down and do it yourself.
You'll be able to design your own sites even if you do not know a single line of HTML code.
With the help of WYSIWYG (what you see is what you get) programs such as Microsoft Frontpage, Macromedia Dreamweaver, and so on.
Some Web Design Elements To Avoid On Your Site
As a web designer, design your websites to give your visitors the greatest ease of use
The best impression and most important of all a welcoming experience.
It doesn't matter if you had the greatest product in the whole world.
If your website is poorly done you won't be able to sell even one copy of it because visitors will be driven off your website by the lousy design.
I'm not only talking about good graphical design. Professional web design will be able to point out that there are many components that contribute to good website design.
Accessibility design, interface or layout design, user experience, and of course the most straightforward, which is graphic design.
Hopefully, you will be able to compare that against your own site as a checklist and if anything on your site fits the criteria, you should know it's high time to take serious action!
1-Background music
Unless you are running a site that promotes a band, a CD/DVD, or anything related to music, I would really advise you to stay away from putting looping background music onto your site.
It might sound pleasant to you at first, but imagine if you ran a big site with hundreds of pages and every time a visitor browses to another page on your site, the background music starts playing again.
If I were your visitor, I'd just turn off my speakers or leave your site. Moreover, they just add to the visitor's burden when viewing your site —
Users on dial-up connections will have to wait longer just to view your site as it is meant to be viewed.
2- Extra-large/small text size
As I said, there is more to web design than purely graphics — user accessibility is one big part of it too!
You should design the text on your site to be legible and reasonably sized to enable your visitors to read it without straining their eyes.
No matter how good the content of your website or your sales copy is, if it's illegible you won't be selling anything!
I usually use size 12, some bloggers go for size 14.
Remember some fonts and some blog themes the words will start to automatically appear smaller, so there is no fixed size for fonts, look for what works best on your blog theme.
I have an earlier post on choosing blog themes here if you missed it.
Ready to get started or you already have a blog but want a better theme? these themes are all professionally designed to give you that professional clean look.
The Presentation Of Your Online Business
The Importance Of Good Website Design
Your website is the hub of your online business; it is the virtual representation of your company and your products whether your company exists physically or not.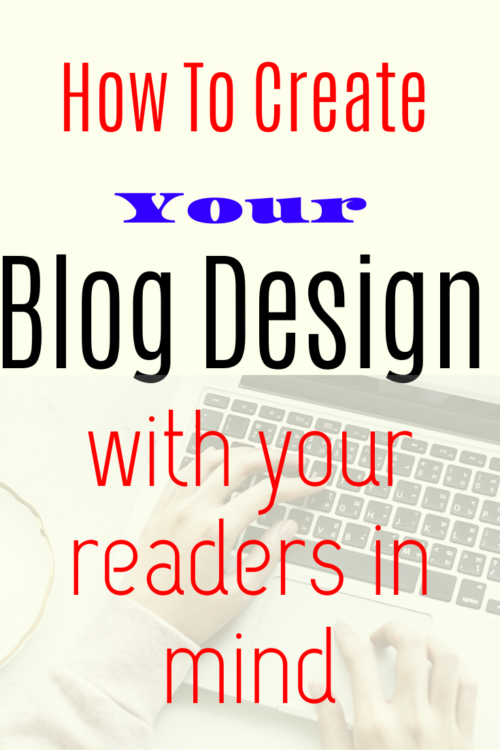 When you are doing business online, people cannot see you physically like how they could if they were dealing with an offline company.
Hence, people do judge you by your covers. This is where a good design comes in.
Imagine if you are running an offline company. Would you allow your salespersons to be dressed in shabby or casual clothes when they are
dealing with your customers?
By making your staff wear professionally, you are telling your customers that you do care about quality. This works simply because of first impressions matter.
Similarly, the same case is with your website. If your website is put together shabbily and looks like a 5 minute "quick fix", you are literally shouting to your visitors that you are not professional and you do not care for quality.
If you have a totally professional looking website layout, you are giving your visitors the perception that you have given meticulous attention to every detail and you care about professionalism.
You are organized, your site is clean, focused and you really mean business.

Having said that, you should also have anything related to your website well designed.
From business cards to letterheads to promotional brochures, every little bit matters.
This is because as you grow your business, these items become the face of your business.
Once again, think of the "salesperson dressed shabbily" analogy, and you will get my point.
Choosing The Right Time To Redesign Your Website
If you run a website, chances are you often wonder whether it is the right time to do a total redesign of the layout of your website.
Here are some points to consider:
Are you thinking of a redesign just for the sake of it? If you answered yes to that question, it is not yet the right time to do a redesign. Remember, a design serves a specific purpose.
If you are not sure whether to do an overhaul of your site, keep in mind that your current design might have a specific purpose that you might not know about.
You will lose that function if you do a redesign.
On the other hand, if your website has had the same website design
since the 1990s, perhaps it is high time to do a redesign.
The last thing you would ever want to happen to your site is when visitors leave your site without taking a look at your content just because the design is old fashioned.
If this is your case, here are some points to ponder before doing a redesign.
Redesigning your website is like performing plastic surgery on it.
Your website loses its current identity (for the better or worse) and your regular visitors might not recognize your new design at first glance.
You risk losing them just because they thought they landed on the wrong page. Hence, it is very important that you retain a characteristic feature from your old layout.
Perhaps it is the logo of your site; perhaps it is the same text style for the title for your site or your logo.
To play it safe, put a poll on your site to let your visitors do the talking. If they think it is necessary for the website to have a fresh look, give it to them!
Now that I have given you a few pointers about website design and what a well-designed website can do for your business.
Do you actually have a business or perhaps you have been thinking about starting an online business but don't have the necessary skills or experience to get that start?
If you do want to get an internet business off the ground I can help because as you must know, the most important aspect of having your own website is, of course.
The revenue it will generate for your business and as it belongs to you then the revenue it will generate belongs to you and nobody gets their hands on any money you make from it but you.
A pretty nice situation to be in wouldn't you say?
Now wouldn't you like this to actually be you?  Wouldn't you like to have your own money-making website? Wouldn't you like to earn an income from the internet from your home?
Well, you can and it's easier than you think to get started.
First of all, even if you have some experience of selling/promoting in
a previous or current employment or you are a complete novice you are going to need some basic training to get started online with your own website.
A website won't build itself.  Of course, as I said above you can hire
someone to do this for you and it might not be cheap.
You could also hire an online company to 'Host' your website on the internet, and again this could cost you a fair bit of money.
Is there a solution?
The best solution is an online company called Wealthy Affiliate. This is an online company with a platform from which to launch you and your website onto the internet.
There are also bonuses when you join. As soon as you do you will receive two free websites and they will be hosted for you on wealthy affiliate's Cloud Hosting Service completely free as well. And instead of looking for cheap website designers, you`ll be your own designer.
Is this a great deal or what?  It gets better.
Wealthy Affiliate has a training program that is second to none.  This is no fly-by-night scam folks.
This is the 'Real Deal' for you want to earn an income from the internet from the comfort of your own home.
As soon as you join you can get started right away with a program the two co-owners devised based on their own marketing methods that they used to start their own internet careers a few years ago.
They have put together a training program with 500+ videos, a Bootcamp, online classrooms, a live chat room, private messaging to them personally, a keyword tool, access to nearly half a million members, free images for your blog, and much, much more.
If you are still reading down the page this far then I have to assume
that you do indeed want the financial freedom that an internet income can give you so I'm going to ask you two questions.
a) Do you want your own well designed money making website?
b) Wouldn't you like to earn an income from the internet with your own home business that you run entirely from the comfort of your home?
If the answer is Yes then signup to a Starter Membership through the image below and get started on the road to your financial security today!
Thank you for reading my article and if you have the time please leave a comment below, any other comment section within this site or use the Contact Me form on the menu and I will get back to you.