For a beginner in the online earning world, it takes a lot of time for a right start to begin online earning from home because of lack of understanding of the field, the multiple avenues of earning money online it offers and not to mention the not so uncommon distrust that surrounds the online world considering privacy and security.
It's a huge help if you get to know and understand how online career works before you even consider entering into the field. Researching and arming yourself with knowledge is always a good thing.
You don't need much to get started.
What you will need is A Personal Computer or a laptop equipped with Internet connection, an email account, a Bank account, a PayPal or a Payza account.
Having said that there are different things you can do online to make an income and this post will look at some ways on how to earn money online without investment and what programs you can join to start earning.
Things To Keep In Mind
There is no instant money through internet.

There is no shortcut to the riches. No overnight successes! Not a legal way at least which one must avoid.

Prepare to put in a great effort and unwavering dedication.

Arm yourself with the proper knowledge to pave way for success.

Have passion as well as patience.
To help you get started we are going to share a couple of methods that can be used to earn from home without investment. Saying without investment, remember you will still have to invest time.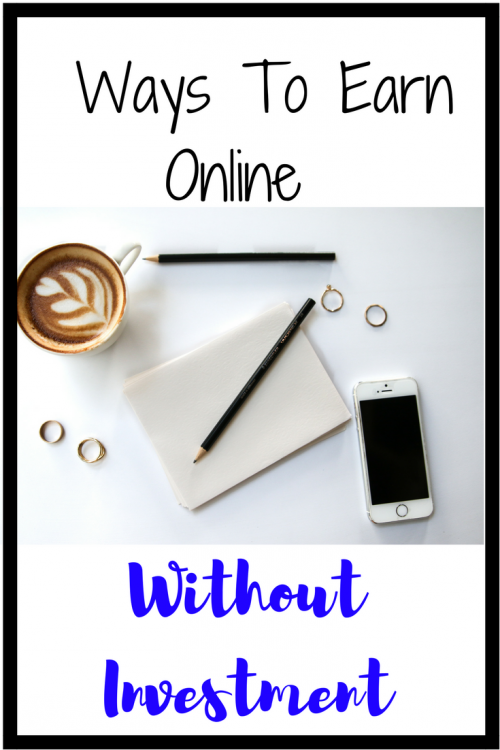 Content Writing
It goes without saying that Blogging was and had been the best source of making passive income through internet. With the number of blogs being launched into the internet world each day, it is safe to say that this hasn't changed much.
Not all the bloggers are writers, so it is pretty common for them to hire content writers that write the content for the blogs. The hired content writers get paid for the article with a set rate already decided before the agreement is settled between the writer and the blog.
The amount may vary from $2 – $10 per article which depends on the uniqueness, length, and the quality of the article.
There are now sites available that serve as the platform for such content writers to offer their writing services and for the bloggers to purchase the article without having to go into a contract. The payment is upfront as soon as the work is done satisfactorily according to the buyer.
UpWork, Fiverr, iWriter , contentment and Freelancer are the few examples of such sites. You need to register an account there before you can offer writing services. The registration is free. The sites like iWriter make you take a simple grammar test while registering.
If you have a good grasp of the language and can produce unique quality articles then this is the job for you. Before you take on any project after registering yourself, make sure to read the instructions and requirements of the buyer properly and try to follow them to the letter.
The instructions are there for a reason so don't brush them away.
Freelancing
Freelancing has increasingly been becoming one of the most attractive online. Freelancing provides a sense of freedom where you are your own boss.
There are no time constraints. You do not require qualifications and impressive resumes. All you need is passion, skills, computer literacy and understanding of the online world.
There is no limit to what skill you need. It can be painting, computer programming, web designing, craft making, marketing, Consultancy, virtual assistant, etc. Anything really!
If you have the skill and you are good at it, you are set. Even without skill or a right job, the Internet offers many paid jobs to earn money online.
For freelancing, the sites that are good are UpWork, Freelancer, Fiverr.Click here to visit Fiverr.
Microtasking
If you do not want to commit your time to freelancing or writing then you can do micro-tasking. The Internet is full of such jobs where a large task is split into multiple tiny tasks which are done by different individuals. It gets the job done, it is not as time-consuming as writing and it pays too.
Clixsense, Neobux, Mturk, etc are few of the sites offering micro-tasks. You have to become a member of such sites to get access to the tasks. Registering to any of these sites is free.Check here for an earlier review of Clixsense and decide if it`s for you.
Paid To Click Sites
PTC sites are the sites where you click on ads and get paid a small amount for each successful click. The amount isn't large but it still is a way to earn. It is mostly a way to make passive income.  
No special skills are required to work on PTC sites. You do need to become a member of these sites to have access to clickable ads.  With time and practice, you can learn to make the best use of PTC sites and earn better.
These sites also offer referral programs along with offers, surveys and multitasking. Visit the sites daily. It doesn't take much time for a daily visit.
There is 'n' number of PTC sites available. Clixsense, Donkeymail, JillsClickCorner, Neobux are some of the genuine ones available.


Online Surveys
Another great opportunity to earn money online without investment is by participating in online surveys. You literally get paid for your opinions every day you take part in the surveys. Through the surveys, companies ask questions to the common people/ customers to get their opinions on their services. Now imagine being paid just for your opinion on things you already use like your favorite shampoo or body lotion.
The surveys can be anywhere between 5 to 45 minutes. The can pay anywhere between 20 cents and $20 depending on the length of the survey and the type of information the survey is seeking.
You have to register yourself to survey sites to get access to surveys. It is essential that you fill out your profile on the sites. It makes it easier for the sites to offer you surveys suitable/related to your interests. As mentioned, surveys are not so long and are completed when you`re watching TV.Before you join any survey sites, check an earlier post where online surveys are explained in detail here.
Examples of survey sites: Panel Opinion, Toluna, Swagbucks, or this site here.
Bitcoins
Bitcoins are the digital currency that works like the real currency. It is gaining momentum all over the world. Earning bitcoins does not require investment.
Just register with genuine paying Bitcoin sites and you can start earning for solving captchas or doing micro-tasks. An online wallet account is needed to store Bitcoins you earn. These Bitcoins can be converted into real currency.
Conclusion
The Internet isn't as inaccessible as it once had been. Anyone who owns a Smartphone, computer or Laptop can have access to the internet. From a medium of connecting with people and transferring data, the internet has now evolved as a money making platform.
But it is prudent to devote some time to learn more about the mechanics of an online career before venturing any further into the field. If you`ve been wondering how to earn money online without investment then I hope this post did shed light as to how you can get started.
Remember you have to keep working at it, the money will not come overnight but with your work, you`ll soon enjoy online income.
If you have any questions, please leave me a message below and I will get back to you.Hope you found value and you enjoyed this post.