Making money online involves selling a product or offering a service, but how do you find the right products to sell? This post will give you tips on how to find the best products to sell online so keep reading.
It doesn't have to be something you own that you're selling, and you might even be just promoting or advertising for that something.
The thing is, it isn't actually that easy to work out what products to sell online, particularly because there are so many different options. Have you ever taken the time to stop and look at what is offered online?
Even if you just take a look through Clickbank you'll see a huge variety of products (and sometimes services) that you can promote.
But, not every product is profitable, and you need to be careful about your product selection and the company behind the products, otherwise, you will end up with products that you simply cannot sell.
Before you can sell anything online, you need to understand your customer, what they often purchase, and why they are purchasing online because the more you understand your customer and their purchase circle, the easier it will be to sell stuff to them.
Check customer purchase lifecycle to understand what to sell best to your readers.
For the moment, I'm going to assume you are looking at promoting the products of other people, although I will cover making and selling your own products briefly at the end of this post.
The Process Of Finding The Best Products
The very first thing to consider about selling products is whether they are physical or digital products.
Some people do try the approach where they buy products cheaply then resell them on an online store, making a profit from the difference.
This can be an effective way of earning money, but it is also very risky.
There are a lot of additional costs such as having the physical space to store products, shipping fees and the need to order products before you know exactly how much you are going to sell.
Personally, I don't think this approach is good for anyone getting started at making money online.
Really, it is only a good approach if you are already experienced at website building and know-how to drive traffic to your site and how things work online.
If you are looking at physically storing and shipping products, then you need to look at how much space they take up and whether they are profitable.
Pain Points
How to know what people will buy? this need not be hard once you know people`s pain points. Knowing what people want to buy is pretty simple.
People either buy to relieve an urgent pain or satisfy a strong desire. Of the two emotions, finding a solution for an urgent pain is often more of a motivator than finding a solution for a less urgent desire.
To make money with a website you must identify a starving crowd of people who have either an urgent need or a burning desire and then present them with the products and services they need and want the most. This is the essence of internet niche marketing.
More on pain points are explained here in detail.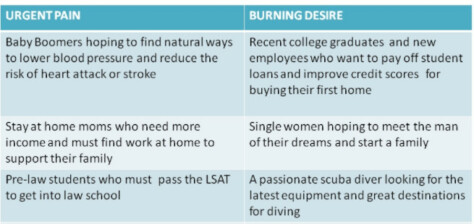 However, if you are taking an affiliate approach or are selling only digital products, you don't have to worry about any of that as all you have to do is drive traffic to the merchant and they do the rest.
When you are trying to figure out what products to promote, here are a few key things to take into account.
What's the Market Size?
Your market size is the number of people you are potentially selling to.If you have a broad niche, this number is probably quite large, while it will be much smaller if your market is narrow.
As always, market size is a trade-off. If your potential market is too small, then you will have a lot of difficulties in actually finding customers. However, you may stumble upon a market that is small and unique, which does actually have some advantages.
An example of a large market would be a site that targets pregnant women. There is a lot of flexibility in that type of site, and the types of products you can promote are also very varied.
A site with a small market might be one that targets pregnant women who are interested in sci-fi.
Clearly, there is a lot of difference between these two markets, and the first one has many more potential customers and products than the second.
However, the small market site does have the potential to be entirely unique.
If you target a small market, you have the potential to sell a combination of products that simply aren't found elsewhere, and that can really make your site take off.
Additionally, unusual sites can often be easier to promote, because of their novelty.
This really does work in your favor. You need to know your market size because this plays a key role in defining the products you choose to promote.
If you have a large market size, then you want to be looking for products that have a wide appeal.
If your market size is smaller then the focus should be products that appeal to your audience.
This brings me to my second point:
Who is your Audience?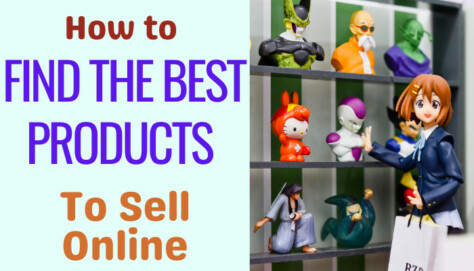 If you are going to sell anything, you have to understand your audience.
Otherwise, you are trying to sell products without having any idea of whether the audience is actually going to want them.
You might get lucky sometimes, but in general, this isn't a good strategy. The more you know about your audience, the better you can meet their needs.
In particular, you should be trying to meet needs that aren't being met elsewhere or meet needs in a unique way.
This means that you shouldn't try to develop a website that sells basic towels or the same type of clothing you can get at Walmart.
Knowing your audience will help you to figure this out and you can even talk to them about what they need.
One good way of doing this is to ask people about the problems they have.
Often, this information will help to inspire you about a particular product or give you a whole new direction in your ideas.
Searching For Products To Sell Online
Now knowing what products to sell and finding the products may be hard especially if you are just getting started, now there is an easy way to help you make more sales.
What products are in high demand?
Find product opportunities in keywords.
What are your competitors selling?
In-Demand Products
As a rule of thumb, the best products to sell online are products in evergreen niches, but selling seasonal in-demand products can really bump your income.
For example in October, you should sell Haloween stuff, in December, promote Christmas presents, and in January, you should promote Valentine`s day presents, and in April, you should promote Easter items.
Finding product opportunities in keywords.
Selling anything online starts with keyword research, this is what will help you understand what people are looking for and if it is worth trying to rank for the keyword. If not, keep digging, you will find a keyword with good search results.
This post explains in detail how to do keyword research so I will not go into details.
Quick research for the term Haloween proves too much competition, but the more I search, I find terms easy to rank for with enough search traffic.
But, we will assume you want to sell Haloween costumes. To understand exactly what your audience is looking for, you need to find a keyword that`s easy to rank for
Change this Subheading
Image Box Title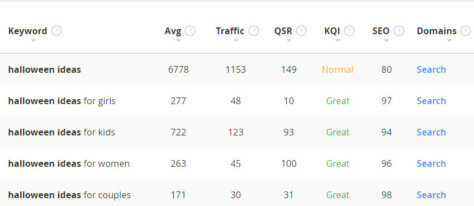 The search proves that"Halloween ideas for kids" has 123 searches with only 93 sites to compete with, this gives me the confidence in ranking for the keyword without much effort.
What are your competitors selling?
Make a habit of spaying on your competition to see what they are promoting. Not to copy but to brainstorm! I find it`s most helpful to know what my competitors are selling, this proves there are people interested in the product.
Conclusion On Selling Products Online
The first step to selling any product online is by solving your customer pain point. Find what questions your customers have and then let them know why the product you are promoting is the answer to their pain.
I hope this post will help you sell more products online. If you have any questions, just leave me a message below.