Today everything has gone digital. It has become necessary for any business venture to have an online presence. For that, businesses set-up their websites but having a website is not enough, you need to figure out how to get free website traffic because if you are using paid traffic, you`ll soon find out buying website traffic is expensive
Be it a blog or a web portal, just having a website is not enough if you don't have much website traffic. And less exposure means less traffic to your site which isn't good for the business.  
One of the main problems that online entrepreneurs face is how to get free website traffic fast. If you are not a seasoned digital expert then you might struggle with driving traffic to your website using various online marketing tools and platforms.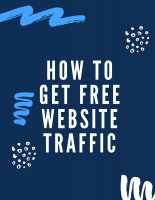 The innumerable amount of disinformation lying around in your wake for you to drop a hefty sum for the "100% success formula for attracting large traffic" to your blogs and websites doesn't help matters either.
 There is no need to spend large amounts when there are plenty of free ways to gain exposure to your website.
So, how can that be done? Is it really that easy? Truthfully, no, it is not as the internet is overcrowded with many things. It takes a huge effort to get noticed amongst that crowd. It takes good online marketing skills to succeed.
There are two methods to drive traffic to a website. One is a free method which involves SEO, creating and managing a blog, marketing through different social media platforms. The other is paid method involves paying for ads and promotions.
Listed below are some of the strategies that can be employed to get free traffic.
Learn Search Engine Optimization (SEO)
SEO ensures that you are targeting the right audience and bringing them back to your website. It helps to re-arrange or change the content on your site in such a way that it is easily recognized by the search engines and hence, raise the ranking of your site. Good ranking means good exposure!
Write Quality And Unique Content For Your Blogs 
Content is everything! The better the content is, the more audience will engage with it. For that, research and keep track of the traffic to know what garners more attention and generate more compelling content on the same. Never compromise on the quality!Check an earlier post on how to write good website content here.
Email Marketing 
Email marketing is another great way to attract more traffic. But first, you need an email list.  Do that by creating a lead magnet and build yourself a sales funnel. This will help you build an email list. Promote your services/ business through these emails. Be sure not to spam these emails as it will work negatively for your business. Start your email marketing with this program here.
Create And Offer Your Own Free Online Course
Who doesn't like freebies? And if you have the talent or have expertise in something, share that through online tutorials or online course. Be sure to make it informative and compelling enough to engage your audience. Mention or add links to your website with the course.
You can attract a great number of students from all walks of life through this. There are plenty of websites that you can use to create online courses.
Want to create your own website, it`s easy and you could be up and be running in minutes just enter the name of your website

Create Surveys
Create surveys that relevant to your niche using the content on your blog and share it on social media platforms.

Make Your Website Mobile Friendly
To not have a mobile-friendly website is a major faux-pas in the digital world that we now live in. People browse the internet using mobile more than they do with laptops, desktops or iPads.
To have to pinch each time to view a site can get annoying which will make them bypass it altogether and move to other sites.  You can see how that cannot be good for any business.
Promote Using Social Media Platforms
Social media today is an ultimate platform for exposure, marketing and engaging with the outside world. The power of social media is unparalleled. So, why not use it to your advantage?
Many businesses, individuals, news portals, etc use social media for their advertising, marketing, and promotion and if you are thinking of how to get free website traffic to your blog and you are not using social media then you are loosing out. Presently, having a social media presence is paramount to succeed in business ventures
Platforms like Facebook can be utilized by joining groups and pages related to the services or business you do. You can create a page of your own and promote your services through that. You can even create a community and engage people by commenting and updating your page regularly on recent offers or any new updates in business. Similarly, Twitter is another way to keep engaging with your audience and share updates. It's important to keep in touch with people to show your appreciation and that each one of the audience is valued.
It is a platform for professionals where people from different professions make a social circle. From there you can carve your own niche within the community and increase your social circle with like-minded entrepreneurs, professionals, etc.
This is a web platform where people ask questions and receive answers to their queries from other Quora members. It is a good platform for seeking genuine information on anything you want to ask. Answer questions on Quora and link back to your site's content that is related to your answers or questions. This helps drive good traffic as well. Do make sure to answer genuinely and in detail if possible.



YouTube is another great way to drive free traffic to your website. Since it is the second most popular search engine after Google, YouTube can get you pretty good exposure.And it doesn't even cost a penny! Just like creating online courses, you can make tutorial videos and upload them to YouTube. The tutorial should have valuable content. Add a link to the video and in the description box below the video to drive traffic to your website.
It is no secret that Instagram is crazy popular social media platform. It is known to bring a large exposure to anyone using it IF they do it just right. You can share photos and small videos on Instagram. Use it to promote your website. Keep it simple, engaging and compelling rather than monotonous. People like to see the real person and real ideas. Show them!
Free webinars can be used to interact directly with people while delivering valuable and useful information. You get instant results too. Facebook has this "Live Video" feature that allows you to go live and engage with your audience. It's very popular and fruitful. check items you need for a webinar here.Be Active On RedditIf you are still thinking of how to get free website traffic, then Reddit is another place you need to look.Another wildly-popular platform is Reddit. Here one can share valuable information and interact with millions of people from all over the globe. This can definitely boost your visibility! Like in any social media site, do not spam, Redditors hate spammers.ConclusionWhile you work on marketing for your website, it is important to keep track of the traffic so that you know from where the most of the traffic comes from and during that time. To know which age group is showing more interest. To know what posts or topics are more popular and attracting more traffic that is coming to your website.This is easy using google analytics.Tracking is also important to put conversion pixels to proper use in case you paid for the ads. It helps determine how much each sale cost you.
Now it`s your turn, tell me how you drive traffic to your website.