Are you an affiliate marketer looking to sell digital products? Clickbank is the largest digital marketplace with millions of digital products. That means there is a fantastic range of different products suitable for almost any niche you can imagine. But, it also creates confusion or a problem – what are the best Clickbank products to promote?
While there are some great digital products in the Clickbank marketplace, there is also a lot of rubbish. Products with bad sales pages, no sales funnel, and products which just don't deliver on their promises.
You want to choose a Clickbank product with a sales page that covers the maximum number of visitors you send to the site. You want a follow-up sequence which maximizes the amount of money you can make.
Most importantly you want a Clickbank product that sell well, a product which will actually help your audience reach their goals or solve their problems. A product that does not deliver will make your readers not trust you.
To help you achieve all these things here are some points you should look for in a Clickbank product.
#1 A Healthy Sales Price And Recurring Income
The primary reason that we are promoting a product is that we are hoping that it will make us money.So before you promote any product, look for best Clickbank products to promote that will make it worth your time.
When promoting any Clickbank product, three of the most important metrics to look at are
Avg$/sale-show you how much the average affiliate makes when they successfully sell the product.
Initial $/sale-The Initial $ sale indicates how much affiliates make on average off the front end sale.
Avg Rebill Total-The Initial $ sale indicates how much affiliates make on average off the front end sale.
You should not neglect the importance of recurring income either. A product that makes a lot of money upfront may actually be less profitable than a product that is going to produce income for many months and perhaps even years to come.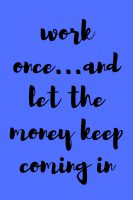 Finally, I would also suggest that you take a look at what percentage of the sale price you receive.
It can be better to promote products which provide affiliates with a higher average percentage payout.
Why? Because if you are promoting a product which has a 75% payout and it costs $50 then the customer is paying $67 for that product.
If on the other hand you as an affiliate only receive only 50% then the customer has to pay $100. You are making the same amount, but it may be harder to convert due to the higher sales price.
Most ClickBank products pay commissions ranging between 50% to 75% of the product cost. With most products cost anything from $27 to $250 so do the math if you sell 100 products with recurring commissions.
#2 A Strong Sales Page
Even more than the quality of the product, the sales page is going to be one of the largest determinants on how much money you will make with a particular Clickbank product.
If you are still wondering how to make money on Clickbank, you should not ignore the sales page.
A sales page that has a poorly written copy, looks out of date, has poor quality images and unconvincing testimonials (or none at all) then it won't matter how good the product is because the buyer is never going to proceed enough to see it.
Some people wonder how to make money on Clickbank because they know they are promoting good products but the products are not converting. This is not your fault, a sales page matters.
While judging the quality of a sales page is subjective, if you look at enough of them you will get a good feel for what is convincing and what is not. Video sales letters tend to convert well and so if the product has one this is generally a good sign.
The most important thing is to put yourself in the shoes of your audience and ask yourself after reading this sales page would I feel compelled to take action and buy this product?
#3 Product Gravity
One of the main criteria internet marketers use when selecting a product in Clickbank is its gravity. You can think of gravity as a measure of its popularity.
While the exact formula that determines gravity isn't published by Clickbank, it is essentially a measure of how many affiliates have successfully sold that product.
So to find best selling Clickbank products, check the gravity.
We can look at gravity in two different ways. A product with a very high gravity (100+) has proven to sell well and almost certainly has a high converting sales page.
Send targeted traffic to a high gravity Clickbank product and you can be fairly confident that it will convert into buying customers.
Of course, high gravity also means that there is more likely to be a lot of competition with that particular product. Remember that gravity is a measure of how many people have successfully sold the product and so that high gravity also reflects the fact that there is a lot of competition.
Overall, if you are confident that you have the ability to produce traffic for that product, for example, you have an existing blog with a relevant audience, then a high gravity product can be a good bet.
But if you are planning on creating a new review site for this product and you aren't an SEO wizz you might want to try for a less competitive Clickbank product.
#4 A Good Sales Funnel
I strongly recommend that you purchase any product that you are thinking of promoting.
This is not just because it will allow you to talk with real expertise about the product but also because you will go through the product creators sales funnel.
You should look and see what other offers (products) you are presented with as you go through this funnel.
Common types of offers will include upsells, which are where you are offered a more expensive product or another product which will help enhance the initial purchase. You may also be offered a down sell which is a less expensive product than the original purchase.Check an earlier post on customer purchase circle here.
There may also be offered a continuity product which is some sort of recurring services like a membership site or a paid email newsletter.Look at both the quality of these offerings and how likely it is that you would actually want to purchase them.
#5 Match The Product With Your Audience
A product might have high converting sales, an incredibly high gravity, and fantastic sales funnel, but it still might not be the right product for you to promote. Why? Because it isn't right for your particular audience.
Imagine two different dieting Clickbank products. One which teaches you how to get a flat tummy, the other provides dieting advice for young men.
The "flat tummy" product might offer a higher initial payout, have better recurring income and a more professional follow up sequence, but if your audience is young men out of college then you will still probably want to promote them a different product.
When deciding which Clickbank products that you want to promote, you need to ask whether this product solves the specific problem that your audience is facing. The more targeted it is towards their unique needs or aspirations, the more likely they are to buy.
What you want is for your audience to read or listen to the sales page and feel like it is talking directly to them. Top Clickbank affiliates market the right product to the right audience as this is another way on how to make money on Clickbank, sell/promote the right products to the right audience.
ClickBank customer service
Some Clickbank vendors will accept to give you a free digital product to try, take advantage of this test then review the product honestly so your readers and people who want to buy the product can make an informed decision. There are some ClickBank problems I mentioned here so you should check it out before getting started.
Conclusion on How To Make Money On Clickbank
Finally, as I have suggested earlier before you promote any product you should buy it yourself and try it out. If it's a diet product, follow the advice, and see if I actually help you shed some pounds. If it is an IM product, put the steps into action and see if it makes you money.
If you have tested the product and have proven results, then you will be far more convincing when you recommend it.
Thanks for hanging out with me, I hope after reading this post, you`ll be ready to start selling Clickbank products as they can be very lucrative.