With online selling being one of the most lucrative ventures in the modern-day, Etsy has sure crafted a name for itself in the online arena.
Being an e-commerce platform brings together millions of buyers and sellers with an eye for vintage and hand-crafted products.
For beginners, the biggest challenge often is getting the ball rolling. With so much to learn and master, it can get intimidating and quite honestly exhausting.
Fear not. Our handy guide is here to the rescue. Find below the important steps to getting started, what you should know about selling on Etsy, and most importantly, tips to driving those sales up.
Let's begin.
What is Etsy?
Etsy is an online platform that focuses mostly on handmade products, if you are familiar with eBay then you`ll find Etsy to be very similar.
Arts and crafts, handmade jewelry, and digital goods are what sell most on Etsy. If you are into creating art and craft, you can turn your know-how into a course and sell it on Etsy.
Selling on Etsy
As is with any online market platform, you need to open an account first. Now, setting up an account is free and relatively easy if you go step by step.
1. Visit Etsy.com
Open the website, head on o the Sell tab, and click on Open your Etsy Shop to get started.
2. Customize your shop settings
Fill in details on what kind of store it is, country, location, the preferred mode of payment, language settings, and so on.
3. Decide on a shop name
This is going to need some prior research so you can see what names are available.
The goal is to stand out by coming up with a name that combines both your product and brand name.
You could get some inspiration with the help of digital tools before settling on the final name.
Keep it simple between 4-20 characters so that it's not easy to forget.
4. List the products you're selling
Your niche comes into play in this particular step. Strive to achieve a professional look that's going to intrigue potential customers enough for them to click through your inventory.
It all begins with;
A title and product description- make this as comprehensive as possible but not too fluffy on the other hand.
It helps to give a vivid idea of what product it is, its use, and key features.
Right keywords- buyers search for products using keywords and major categories.
Try this keyword tool for 30 free searches
To gain more visibility, employ the relevant keywords provided by Etsy (more commonly referred to as tags) of course being guided by what goods you specialize in.
Add clear photos – about 5 pictures per item from different angles is a good place to start. Aim for a neutral background that will not compete with the product.
Thumbnails- being the first image the buyer will see at a glance, ensure it gives an authentic feel of your store and items to attract prospects.
Quote the price and quantity available- list the price as well as other prospects such as how much stock is available. Include details such as size, color, and material if there are any.
5. Include shipping fees
Highlight your country, the shipping fees, and the approximate time before the package is delivered.
6. Preview your Etsy Listings
Before you can click on the finish button, get a prior view of the shop and see how it looks from a buyer's perspective. If need be you can make a few final amendments.
7. Select Payment Mode
There are different options including PayPal and Etsy payment schemes. It will depend on what works for you and your business.
8. Fill in Billing Information
This includes personal financial information like account numbers, credit/ debit cards from which expenses and affiliated fees will be deducted. Once complete, you're all set to start selling!
Is it Safe to Trade on Etsy?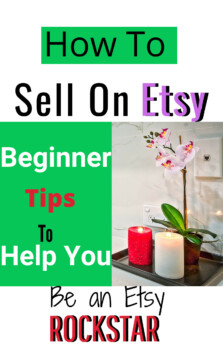 The risk of running into a con is always pertinent in any business however, Etsy has protective measures in place for its consumers so you`re safe.
One of the key reminders is to conduct all business within the digital platform and not outside, especially when it comes to payments.
As far as seller protection goes, private billing information is not made available to the public or online.
The fear of having your finance details out on the internet can be scary, however, this information is only within the confines of your account and strictly confidential.
If anyone attempts to ask for your account details, social security number, or alternative payment methods, you may want to report them.
Again, if a customer happens to demand an unfair refund, modalities such as package tracking are helpful to get to the bottom of the situation.
Not sure what craft to sell on Etsy? check this post for hobbies that make money.
Other Basics About Etsy you Should Know
Opening an account is just the tip of the iceberg and perhaps the most straightforward. The real work comes in converting prospects into buyers and establishing an audience.
It's going to take a minute to get the hang of things and while at it, affiliate expenses come into the picture.
Etsy charges for just about all other transactions apart from opening an account.
For instance, the standard listing fee per item is $0.20. This remains valid for up to 4 months when the seller is required to renew the listing all over again.
Selling itself also attracts a commission fee of about 5% of the sale price of each item. In addition, payment processing fees are included as tax for sales.
If you need to convert the payment to your local currency, this too is charged so before listing an item, we`d suggest you do the math so you`re not losing out.
Being a beginner, making waves in a new platform takes the help of marketing and ads. With Etsy, paid promos could access a broader customer base in exchange for a small fee.
This goes to show that the running costs cumulate to a hefty figure in the long run and you may need to build enough financial muscle to sustain yourself.
But having said that, you can still list your products and not pay for ads if you`re on a tight budget.
I use Tailwind to pin on Pinterest to drive traffic to products I want people to see.
You can try tailwind to drive traffic for a no-strings-attached for one month free if you join through this link.
You May like:
Easy work-from-home jobs near me.
Pro Selling Tips on Etsy
Everything is a learning curve when you're trying to break ground in the digital market, however, a few important pointers could ease the ride.
Use SEO tools to rank higher on the search results. Learn more about SEO here.
Use high-resolution images to attract buyers.
Take close-up photos of your products and those of the items in use.
Create a credible user profile with your photos and a short bio about yourself.
It helps to create a rapport with prospects.
Have a bio of your store that shares intricate details about your craft.
Include a FAQS section that answers common questions about the product.
Keep your website clean, neat, and organized.
Websites Similar to Etsy
Wondering if there are similar Etsy substitutes where crafters, artisans, and other sellers can channel their products?
There are various other marketplaces to turn to, which I have highlighted in this article.
Read on for more transparency on this eCommerce platform and find other websites like Etsy you may not already know of.
Amazon Handmade
This unique platform possesses an artisan marketplace that entails sellers from a span of not less than 80 countries.
Given that more than 63% of online buyers start their product searches on this platform, shoppers mostly come to Amazon to make a bargain.
Amazon only deducts a 15% referral fee to cater to each sale made on Amazon Handmade in terms of cost.
Artfire
This Etsy alternative can only sell handmade goods, vintage products, and craft sticks.
It provides three selling approaches; popular, standard, and featured. The price range is a mere $4.95 every month to $40.
The best offer with this platform is that it offers buyers an option of posting wanted ads if they ought to have a particular product made.
You may like:
The Customer Purchase Lifecycle
Ruby Lane
Whenever you want a safe marketplace for vintage items, antiques, art, and jewelry, opt for the ruby lane. This site allows you to skype with clients and gets to access Analytic data on google.
It even exceeds Etsy in that it has a shopper program where buyers make orders, and if they don't feel satisfied with the marketplace standards, Ruby lane reaches the seller with feedback and suggestions.
How cool is that, getting help from professionals so you can make more sales at no extra cost to you?
Folksy
This is yet another site similar to Etsy. It also charges fees for enrolling products for sale on its site, Commission and transaction.
Other identical sites to Etsy include icraftgifts, spoonflower, Aftcra, storenvy, among others. Also, note that the Etsy options listed here aren't the only alternatives for marketing your products.
The sites mentioned above may not yet be as popular as Etsy, but that's how things are. If you`re located outside The US and Canada, you may want to check Etsy UK official site or Etsy in your area.
I`m not in the US but found that I can deal better with sellers in the UK than from the US when buying physical goods.
Etsy is the most known and largest out there selling art and craft and everything in between that`s handmade.
The other sites may not be as large or popular, but if you are just getting started selling handcrafts.
It`s wise to start at Etsy official site, see how the platform feels, spy on other sellers' products then decide if you`ll stay or move on to some other platform.
Why do sellers opt for Etsy alternatives?
There is no doubt that e-commerce may opt for other sites such as Etsy to market its products. Luckily, this list exposes some of the common incentives for why sellers tend to look for Etsy-like sites.
They want to outdo their counterparts.
Sellers endure a tough time trying to tell themselves apart from rivals, considering that even when a likely customer is on a particular product page, the platform urges sellers that provide the same products.
For instance, a user sighting for a specific lamp can go down to the lowermost part of the page to check for other sellers with similar offerings.
That implies that even Etsy sellers who rely on a paid promotion will yet find themselves opposed to other sellers.
Marketing
The other reason is that sellers need as many marketing options as possible. Even if paid promotions are a great alternative, the platform may not have the right marketing tools.
And mind you, sellers aren't allowed to compile buyers' emails or speak to clients following the completion of a sale.
Diversify marketplaces.
Most Etsy sellers intend to use the marketplace; however, they need to extend their limit and market on other eCommerce options.
As usual, trading on extra marketplaces is a good way of expanding brand perception and product view. In addition, this can greatly influence the seller's bottom line.
Conclusion
Etsy is one of the top players in the online market space and a great place to start.
You too can learn how to sell on Etsy for extra income or who knows, maybe you can create a successful Etsy store that will replace your day job.
Not to forget, you may stand to profit more with a personal website due to lesser expenses and the added advantage of being your own boss.
Creating a blog may sound scary but it`s so easy even a ten-year-old could do it, it`s a 4 simple step as shown below.

If you want to create your first blog, click here and let me help you with zero investment and no strings attached.
Why would you want to create a blog? Etsy or any other program, you don't have a say, the platform could close down, or you could get banned, but with your own site, you are the boss, you call the shots.