Hobbies are those "little" additional creativity of a person that defines their talent or what they enjoy doing to relax. But did you know that there are some hobbies that make money?
Talent is always equipped with opportunities and can be monetized although you don't typically have hobbies to make money, you can make money with crafts.
Most of our hobbies can be income generators, and what`s better than doing something to relax, something you enjoy, and earn some cash just for doing it.
Sparing some time from the schedule could raise your income with less effort.
So we`ll look at some hobbies that make money from home so you`ll still have your time, enjoy your hobby and earn income when you can.
Before you can start making money with a hobby, it`s still important to know one or two things:
Are People Passionate About This Hobby and Willing to Spend Money?
When thinking of making money with a hobby, it`s worth knowing that hobbies that will bring you the most income are those hobbies with enough audiences willing to spend money on that hobby.
A good example is Crafting.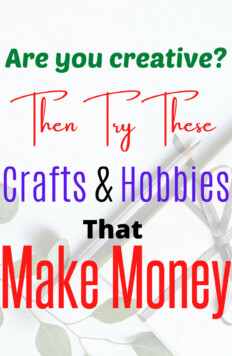 Now not everyone is gifted, not everyone can create amazing looking pieces of jewelry and other hand made goods out of nothing.
But this is a hobby that can bring in some serious income every month once you get going.
It`s something people are interested in, people buy handmade crafts.
So what you`ll need to find is the best money making crafts, something people will buy from you.
You can sell finished pieces as well as sell knowledge(yes there are people willing to pay to learn from you but more on that later). You just have to find money-making crafts that`ll work for you.
Most hobbies can be a good source of income, but knowing if there are people ready to spend money on your hobby is something you have to find out first before trying to make money from a hobby that no one cares about.
Now this post is about hobbies that make money so I`ll not dwell on this, but I wanted to show you an example of how I know people are interested in hand made jewelry by searching in Jaaxy keyword tool
My search shows me that there are 4217 people a month searching for the term handmade jewelry and this is one of those profitable craft hobbies that will surely bring you an income.
So if you wanted to make extra money from your crafts, there craft hobby shops that will gladly help sell your products.
know there are people interested in that hobby which means they`ll spend money on it.
You can try Jaaxy for any keywords of your choice, you get 30 searches totally free.
How To Make Money With A Hobby
Hobbies usually cost money to pursue, some require maybe just time, patience, and some investment here and there, and some are quite expensive so it's great to know you can make money with a hobby but how? The two most common ways to make money with a hobby are:
Provide a service (your expertise)
Selling products
So when thinking about ways of making money with your hobbies, you should decide if you`re going to make money through a service or by selling a physical product.
Some of the hobbies that make money are listed below, some you may have thought of and some not but then that`s why you`re here:
Make Money Shopping
Now I have to admit this is a really fun way to make money. Instead of spending money shopping, you get paid to do so.
Making money shopping will not make you rich, but you have the pleasure of getting free stuff that you can keep. Now I don't know anyone who doesn't enjoy new free stuff.
We have an in-depth post on being paid to shop and what's involved in mystery shopping, you might like to check it here if you missed it.
Painting
If you love painting, you can do fun face and body painting at festivals like football/soccer matches to earn some serious cash.
Remember these are hobbies so don`t put yourself down thinking you do not have enough talent.
People looking for handmade hobby articles are looking for uniqueness, not perfection.
Get plain (and boring) or not very interesting second-hand artifacts from your local thrift store or flea market, paint, and sell for profit on Etsy or eBay.
Now you realize this is a quick way to make money painting without being tied down to a contract of any kind.
Making Money As a Hobby Model
Now making money modeling and being paid over and over again for the same job is doable, I`m not talking about active modeling but selling your photos.
You don't have to be a specific way or the other, stock photographers are always looking for models of all ages.
Now there are three ways you can make money selling your photos online.
Get paid once by working for a photographer

Sell your photos online from your website
Sell your photos to stock-image sites.
Want to Create a free website?this platform shows you exactly how to create a successful blog
from scratch even if you`ve never created a website before.
Writing or blogging
Your flair for writing is not bounded to words inscribed in diaries and memoirs; instead, it is a hobby cum skill that can be monetized in different ways.
If you can culminate your thoughts and perspectives on pen and paper, you can be a blogger and a freelance content writer.
Creating a blog on an online portal is free of cost; the content will fetch readers and build traffic.
 The blog is monetized by affiliate marketing, advertisements, sponsorships of websites.
Another option is freelancing, where one can provide content writing services to the client in their spare time.
Hirewriters.com, Upwork, fiver, and client fetching from professional websites are the stairs to start with content writing.
I wrote an in-depth post here on making money blogging, you will find it here to help you understand more how bloggers make money.
Blogging is not a quick income scheme, you`ll have to invest time and effort before you can start earning.
Some bloggers do not make any money for six months or more after creating their blog.

Availing online shopping perks
Smart shopping is always appreciated where quality outshines the wallet. Vulture eye on quality, deals, and cashback is the only skill required here.
Some hours of online shopping will be a fun activity. To earn some bucks from shopping, one must log in from some special portals as Rakuten Rewards, Ibotta, Check 51, Swagbucks, etc.,
To some of the most amazing online stores. From grocery to lifestyle and electronics, you search it, and the product is flashed on your laptop screen.
In Rakuten, there are schemes where shopping could fetch cashback amounting up to 20%. Things are transparent and lucrative here.
Become a passionate vlogger
If you are a good speaker who can convince the masses with your actions and words, and not camera-shy, you can then welcome youtube's blogging world.
A free of cost channel can be formed on youtube, and videos to be uploaded based on your passion.
The video's content could be religious discourses, motivational, DIY crafts, cooking, baking, traveling, lifestyle, home or office organization, interior designing, tutorials, to name a few.
Youtube payment is based on the watch hours and awards the channel creator once a threshold number of subscribers are reached.
Any of your hobbies that make money could be a topic of your vlogging. A smartphone and the igniting passion are enough for vlogging.
Now from my experience, you`ll not do very well on Youtube if you`re not a native English speaker with a heavy accent.
I struggled to have subscribers on my Youtube channel and I`ve always thought it`s because of my heavily accented English.
App development
Apps are an ardent need for the success of any business today. If your programming skills are polished, and your passion is technical, app development is your teacup.
Familiarity with operating systems and the latest technologies is the only requirement of app development.
Fiver, Upwork, social media helps in reaching clients and getting paid. Apps can also be sold online. 
Photography
Photography is one of the hobbies that make money. Social media, friends, and acquaintances are the best platform to gain shout outs for your photography talent.
Wedding photography, matrimonial portfolios, food photography, travel photography, real estate photography are some of the genres to be tried.
Photography skills must be honed with Adobe Photoshop and Adobe lightroom. The photos clicked can be sold on Getty Images, Shutterstock, Adobe Stock, etc.
Graphic and web designing 
Logos, customized items, advertisement designing, etc., are in huge demand these days.
If your hobby is visual creativity, then graphic designing is the right platform. Showcase your creativity and earn some bucks more over time.
Projects can be fetched from a fiver, Upwork, social media contacts, startups, or registering Design Crowd.
Other options are to create customized T-shirts, cups, phone covers, cushions, bags, clutches, towels, and much more.
These can be sold on online shopping portals, and commission can be made. Teespring, Spreadshirt, Amazon, Flipkart, Spencers, local gift shops are some of the selling options.
Apart from graphic designing, web designing is in huge demand. If you have a smart approach to create websites on WordPress or have coding skills, you are quickly hired for small to biggies of the business world. 
Want to learn how to create a website? check this platform where you can create a free website from scratch with the help of professionals.                      
Be a Home Baker 
Homemade eating stuff has always been recommended due to hygiene, cost-effectiveness, freshness, and the use of trusted ingredients.
If your hobby resides in satiating the sweet tooth with ultra-soft sponges, home baking is the fair pick to monetize your hobby.
Like Instagram, Pinterest, and Facebook, social media is the best platform to spread the magic of your creativity on cupcakes, tea cakes, fondants, cookies, and bread.
Local stores are the best stops to promote the small effort to the buyers. Referrals from friends will kickstart the startup.
Mouth to mouth word spread is accommodating. Starting a baking website or a Youtube channel with tips, tricks, and baking tutorials is another way to extract money from your baking hobby.
Pinterest is a popular platform where people pin images(ideas) in boards, most people then save these images for future ideas.
Many mommy bloggers make a full-time income from Pinterest alone. New to Pinterest? check these tips on how to get started with Pinterest for your hobby baking.
Earn bucks with Swagbucks 
If you love surfing the internet in your free time, Swagbucks is ready to reward you with cashback and gift vouchers.
It is a search engine that pays you for your searches made; shopping is done, videos watched, answering surveys, games played, and much more.
Swagbucks is free to log in and collect the redeem points to avail of cashback via pay pal.
Become a virtual assistant 
Social media promotion of brands of startups to biggies is a significant trend these days. A mere social media account of Facebook and Instagram can fetch you bucks in no time.
Your hobby will hone your management skills. A virtual assistant is required to answer the queries or solve the consumer's complaints. In a short time to maintain the credibility of the brand.
No specialized technical or managerial skills are required. The job profile also includes the spread of word for the brand via social media and fetch potential clients.
A net surfing hobby can give you a designation and extra bucks in your wallet.
Want to learn more about virtual assistant jobs? this in-depth post explains all you need as a virtual assistant and how to get started.
Conclusion
Drop the comments below if you like the hobbies shared here. Please subscribe to the blog too!