Having a good website conversation rate will determine your sales volume.
Instead of worrying about how you will get more visitors to your site, why not double the sales of those that you already have?
But one thing most bloggers face is poor conversion rate, and without conversions, your blog is as good as useless.
As a blogger, you look for more, more traffic, more conversion, more signups, more sales, more everything, let's be honest, you are even looking for more time to spend on your blog.
How to increase website conversion rate
If you want to succeed in online marketing, it's worth knowing that you should create content that speaks to every reader individually, speaking to everyone will just work against your efforts.So doing proper keyword research is where you start in every article you write. Just because you`re going to write about running shoes does not mean it's a good enough keyword.You might spend time marketing your product, but if your site is not optimized nothing will work, it's as simple as thatMake your website easily navigable
This is simply making your website easy to use. The key is to ensure accessibility to anyone who wants to buy from the website.
Visitors need not necessarily be registered on your site to get access to your products.
Visitors should be able to find what they are looking for easily and if they are satisfied, they will definitely make a purchase.
Be straightforward
It becomes annoying when a customer reads all about a product adds it to a cart and starts the checkout process only to find out that the product isn't available!
To increase your blog conversion rate, be open. This way, your customers will want to come back for more because they can trust you.
Build trust
An important way on how to increase website conversion rates is to make every customer know that they can do the purchase online without the fear of being duped.
An address is a good start. A phone number with people on the other end of the line picking up is helpful.
Show a privacy policy and explain the shipping process in clear terms.
Design and content also play a good role in cementing trust. A poor design portrays unprofessionalism and badly written content puts off a potential customer.
Have a clear Returns policy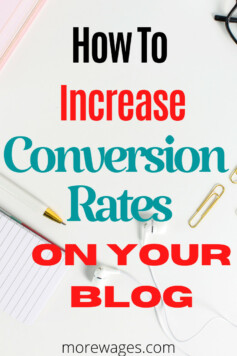 If you are selling your own products, giving your customers an option to return goods that did not impress them is a good way on building trust.
You can have the people call when they want to make a return and explain the problem to customer service.
Free return shipping is usually a good option. It becomes rather annoying for a customer to pay to return a product, especially if the mistake was from you.
You also have to make sure that you state the conditions in which you accept good to be returned so that cunning customers don't return goods they have spoilt themselves.
Return policy might be hard on digital goods, but even here you can find a way to accept refunds.
This program which is a digital product, for example, offers a 7-day free trial membership, this way, anyone looking to join the program knows what they are getting for their investment.
Keep the customer informed
People are impatient. Keeping them up to date is how to increase website conversion rates.
Before a customer buys a product online, give them an estimated delivery date during the checkout process.
Emailing them when their product has been dispatched is great. After delivery, inquire if they are satisfied.
This kind of attention is what makes a customer happy and they recommend this service to their friends. They are more likely to buy from you again.
Offer different payment options
Various people have preferences for the means by which to pay for their products.
Have many forms of payment on your website because customers do not want to be limited.
There are other forms of payment you may be using but then are not allowed in other countries thus you will lock out many potential customers.
Improve the value of visitors
When a customer adds a product to the shopping cart, show them other products that are similar to the ones they have bought.
There are some customers who are never decided on what they want so if you present them with numerous products and their specifications, then they can be able to make better choices and would definitely want to come back or recommend it to their friends
Make your site memorable
Be that site that makes an impression on the customer even before they decide whether they want to buy a product.
Before a customer buys anything, the first research about it. Make sure that yours is the site that the customer remembers later and comes back to the shop.
Know your USP
Your Unique Selling Point is what sets you apart from other sites offering the same service as you. Why would a customer decide to buy from you particularly?
Great customer service, products only you can avail, support, satisfactory delivery services, low prices among others is among the ways on how to increase your website conversion rate.
Have a clear call to action
Have you been to a website, wanted to purchase a product but failed to find a buy it button? or have you read a blog post, thought you'd like to get email notifications but didn`t know how to sign up?
Have a clear call to action so your readers will know what to do. The importance of CTA explained here in detail if you missed it.
Simple CTAs like, click to view, send me an email, view customer rating, will increase your website conversion rate.
Promote the right product to the right audience
The biggest mistake you can make as an online marketer is trying to appeal to everyone. You cannot meet everyone's needs so don't try to be everything to everyone.
Instead, define your target audience and their needs then see if there is a product that will help them.
Knowing your niche audience is the beginning of very successful marketing(A niche explained in detail here if you missed it). This is the quickest way to succeed online.
Conclusion on Increasing Conversion Rates
There are many more ways on how to increase website conversion rates for your business. There are some that will work well for you while others may not.
Whatever you do to increase your website conversion rate, it has to leave your customers satisfied.
Finding ways to increase your click-through is a never-ending task, keep experimenting.
Find what works and what does not leave it because, in internet marketing, there is no one size that fits all, and what worked last year might not be working now.
I'm always open to discussion and would like to know how you increase conversion on your site.
Leave me a message below and will get back to you. If you have any questions or would like more info again leave me a message below l will get back to you.