Product Name: Making Sense Of Affiliate Marketing
Overall Ranking: 6/10
Price: $197
Founder: Michelle Schroeder-Gardner
Website: https://makingsenseofaffiliatemarketing.com
Introduction:
Before we get to anything else the most important question will be What is making sense of affiliate marketing?
Making Sense of Affiliate Marketing is an online course that coaches bloggers and online entrepreneurs on how to make significant money from
Michelle is the founder of the course.
She makes over $50,000 per month from her own blog (MakingSenseofCents.com) employing the techniques mentioned in the course material.
She put together a course to help bloggers that make little to no money through affiliate marketing.
Making Sense of Affiliate Marketing course runs on a Teachable platform.
It is text-based and is available for download in PDF format which you can print for yourself.
Making Sense Of Affiliate Marketing course modules are as follows:
Module 1: What is Affiliate Marketing?
Module 2: How to Find and Apply to Affiliate Programs?
Module 3: Follow the Rules
Module 4: How to Get Your Readers to Convert?
Module 5: Strategies and Ways to Promote Affiliate Links
Module 6: Rinse and Repeat
Making Sense Of Affiliate Marketing Bonuses
Now I don`t know why the course creator chose to see these as bonuses because to me they should be a part of any affiliate marketing course.
Bonus 1: How to Always Get Approved To An Affiliate Program
Bonus 2: How To Drive Thousands of Visitors To Your Blog With Pinterest (33:02)
Bonus 3: 9 Things You Must Do When Something Goes Viral
Bonus 4: How To Increase Your Page Views
Bonus 5: Worksheet – My Affiliate Products And Services
Bonus 6: Worksheet – The Perfect Affiliate Link Checklist
Bonus 7: How to Maximize Your Reach, Your Impact, and Your Revenue with Facebook Ads
Bonus 8: Editing And Writing Strategies That Will Take Your Content To The Next Level
Pros:

A Comprehensive Course For Beginners
Making Sense of Affiliate Marketing is designed in a way that makes it easily digestible.
The course material is arranged in short easy to read paragraphs,.
Use of bullet points, and comprehensive headings which split the course material to make it easy to follow and read.
Besides the basics, it also provides many valuable tips and strategies that you can use if you are new to affiliate marketing. It even covers the legal aspects of affiliate marketing.
Making Sense Of Affiliate Marketing Support System By Michelle
The main support is the exclusive Facebook group which is created for the students of Making Sense of Affiliate Marketing.
The group is very active and Michelle herself does a weekly thread answering questions for free.
The members of the group actively engage with the posts, frequently ask questions, and provide help. Now this can be an issue if you do not like using facebook(I know I don`t)
30-Day Refund Period(I`ll cover this later)
The course helps in identifying areas where beginners make errors in affiliate marketing.
It covers the legal aspect of affiliate marketing which is a topic hardly covered properly anywhere else.
It offers great and workable tips to help boost affiliate income.
It helps to understand Pinterest in the most easy-to-understand manner.
Cons Of Making Sense Of Affiliate Marketing Course
Now this could be long, but I`ll not go into tiny details, maybe I`ll not cover then all in order but will mention some more as we continue.
the course is overpriced,I could get similar or even better courses elsewhere totally free yet Michelle charges $197.

This course is just a basic overview of affiliate marketing training. Not an advanced technique or tips.
This course is good for total beginners but is not for intermediate or advanced affiliate marketers.
Not many details on the social media section.

It has no video training material. The content is all text.

Worksheets need to be Printed Out
The worksheets are provided within the course but you have to download and write physically. The printing aspect can be inconvenient for those who don't have printers. (I will get to that later)
It doesn't teach much about choosing a niche.
The training to put it politely is very vague
Who Is Making Sense Of Affiliate Marketing For: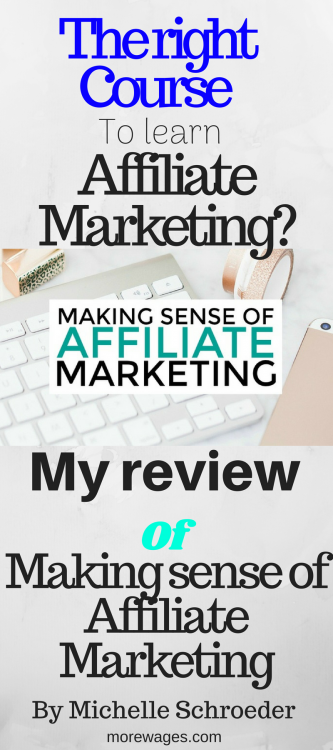 The course is basically designed for everyone but in my opinion.
It is more beneficial for those who are total beginners in the world of affiliate marketing.
But even for beginners, I find it does not offer enough for the price they demand.
This course is a good way for them to learn their way of affiliate marketing.But as already said, too many details are left out.
But believe me, you`ll find free ebooks online with better quality training.
The course material is good for you if:
Affiliate marketing beginner and wish to monetize the website.

You are looking for a course that can teach you the very basics

Anyone who prefer text-based courses

You know what affiliate marketing is but don't know how to put this knowledge into use.

The affiliate links you already have on your site aren't making you any income

Anyone who already has an existing website.

You have steady traffic and want to convert visitors into buyers.

You want to buy in to be an affiliate and earn commission.
Making Sense Of Affiliate Marketing Overview:
The course material covers:
Affiliate Marketing: The Basics

How to choosing and promote affiliate products

The best affiliate program and how to process

Legal aspects of affiliate marketing

How trust and relationships are built with the visitors and customers

How to increase the conversions for the blog and the affiliate campaign

What essential pages are needed on a blog to get the maximum views and how to create those pages

How to repeat a successful process and enhance your affiliate marketing business and earning.
Support At Making Sense Of Affiliate Marketing:
All the online course have their own exclusive Facebook groups as support for the course material.
Usually, these Facebook groups are not very active, and observe that the admin hardly posts there.
The engagement is non-existent with the posts meaning zero participation in the group.
But this course material has a private Facebook group that is very active.
The founder herself is very active and answers questions.Having said that, any active Facebook user knows how content can quickly get buried down under newer posts.
Some things I personally don`t like about making sense of affiliate marketing.
Making Sense Of Affiliate Marketing Success Stories
Although there are success stories, these stories are very vague with no proof. Online is filled with these kinds of stories, so show me proof.
Some of the success stories are shady, I can prove that the same people who leave very positive success stories, you`ll see similar stories on other sites, praising other products that made them succeed.
You may like
What is a mommy blog? things no one tells you about.
Being Told, Not Being Shown How-To
Not everyone is good at being told how to do something, we sometimes want to see how to. I`m not a native English speaker and I sometimes need to see to understand. something lacking in MSoAM.
In many parts of MSOAF, you`re being told to do this without being shown how to do it. Or in some cases not even being told why exactly or what to do if you want a different path.
There are parts I had to skip because, honestly, I didn't know how to and was not shown. This Course is in that part totally beginner unfriendly.
Making Sense Of Affiliate Marketing PDFs
These  PDFs are  not the regular editable PDFs you`re used to that you can download and start typing into
Michelle decided to do things her way so you have to download the PDF, print then use pen and paper to write.WTF.
It's a first for me, I`ve taken enough online courses, free and paid and this is the first course where I'm supposed to print a PDF.
Helooooooooo…..My printer is somewhere I'm not even sure but I'm supposed to go fish it out and print some PDF for reasons I`m not even sure of.
Now this to me is annoying and totally inconvenient, I`m working online, why would I want to print a PDF so as to write on it? what happened to google docs?
Making Sense Of Affiliate Marketing Hidden Costs
On MsoaM sales page, you are "sold" a complete course that will help you succeed in affiliate marketing.
But once inside, you are told there are additional tools that cost money that you need to buy.
Legal templates

Convert kit

You`re also adviced to invest in Pinterest course and a facebook marketing course.
There are courses out there that will help you learn more about  how to make money with affiliate marketing.
But I feel that making sense of affiliate marketing is not one of those courses, especially if you are just getting started with affiliate marketing.
You`re better off looking for free info on the internet and reading free eBooks as what`s in the course is widely available out there totally free,you just have to find them.
A Much Better Alternative To Making Sense Of Affiliate Marketing
Instead of  Making Sense of Affiliate Marketing, Here's What I Would Confidently Recommend:
Join this program for free, try things out before you commit, if you find it useful, then stay a member.
They offer everything any anything from building your own website from scratch, keyword research(free keyword tool available) to content writing, affiliate marketing, creating a blog even as a total beginner, backlink building, finding products, inserting links.
Teaching you EVERYTHING about affiliate marketing at a fraction of the price as they will only charge you less than $1 per day, cheaper than a coffee at Starbucks.
Making Sense Of Affiliate Marketing Refund Policy
Making sense of affiliate marketing owner will refund you your money if you can show her that you followed the training and took action.
So it's like, "you don't like my course, you still have to complete it to decide it`s not worth $197.
If you can`t show that you followed and took action, then you will not get your money back".
Now it`s worth mentioning I did not get my money back for two reasons:
I really did not follow the training once I found that it was so generic and almost useless to me, all she taught in her course I had already done on my blog and even better.

By the time I realized the refund policy had strings attached to it, it was too late so I had to just kick myself and accept I invested $197 in a course worth $50 at most.

So let's call it, refunds are not guaranteed.

Let`s be honest, no one can complete a course in such a short time and know if it will produce results or not.
Final Verdict On Making Sense Of Affiliate Marketing:
As the pre-requisite of the course, you must have your own blog or a website.
You should also be decided upon your niche and have a target audience.
If you are just getting started and want to monetize your blog or website through affiliate marketing,then this course is good for you.
But only if you don`t mind spending time and money only to realize you should have spent the money somewhere else.
But they will not teach you the most things you need to be successful in affiliate marketing.
For intermediate or advanced affiliate marketing, the course is overrated and overpriced.
It offers not much value. The contents of the course can be found easily anywhere on the internet for free.
Michelle might justify that you do not have to look for all that info in different places as she`s put it all in one place, but that still does not justify making sense of affiliate marketing course price.
Yes, I bought the course but only because of the reviews I read online, I realize now the reviews are from the course affiliates as Michelle offers a 40% affiliate commission.
Would I recommend Making Sense of Affiliate Marketing Course to anyone?
Absolutely Not. Making sense of affiliate marketing course is overpriced and the only good thing to me about this course is the bonus on how Pinterest works.
(I didn`t know how to use Pinterest till I checked the bonus where everything is explained how Pinterest works) .
The course might be great for total beginners but even then you need to know simple tasks like how to link products.
What`s in the course is mostly what you can easily find online and not pay a cent for.
Apart from the bonus, there are much better and much cheaper alternatives out there.
I learned Affiliate marketing for less than $1 a day and I`m still a member of the program 4 years later because of the true quality and value offered by the course creators.
Looking for better ways to learn affiliate marketing? check this program out.
Overview Of Making Sense Of Affiliate Marketing Review At A Glance
Overall Ranking:6/10
Price: $197
Founder: Michelle Schroeder-Gardner
Website:https://makingsenseofaffiliatemarketing.com
Verdict: Legit(just not worth the price)
If you would like to leave your personal review or experience with making sense of Affiliate Marketing, please do leave them below. I would love to hear your feedback!