As trends of the digital nomads grow in popularly and the number of resources has increased as well; if you want to work independently, here are some ideas and online jobs without investment or registration fees of any kind you can do from home that you might want to consider.
There are better-paying jobs online than clicking ads or filling time-consuming surveys that do not even pay enough to be worth your time or attention.
1. IT Specialist
Who do you call when your computer in the office or at home is down? IT SPECIALIST! One of the first true works from home professions was that of the IT specialist.
They may be software engineers, programmers or system administrators; there is always a need for workers in this field. They answer questions or resolve computer problems for clients in person, via telephone, or electronically.
IT support specialists may provide assistance concerning the use of computer hardware and software, including printing, installation, word-processing, electronic mail, and operating systems. It's easier for them to work from home and making a decent income which pays quite handsomely.
2. VA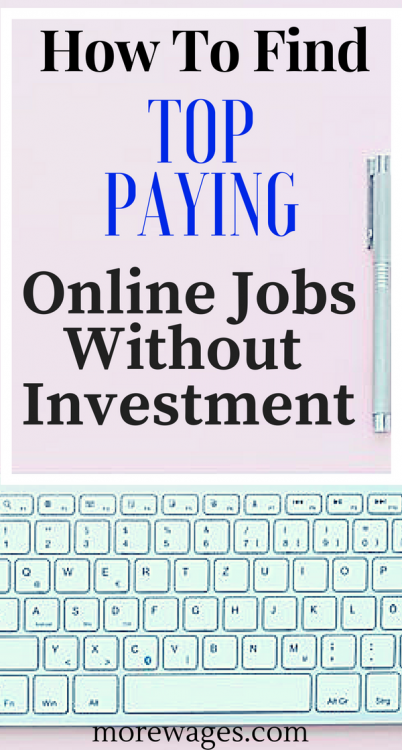 Most Virtual Assistants are contract or freelance workers who do their jobs from home. They focus on administrative tasks similar to those of an Executive Assistant or Secretary. A Virtual Assistant task charges such as;
bookkeeping – keeping tabs on bills and other bookkeeping matters.
transcribing – offers a writing environment that is tightly integrated with an audio player which you convert into text.
travel research – finding hotels, booking airfares, mapping & planning itineraries either for business or pleasure.
database entries – updating information for existing contacts and new ones into the database.
data presentation – turning raw data into a clear PowerPoint presentation.
managing emails – filter the most important emails and respond on behalf of the Client (this is upon client's approval before sending out)
3. Sell Products online
You can earn a good amount of money from selling items online and you can do this from the comfort of your home. With the rise of online auction sites, like eBay makes it even easier for an Online Reseller to sell their products at a competitive price.
For instance, you can buy brand new items on auction for a very low price or someone's used/pre-loved items (like-new designer clothing, shoes & handbags), electronic, high-end kitchen appliances, musical instruments, sporting goods, antiques & collectibles and sell the items at a higher price so you make a decent profit.
If you chose not to sell your own products, you can always sell affiliate products, this is an easy way to make money without having a product of your own. Check an earlier post on affiliate marketing.
4. Become A Blogger
If you have an excellent writing skill, you could use that talent to write a blog post for someone's or companies website who are in need of content for all manner of purposes or you could start your own blog.
To promote Client's website objectives with each blog article in a  conversational style; with this skill and talent you possess, you could be making a nice living from home for yourself just banging on the keys plus your creativity.
Creating a blog is easy and it will take you minutes to have your blog up and running, you can check here to see if it`s for you.
5. Graphic Designer
Do you have an artistic talent, creativity, and love to design? If you do, to be a Graphic Designer, this is one of the many jobs that you can do from home.
We know there is a lot of competition for such positions out there but with given good service and high-quality end product for a Client will have him or her banging on your door for another memorable logo, banner, flyers, business card or other artworks for your great service.
There are websites coming uo every day, site owners needing banners or whatever but you have to understand that as there is demand, there is competition so be ready to deliver high-quality work.The best place to find jobs is at upwork.com.
Freelance Writer:  
One of the most lucrative ways to make money online id to be a freelancer, blog owners need content and with so many blogs around, earnings here unlimited.
You can start small and increase your price as you get better, many people have left full-time jobs to be freelance writers full time. You chose what you want to earn, you chose your working hours.
The best place to do freelance writing is iwriter.com. Unlike other freelancing platforms like up work where you have to apply for jobs, at iWriter, it`s a first come first served so there is enough for everyone.

Ok, you have all the expertise and now you ask yourself, how am I to get my clients? Promote yourself and make your service known to people out there who need it. You can't be sitting at home waiting for the client to knock on your door. That is not going to happen if you are just getting started.
Don't worry, to get started online is easy, you need a website. To build a website is easy nowadays, you don't have to be an IT savvy. Go ahead click here to get started free. A website of your own gives you alot of opportunities to work from home doing what you love and being paid to do it.
If you have any questions or if you are looking for more ways to make money online, do leave me a message below.If you know anyone who could benefit from this post, go ahead and share with them in any social media of your choice.