Claimed as "The #1 Internet Marketing Forum & Marketplace", Warrior Forum or WF for short is online forum mainly discuss making money online niche and general internet or online marketing. A once very active internet forum, the warrior forum also serve as a marketplace where you can sell or buy tools for making money online purpose.
Started back in 1997 by Allen Says, WF has a goal of creating a community of like-minded internet marketers to share ideas, learn from each other and build their online empires. By April 14, 2014, WF was bought by Freelancer.com. Freelancer.com is an outsourcing and freelancing marketplace company.(Read my earlier post on freelancing here) if you missed it.
Pros/Cons
---
Pros:
If you like being involved in a discussion on an online forum, WF is the place, the forum is active with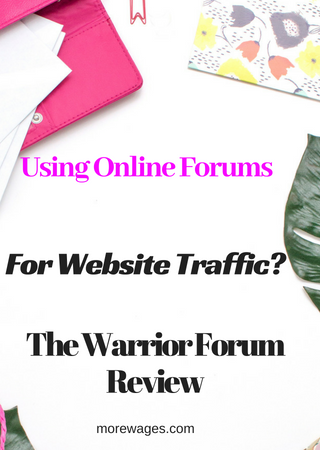 members from all over. There are a lot of discussion about many topics about online business. This is the main pros of WF.
Surprisingly, most of the section on WF can access by a free membership. The free section topics are General Internet Marketing, SEO, Ad Network, PPC/SEM, Email Marketing, Social Media, Offline Marketing, Mobile Marketing, Copywriting, eCommerce sites, Growth Hacking, and Mind Warriors, any issues you have online,you will find answers on WF, but we`ll get to that later.There are about 30 different sections.
Other pros of WF can be a marketplace where you can sell your digital products of making money online niche. But be careful if you want to buy any of these tools.
You have to realize that you need a

solid good online business foundation to make money online

in the long term. So click the link above to read more how online money making works.
These tools will confuse newbie and hypnotize you to buy. They say it could help you make money easily and you will get the temptation to buy but some of them are just that tools, they are not guaranteed to make you money if you have no experience in online marketing.
Cons:
The main cons for WF are there is no definitive guide for a newbie or someone new to the forum. Someone new is easily getting lost. There is also no training or tools for member and no hosting or website for building an online business.
And if you`re not careful, you can be scammed by other vendors, so do not purchase anything until you know your way around the internet and what to look out for.
Who  Is The Warrior Forum For?
---
Definitely not for newbies. WF is for advance or minimal medium level of internet marketing / online business. If you have digital product in money making online niche, you can sell it here. Of course, you have to pay for listing the product.
Training and Tools – Overview
---
There is no clear guide training whatsoever. You have figured it yourself among those many topics. You have to figure it yourself for whom you have to ask. Many of them is what called Guru Wannabe, creating what they call secret no-one else -know a guide that will bring fortune or money to you. It is better that it become an inspiration to you not guide as is.
There is no tools either for you to build your online business empire. No keywords tool, no hosting, no website builder, nothing. The only tools present, if you want to call it tools, is what they call WSO (Warrior Special Offer). This WSO is tools that were created by other member and offer it to another member.
If you do not want to buy, you can be their affiliate, offer it to someone outside WF. But again, most of the tools, if not all, are full of crap. You can trap to buy one to other tools in order to get a result which is profit. But these tools are useless unless you have a solid good online business background. 
Recently, they have WAMA (Warrior Ask Me Anything), where someone professional on internet marketing business gives a kind of lecture and you can ask him/her anything.
This is a good idea that you can learn something from the professional. But be careful (again) not to over-worship the guru, or you can end up in the zone "I cannot succeed but they can".
You should take this for a lesson, for your inspiration, not for guidance. You should remember, what fits other, not necessarily fits you. Go at your own pace, if you're not comfortable, don't do it.
The main section in WF is The War Room. You have to pay to go inside.
Support
---
WF as a forum in internet marketing – making money online niche will give you a discussion about topics in that niche if you ask. But you will not get personally assisted if you do not know someone there.
After being taken by Freelancer.com, besides payment platform, freelancer also give one added section called Help Desk. You can submit a ticket here asking for support and help. I have not used this services so I`m not able to comment on how it works. But it looks like something good because they cover so many areas in their help departments.
Warrior Forum Price
---
It is free to join WF, but there are several features inside the forum like warrior forum warrior special offers which require additional subscription fees.
War Room. This is the main room or main features of WF, they said it consist of content, software, eBook, and online business advice. This will costs you $97 per year.
Warrior Book Club. This is not Sunday afternoon reading club on your bookstore. They said this is where you can join forces with the fellow member who is a Kindle publisher, or want to be one. This features will cost you $40 for 20 years.
High Voltage Video Forum. You can get access to the community member who is interested in video creation and video marketing. Subscription costs $22 for 20 years.
Add Image to Your Signature (yes, you read it correctly) will costs you $60 per year.
WSO Marketplace: Listing fee: $20. Bump fee: $19.95.
There are several other options for advertising, it cost you $20 – $200
Final Verdict
---
Kind of Legit with a note. Not Recommended.

Note: Not newbie friendly, can easily be confused inside. Full of tools that not are not very useful in long term.
If you seek for online business forum/community that is very helpful even for a newbie and also suitable for expert, with clear and complete training about making money online, please check my #1 recommendation.
If you have any question, do not hesitate to contact me, or just leave a message here, I hope my warrior forum review could help you decide if it`s the place for you. I will personally assist your problem or question. I would more than happy to read your feedback.