If you are looking for a work-from-home job that comes with consistent hours and does not involve talking on the phone then Online chat jobs are the way to go.
It is just one possibility that you can venture if you do not have a quiet workspace.
Many consumers turn to the internet for help as they prefer chatting because of its lesser response time.
Customer service chat jobs are therefore increasing in popularity.
So, become an Online Chat Support Agent and reap the benefits!
Who Can Work at Chat Jobs Online?
Online chat agent jobs can turn out to be a great work-from-home job opportunity for:
Those who have small children.

People living in rural areas.

Those who do not have access to a quiet and private workspace.

Those who do not like to talk on the phone.
Online chat jobs are becoming more common with time due to the preference of people for the instant communication that they get on a chat.
Besides, it is also less stressful for both the customer as well as the Chat Service Provider.
The home office requirements in the case of online chat jobs are far more lenient.
This is because there is no need for a quiet and distraction-free work environment, online chat jobs can even be done from your mobile while watching TV to be honest.
You may not like to be working in a house full of rowdy children, but online chat jobs can be a good job possibility in case you do have a chaotic household situation. Or even very distracting and noisy surroundings.
Chat jobs online offer another benefit as well, with these types of jobs, you do not need to talk on the phone to disgruntled customers who`re unhappy.
There is more than just chat jobs, this post lists different work from home online jobs you can do from home or any place you choose.
Usually, an ideal candidate for this kind of job will have previously worked in customer service.
But even those who are fresh into the job market with good written communication skills can do this job.
No matter what kind of job type, chatting with customers instead of having a phone conversation can prove to be far less stressful, it`s a real good way of earning extra income "on the go".
How To Apply For Online Jobs
The qualification requirements are usually less stringent than any other customer service job.
We will get to how to apply for work from home chat positions in a bit, but first, we`ll look at what you need as I find it to be one of the tools you`ll need first.
You need to meet these basic requirements:
Reliable internet connection which is at least 5 Mbps

Minimum 35 WPM of typing speed

Minimal typos in writing

Clear communication

Able to handle multiple conversations at once

Friendly as well as a professional attitude

Self-discipline to work from home

Previous customer service experience may be a requirement but not necessarily by all companies. 

It may be a full-time job.

You may be required to be available during nights as well as weekends. 

Many part-time positions are also available with flexible hours.
These are all easily achievable, in general none of them require much to achieve.
Maybe some adjustments in your daily life, but having said that, it will largely depend on how much you want to earn.
Best Online Chat Job Companies
Many companies offer online chat jobs, I hope you`ll understand that each company will have different expectations, so check and find what works for YOU.
You may find that some companies in the list below are not hiring right now, but that should not stop you, always keep checking to see whenever there is an opening.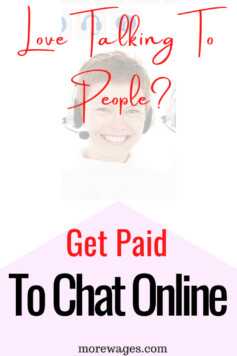 Capital Typing

Apple

Arise

Clixsense
font-family: helvetica, arial, sans-serif;">Best Buy

Concentrix

Fancy Hands

Ginger

Indeed

Upwork

SimplyHired

mylot(Check an earlier post about my lot as this is exactly not being hired but you still get paid to chat online)
How Much Do Online Chat Jobs Pay?
Most of the online chat jobs from home pay anywhere between $8 and $15 for every hour. For entry-level positions, you can expect to be paid up to $10 an hour.
Notably, this wage is not as high as any other home-based businesses but you are able to save money that you would have spent on transport.
When you have no other option left for a job other than home-based jobs, then any wage is much better than nothing.
It`s also worth remembering that with these jobs, you can choose your own time, so you work when it`s best convenient for you.
What Do Work from Home Chat Jobs Involve?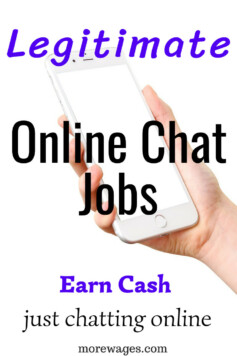 Online Chat job responsibilities largely depend on the needs of your clients.
Every company needs different tasks done so there is no one size fits all here.
You may be asked to perform one or a combination of the following tasks:
Customer service
Sales agent
Email support
Technical support
Are Online Chat Jobs Meant For US-Based Freelancers Only?
Some companies will surely only hire US-based freelancers. However, there are other companies that will accept employees from different countries as well.
Being a freelancer, if a company does not accept people from your country, just move on, there are enough chat jobs for everyone.
Two of the most important requirements for Online chat jobs are to have a native-speaking ability as well as being able to type quickly and accurately.
The companies usually require a minimum of 60 WPM typing speed.
However, you will also be able to find companies that are far more lenient with the typing speed and can work with a 35 WPM rate as well.
Are There Any Benefits Provided With Online Chat Jobs?
Most of the online chat jobs do not provide any benefits such as health insurance or paid time off.
These benefits are only available with a full-time position in an individual company.
Like most working from home online jobs, benefits are your responsibility.
Minimum Hours Requirement for an Online Chat Job
It depends on the workload of a given company for online chat representatives. Part-time freelancers can usually expect to be working for at least 10 to 20 hours each week.
Full-time positions require 35 to 40 hours of the working period each week.
Chat Jobs are usually remote. However, you may be required to visit the company premises for a training session or two which will require traveling. However, it is an exception and very rare.
Any Work Experience Needed?
With the Internet, you can find jobs and make money without having any prior experience.
I think it's really easy to make a little bit of extra cash online for people who are just starting out or looking for something on the side with no real commitment required.
There is definitely nothing wrong with making your own schedule and doing what works best for you if that means working part time from home while still going to school full-time…or during downtime at work.
It might not be an opportunity everyone has access too but once again – there's plenty of options available!All I would say is keep in mind how much time & energy goes into these types of things so do some research before committing yourself completely otherwise this could end up being more distracting
Conclusion On Work From Home Chat Jobs
Companies of all kinds these days need customer support professionals.
Keep trying. There may not be an online chat position available in the company you want to work with but they will in the future.
Meanwhile, you can also consider other alternatives available. You may want to check more jobs here as they offer more than chat jobs.
Just like any other online income job, online chat jobs from home require time and maybe some learning,  and you get "PAID AS YOU GO" why not try something with long-term income potential?
Something where you`ll work once and get paid over and over again.
There is no starting fee, you don't have to be anyone special. You can learn affiliate marketing and earn for years to come.
This post explains how you can get started with affiliate marketing the right way even if you`re a beginner.