College is costly, so how can a student get by without applying for student loans? We`ll look at some work from home jobs for college students so you don`t have to go out looking for a waitressing job in your local bar.
Still, you have the option to get a part-time job on campus, because you might think it is hard to find a work from home job as a college student.
But it is increasingly common for individuals to work from home. College years are times of new experiences, new freedom, new friends, starting to "REALLY" know yourself.
But college time is also a time for being broke, all that partying cost money, tuition and cost of living need cash. Having a part-time job in college is almost a must for most students.
This article offers seven work from home jobs you can venture into as a college student.
But before we get to the jobs, we`ll first have to answer one question.
What Are the Best Work from Home Jobs for College Students?
Now there are two ways to earn online that we will cover in this post, we`ll look at the best online jobs for college students with no experience and no investment needed.
There is no right or wrong way to earn, you can try both and find what works best for you and your needs, and we will explain both.
Online jobs:
These are one time payments, you do the job, get paid for the job and you`re done, you look for the next job.
They are a quick way to earn but…..you only get paid when you work so there are not long term income potential.
Now, something you need to understand is that online jobs don`t cost anything to join.
You work to be paid, and if any platform asks you to pay ANY amount to join, it's a scam move on.
Online businesses: 
These are for long term income and can be very lucrative and some even have a recurring commission, so you work once and the money keeps coming for months or even years to come.
An online business might take some cash to start but these are minimal costs.
Check an earlier post we wrote here about learning affiliate marketing as this is an example of an online business.
What Should College Students Do For in Online Jobs?
Start a Blog
Blogging one is my favorite way of making money online because it's very profitable and long-term income potential.
Blogging is mostly passive income, work now, grow your blog, and watch it bring you income for years to come.
In affiliate marketing, you promote other people's products and you earn commissions every time someone makes a purchase. If you`re new to affiliate marketing, this post will explain more about how affiliate marketing works.
Affiliate marketing and blogging can be very successful, check some of these very impressive online success stories.
What Should College Students Look For in Online Jobs?
Skills:
What skills do you have, what skills are required for the job? Don`t underestimate your skills, almost every skill can make you money online.
Payment:
Know your price, even if you`re just getting started. Don`t work for pennies. Even the simplest online tasks on Fiverr start at $5.
Time:
Online freelancing jobs come with time limits, do you have enough time to finish the job before the deadline? Some people will refuse to extend the deadline once you accept a job.
Now that we have that out of the way, let`s look at some work from home jobs college students can do to earn extra income that is worth the time and require zero investment apart from your time.
Be an Online Tutor
College students can earn some money and make a living by assisting out and teaching others what they are acquainted with or rather, know.
This is not only for fellow campus/college students, but you can also teach children- right from elementary school to secondary/high school.
With the internet, you won't be locally limited within your geographic location. Offer courses online and go international if you wish.
The average U.S salary: $13 to $20 per hour.
You can find this job at www.tutor.com.
This is something you can do, choosing your hours, want to work just an hour a day, you decide.
Search The Web
Google and Bing are some of the top search engines one can depend on for feedback, to serve the users better by updating their algorithms.
You can be one of those who complete or fill out forms for feedback and apprising people to realize what they need to do to improve.
This is easy and simple to do work, you don't need anything fancy, all you need is a computer, internet connection, ability to research online.
If you are reading this, if you found this post, then you can sure join appen.com and start making money. The average U.S salary is $12 to $15 per hour.
Go to Lionbridge, Appen, or Leapforce to check for available jobs.
 Managing Social Media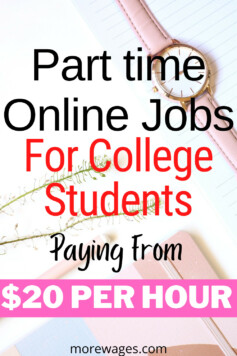 Most of us spend lots of time on social media each day- be it Facebook, Pinterest, Tiktok etcetera.
If one perhaps is getting a lot of comments and likes or you are great at motivating your followers via your posts, you can take this chance by turning this into a profession.
Here, you can also do adverts for various brands and companies by you creating a brand people can trust.
You'll play a core role in creating and building company brand awareness.
I know you didn't realize your friends who always have their phones on and in social media might be making money with easy online jobs.
Social media managers and influencers' earning potential is enormous. To get the max out of managing social media for income, you need tools like this that I use to manage my social media.
A Freelance Writer
Just as social media managers build relationships and sell promotions for various companies by promoting quality products and content, it`s is similar to freelance writers who, in this case, write the content.
Companies want to create and establish long term trust with the audiences who are being targeted. This is done by the provision of top-quality content.
Be Updated And Informed
A good freelance writer stays on top of matters. Is daily updated on marketing strategies and trends, and research methodologies in order to know which content can work best for them.
This is done by providing a way that converts into a particular content format in the best way possible.
To be a great freelance writer, you ought to market yourself cause you are the brand to your target audience, and they're usually marketing managers.
The average U.S salary for the employees is $61,000 per year, but for a freelance writer, it's all based on your writing skills and negotiation skills too.
You can get this job by being a proactive writer and do company pitching.
Not sure if your writing is up to scratch? check this post where everything is explained as to what makes a great post and how you can improve your writing.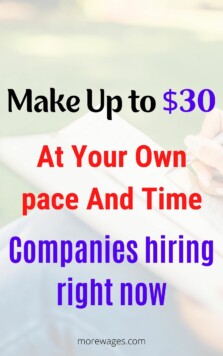 With freelance jobs, it's dependent on your skills in terms of negotiating and marketing.
• You can find such jobs by directly pitching companies and also networking.
• You can, for example, start by researching whether marketing agencies require any assistance in handling their clients.
Resume/C. V Writer
You can assist others by making their resumes stand out upon any test, especially on their accomplishments and what they bring on board, like their value. It should come out in a way that it will speak to the panel.
On the LinkedIn network, you can offer your services in writing on this particular platform.
Most recruiters are on the lookout for potential employees on this professional network.
The average salary for a resume writer is $15 to 25 per hour in the U.S.
Web Designer/Graphic Designer
In this day and age, the demand for more graphic designers is on a high level.
You can even learn how to do the designs and to mention but a few, you can choose from any of these categories: logo design, mobile application design, presentation design, leaflets, e-books, and brochures, etcetera.

Online Influencer
You can be an online influencer if you have a passion for it and, most importantly if you are knowledgeable about certain things people struggle with.
As an influencer, you can start a blog, vlog, podcast, etc. At times it can take years before hitting the breakthrough. Having said that,if your brand (yourself now) can be trusted, then you are good to go.
Something Better
Part-time income is great, but you can spend almost the same time and build a long-term. More lucrative online business that you can do from anywhere.
You should create a website, send traffic to your website, and earn commissions. It`s lucrative, gives you time freedom and you are your own boss.
Not sure how to create a website?
It's easier than you think this platform will show you how to create YOUR OWN website from scratch, and best of all?
Getting started with this program is totally free, so go ahead and give it a try. And how much will this cost? totally nil, it`s free to start.


Conclusion
I recommend that anyone looking to work from home learn affiliate marketing. Affiliate marketing has more earning potential and is easy to do.
Getting started with affiliate marketing only takes training, this post explains in detail what to look for in affiliate marketing training to succeed.
I hope you found this post helpful. Ask me any questions you have about work from home jobs for college students or how to go on. Please leave a message below and we will get back to you.