Before we get into how to start affiliate marketing for beginners, if you`re a complete beginner you might be asking what affiliate marketing is and why you should be part of it.
What is Affiliate Marketing?
Affiliate Marketing is the process by which a company or an individual promotes a product or service in order to collect commissions for their referrals.
For example, you( as an affiliate) could promote products found on Amazon … let's say a specific beauty product found on Amazon.
It would be your job as an affiliate marketer to promote this product to a target audience.
Every time someone from this audience buys the product on Amazon, you will receive a commission.
Another example is that an affiliate marketer could promote a paid service… This could be anything but for this example let's say there is a program that teaches its clients how to write content.
Every time you direct customers to the site and it leads to a sale, you the affiliate would receive a commission.
It`s as simple as that really, sometimes some people will try to explain it in a complicated way but it`s basically helping someone find a product and you earn a commission.
Benefits of Affiliate Marketing
The Internet is Everywhere – 
Almost everyone in the world has internet access. This means that there are thousands of niches available to market and thousands of audiences to market also.
Low Cost –
While typically it is free to start, it is very difficult to say substantial results within spending a little money. However, costs associated with web hosting, keyword researching, Facebook Advertising, and such are usually low and the ROI (Return on Investment) can be very high.
Work From Home –
As an affiliate marketer, the only requirement that you need is internet access. No need to wear a suit every day and no need to worry about how congested the traffic is in your area.
Be Your Own Boss –
Related to the last point I made, Affiliate Marketing allows you to set your own schedule and do the things you want to do on a day-to-day basis with no one to answer to.
Potential Earnings –
Within any given niche there are multiple ways to expand your target audience or use more platforms to drive more traffic to your site and earn you more revenue.
When you really start getting good, you can explore more niches to multiply your earnings.
This short post explains exactly how to identify your online money-making niche by identifying your readers' pain points.
How To Get Started With Affiliate Marketing
Okay so you've established that Affiliate Marketing sounds cool but how do you get started? These are the steps that I took and the steps that I recommend in order to get started:
Find Your Niche

Find Products or Services

Keyword Research

Create a Website

Create Content

send traffic to your website

Make money
It`s as simple as that and anyone telling you-you need more to succeed online either does not know what they are talking about or they are trying to sell you some program they are affiliated with.
Finding Your Niche and Target Audience
This is the first step in the process of becoming a successful affiliate marketer.
Yet I feel that it stumps so many people (myself included).
Your niche could be just about anything. Here's the process I take when thinking of a niche
Write down all topics that interest you.

Write down a specific sub-niche within that topic that interests you.

Pick a particular audience that you would like to sell

to.
Let's take for example your interest in knowing and promoting the stock market. Great start, however, that`s just too broad.
There are probably millions of websites about stocks and so the likelihood of you receiving any website traffic is slim. Let's narrow it down…
How about day trading stocks or even narrower, day trading penny stocks. Now, that sounds like a niche we can work with.
Next, we have to find our audience… Who would the topic of day trading penny stocks be interesting to:
Retirees looking for a way to invest and earn more money

Individuals on a low salary, looking for some extra money

People who want to work from home
This is just to name a few but as you can see just within this sub-niche there are many possibilities.
You can continue this process by writing down niches, getting more specific,
Picking a target audience as you continue until you are confident and interested in what you have chosen.
How to Start Affiliate Marketing for Beginners
Please, DO NOT wait for the perfect niche to slap you in the face… because it might never happen.
Pick something and get started. If it doesn't work out then try something new.
The niche you start today doesn't have to be your final, as you get more experienced in blogging, you may even find you want to blog about something totally different.
I have had blogs about Tennis, skincare, and travel so I should know.
Find Products or Services
Now that you have established your niche and target audience the next step is to find products to promote. There are two ways to do this.
First, you can promote products from Amazon or shareasale.com  by becoming an affiliate for those sites. After you have set up your affiliate accounts, you can choose the products that you wish to promote.
Now having mentioned Amazon, please be informed that the affiliate commissions are very low, and the cookie period just 24 hours.
You may like
Removing my Amazon affiliate links.
If you do not wish to promote products and rather promote programs or services you can do that as well.
Sites such as JVzoo, Warriorplus, and Clickbank allow you to promote a plethora of programs.
In order to have access to this, you must create accounts on each site and search their respective marketplaces.
You will find everything from dog grooming, real estate, and everything in between that you can choose to promote.


Keyword Research
This is a very key part of your affiliate marketing career, without proper keyword research, your blog is going nowhere(we`ll explain this later).
The internet is filled with millions upon millions of articles and even if your niche is super specific it is still very difficult to rank in sites such as Google, Yahoo, or Bing without doing keyword research.
Keyword research helps you know what to write about, what your audience is looking for online.
Here's how:
Search your niche or sub-niche in Google – Google instant results will supply you with multiple keywords that you can save and use in the next step.

Create a Free Jaaxy Account

 – Jaaxy is deemed the most powerful keyword research platform in the industry.

In using Jaaxy you can plug in your niche topics along with different keywords and Jaaxy will inform you how well it ranks in Google as well as how often the specific keyword is searched.          

Save the Keywords with good turnouts – In following the last step you will be able to navigate Jaaxy to find the keywords that are most relevant to your topic, that provide the most traffic, with limited competition.

These are what you will be using later on as the titles of

your posts in order to get your site ranked in Google.
You will notice with time that keyword research becomes easier and easier and you will have more ideas for articles than you have time to write them! Check my Jaaxy review here if you missed it.
Create a Website
Nowadays all businesses need a website. The idea of starting an online affiliate marketing business without one is crazy!
Now, I could give you a step-by-step of the different paths you can take to set up your own website, but for the sake of your time and convenience, I'll just tell you the best path… This program
Click Here for More Information on Building a Website
I have never had an easier time building a site than when I did it through Wealthy Affiliates.
Membership is free and with a membership, you can have two domains.
SiteRubix makes it incredibly easy to add or edit content and already has a few vital page templates included.
Wealthy Affiliates use WordPress which is open source and requires zero code input from you to create a blog from scratch.
Video tutorials and a helpful community help you every step of the way as you build your online business.
Now that you have everything in place you are almost ready to start earning money, it`s so easy, in the image below, enter your chosen domain name and in minutes, you`ll have your own website. Creating Content
Lastly, you want to create content on your site that speaks directly to your audience about the specific niche that you have chosen.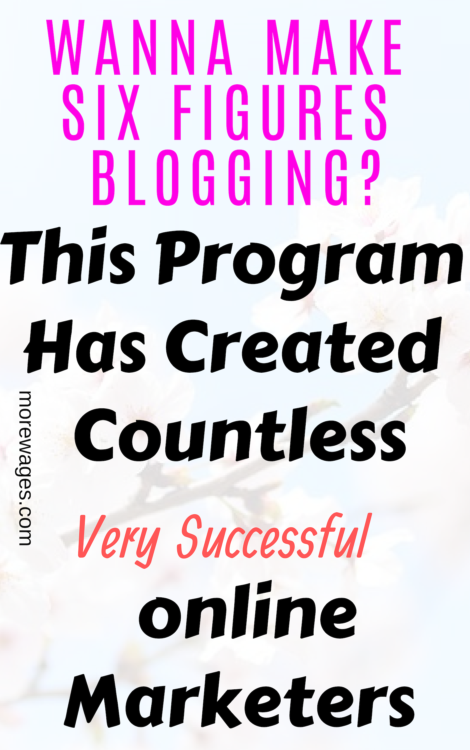 Your content should:
Be Informative

Be Concise

Be Enjoyable for the reader

Should include keywords in order to increase Google rankings.
The goal of this content is to inform your audience of the products that you are promoting while also providing valuable information that they find useful.
You will leave your affiliate links in the various articles that will redirect your audience to the products or programs that you are affiliated with and thus you will receive commissions.
Still unsure how to write content that will make you money? Rebecca explains in detail how to dig down to understand your readers' pain points.
In Summary
Affiliate Marketing is a growing, lucrative business providing financial opportunities to a vast variety of people.
While it is not a get-rich-quick scheme it can certainly pay out well if you are ambitious and stick with it.
I hope that you found this information useful. If you have any questions/ concerns please comment below. Thanks again and good luck on your affiliate marketing journey.