Can you make money posting links online? how does it really work? Getting paid to post links is one of the most sought-after methods to make money online.
The claim is that there is no need to own a website, no need of products, and no real work or experience is needed may be true, but there is a catch.
But can you really make money posting links online or what kind of money are we talking about here?
Simply, copy and paste the text given to you with a link to the public forums, various blogs, and also make money posting links on Facebook, Twitter, YouTube, Google Plus, and other such social media channels.
In this article, we will discuss why companies that will pay you to post links only exist to scam money off people. Then we`ll look at legitimate ways to make real income online without spamming people with your links.
What Is Link Posting?
There is plenty of information online explaining how posting or sharing links can make you money without a website and blogs.
Some are honest while some market it with false promises. 
Often, it is described as the easy and fastest way to make a lot of money with little to no effort needed.
The idea does have its merit because who doesn't want to earn extra money online and supporting the family while spending most of the time with their loved ones.
An easy life with extra money is very tempting. But is it possible and if it`s that easy, why is everyone not doing it?
The description may be slightly different depending on the website you are exploring. The description given is very vague.
Most of the time it explains how amazing this job is, how much money one can make, and hardly any detail on what exactly the job is.
The job description usually contains the task of spamming the social media channels, Craigslist, the public forums, emails, and other such online platforms with links and text provided by the website.
These links are affiliate links which when clicked and made a purchase give you a small commission. But the job usually scams people.
In this article, we will discuss why getting paid for posting links on websites only exist to scam money off people and are a complete waste of time.
Why You`ll Not Make Money Posting Links
With advanced technology nowadays, spam links can be detected and removed easily and quickly. This means your efforts were in vain.

Detecting the spammer and finding his/ her social media channels and other online places like email used in spamming will be blocked/banned because it is spam. Not worth getting banned for in my opinion.

Getting banned due to spamming can damage your chance of building an online business and clientele.

You can hardly make any money through such jobs as quickly as the links get removed from most sites.
The list is long but you can be sure any job wanting you to pay a signup fee is a scam. You never pay for any job. This spamming activity will give a bad reputation to your online channels.
It is a waste of time, money, and effort as it is not a long-term money-making strategy. This is because the backlinks don't really work anymore. Smart business owners don't pay any heed to them anymore which means that link posting is a dying industry.
You can't make money fast with this job. You get paid for each link that stays active. Since many of the links you posted are deleted as soon as they are detected, your chances of having active links get reduced.
There is a 30 to 60 days waiting period for being paid the due commissions and believe me(from experience) reaching a $10 minimum payout is not easy when you only earn cents per link posted.
Many of these link posting websites have a minimum payment threshold which you need to meet if you want to be paid.
Some of the programs that explain link posting idea and that should be avoided are Online Home Careers University, 37 Clicks, Home Job Source, Extreme Home Profits, Cash from Home, Online Home Careers University, Internet Cash Income, and Home Internet Cash.
How to Spot Link-Posting Scam Sites
Most of the scam link posting programs explain the process of link posting the wrong way.
For newbies, it can be hard to spot these link posting scams but the most obvious sign of a scam that tells you it`s possible to make money posting links is asking you to pay registration fees. 
Now $5 may sound ok with positive reasoning like "ok if it doesn't work I`ve only lost $5" but think of how many people get scammed this way.
Such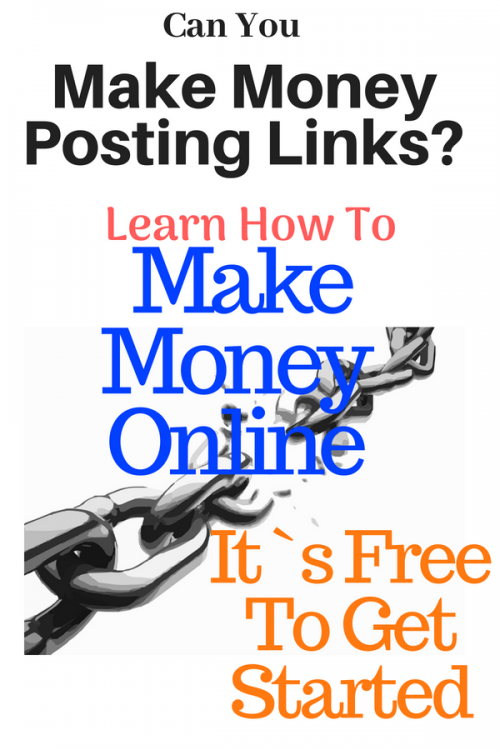 programs only mislead people by using similar methods which are:
Posting fake testimonials

Using the same website layout

Claiming to make similar earnings

Claiming it takes 3–4 minutes per link

Same money/ commission per link

Asking to dedicate the same amount of time to the job per day

Make false promises

Misleading and attractive offers to get more people to sign-up

Asking sign-up fee.
So, Are Link Posting Jobs Scams or Free Cash?
Now if you do an online search for terms like work from home posting links, link posting jobs, or working from home, you`ll be amazed at the results, mostly from blogs, but if you visit legitimate online job sites, you`ll realize these jobs are almost non-existent on such sites.
This is because any serious online job sites like this one do not post such links since no such jobs really exist for serious income.
Not A Long-Term Money Making Strategy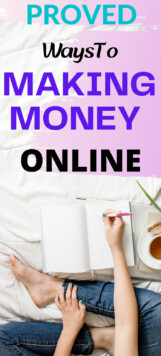 Unfortunately, these 'votes' (actually called backlinks) don't really work that well anymore.
Some people who are behind the times or missed the memo still talk about the advantages of backlinks, but really, the smart business owners don't pay that much attention to backlinks anymore.
Google spends billions on research each year in order to prevent people from benefiting from unnatural linking practices. They have pretty much figured out that paid links do not actually mean a site is good and should rank well.
They are changing their search engine to reflect this. Now, using paid links can actually hurt your business! Now, smart companies are not buying links because they know it might hurt them in the long run.
Some individuals still do it, but they are typically not very savvy business owners, and trying to 'trick' Google into liking their website.
Now your sports website linked to a cosmetics website for a backlink looks spammy and out of place for Google and it can only hurt your site.
Are there any legit platforms to Find Link Posting Jobs?
Honestly speaking, there were jobs in the past when the internet was new and not as much regulation in place but now, even smaller platforms have strict rules and anti-spam policy in place but there are still platforms like this where people post links for money.
But the good news is; you can still earn money online selling affiliate products. This is a more stable earning online, long-term and you earn affiliate commission check here how to start affiliate marketing for beginners if you missed it.
Online Work From Home Programs You Should Avoid:
These scam sites come and go so fast it`s hard to keep check, but by all means, avoid
Home Internet Cash
Online Software Solutions
Web Fortune Master
Replace Your Job
Home Job Source
Internet Cash Income
Internet Cash Income
As said, the list is long as these scam sites never stick around long enough.
How To Honestly Make Money Online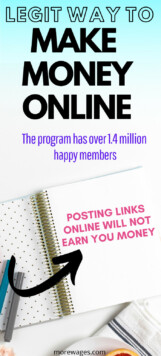 There are endless ways to make money online, but the bad news is that unlike what anyone told you about making money online without much work, to honestly earn online, you`ll need to put in the work.
That's the hard truth to it. Remember when I said at the beginning that if it were so easy everyone would be doing it?
The best way to make money online without posting endless links is Affiliate marketing.
There is no investment in products, no shipping, or dealing with clients, all you have to do is promote products you`ve used and trust.
There are now over 4 billion potential customers online & that number is also growing rapidly by the day as more people make the move towards shopping online. This means there is more potential for you to generate revenue than ever before.
So if you're looking to get started with affiliate marketing but don't know which route to go or which program you should join and without wasting money on bogus things that don't actually work), then I'd highly recommend checking out this highly recommended affiliate marketing training.
It's free to get started and you are free to stay a free member for as long as you like, there is however a possibility to upgrade for more in-depth training.
This is not one of those overhyped and overpriced online courses, it cost you less than a cup of coffee a day and you`ll learn everything about making money online.
You may like
How to start affiliate marketing for beginners

The link posting idea is not a suitable method to make money online. It is not going to work the way many of the companies or websites describe this job.
If you are going to post links in places such as Instagram, Youtube, Facebook, Twitter or other online places, then most of those posted links are going to get deleted shortly after you post them. They get reported as spam and removed quickly.
Moreover, if you continue posting the link in spite of that, your online social media accounts will get blocked one by one.
Getting blocked isn't going to do any favors to your online reputation which can be damaging to any future online business endeavor of yours.
Building websites and selling products/services from the blog is the best way to make money online. You can pick any niche you want to share product reviews. Then you sell stuff from big companies like Amazon, or Shareasale.
It's how a lot of people make real make money online, enough to leave your daily job and work online full time.
Conclusion On Making Money Posting Links Online
If you are willing to put in some time to train properly, you could create a real website in less than 30 minutes and a legitimate, profitable online business in just a few months.
To conclude this post, I hope you`ll understand that there is nothing like posting a few links a day and hope to make it your full-time income, it`s not going to happen any time soon.
But if you`re interested in making a full-time income online, then check this program that I highly recommend, spam-free, helpful members all looking out for you to help you succeed online.
Stop wasting time on scams and start building a real online business today!