Learning how to earn money online in the UK is a great way to supplement your income and ensure that you can see your money grow.
If you search online for ways to make money, you`ll come across many blogs telling you to do online paid surveys.
It`s true you can make money taking surveys, but they are not a good way to earn money online.
You`ll answer endless surveys before you can make £90 at most a month, but if you compare the time you have to invest and what you earn, it's not worth it.
Now before anything else, I hope you`ll not believe and just ignore anyone telling you it's possible to make thousands a month taking surveys, IT'S NOT TRUE, and truth be told, surveys are for people looking for an extra change and maybe pizza money.
Surveys are something you do in your free time, maybe while sitting on the train or while watching TV.
Most people who`ve done surveys simply for the monetary gain will tell you it's a waste of time. (Check this post that explains online surveys in detail).

There are only so many hours in the day where you can make money at your traditional job. But a good online gig can help you make money any hour of the day.
If you are looking for ways to earn money online in the UK, the first step is to be realistic. There are easy ways to make cents but these will not make a difference in your life.
Please understand that I will not advise you on how much you'll earn, everything online will depend on your efforts, some of these require effort for you to have long term success.
First things first, there are a lot of opportunities for you to earn online no matter where you live.
But so you know, it's not quick cash as some bloggers would like you to believe, some of these make money online in the UK methods will require you to put in the work.
Now understand that when I say work, it doesn't mean you need to be anyone special, by work I mean being ready to learn, being organized, or having the motivation to keep going on when nothing seems to be moving at a fast pace.
There are a few different options that you can use to help you earn money online in the UK, and some of the best options include: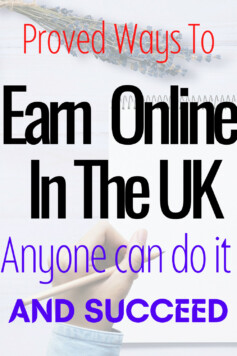 Ways To Earn Money Online in the UK
These are ideas that will help you make money online if you live in the UK. Remember these are ideas and they work, putting them into practice and keeping it going is your part.
Freelance Writing
Freelance writing is a great way to earn money online when you live in the UK. There are a lot of different types of writing that are available.
For example, you can write eBooks, articles, blog posts, advertising and marketing, and more. If you have a passion and know about a specific topic, there are sure to be a lot of potential clients you can work with.
You can also write some of your eBooks or start your website and turn it into an affiliate marketing source to make income if you don't want to search for clients. Check how to get started here.
Sell Your Pictures Online
If you have some photography skills, or you are in an area where you can get some images that can sell, this is a good choice to make money on the side.
All you have to do is list your pictures on a stock photography website so others can purchase it.
You can sell your pictures as many times as you would like so if you come up with some good pictures, it is a nice passive income that keeps on giving. Passive income explained in detail here.
Create Your How-To Videos
With YouTube growing in popularity, many viewers head over there to learn something new.
If you have a skill that you can teach others, you can monetize these videos and charge a subscription fee so paying customers will come on and look at your views.
When you make good videos with useful information and you can put up the right search phrases so viewers will find you, you can make good money on your videos through YouTube.
Learn how to edit your videos.
You don`t have to be a professional Videographer, your viewers care more about the quality of what you have to share with them.
Teach English Online
As a native English speaker, you may be able to make some money teaching others how to speak the language as well.
This is a great way to make a steady paycheck no matter where you live in the world. Many websites online allow you to teach English to Chinese, Taiwanese, and Korean students no matter where you live.
Work as a Translator
If you know another language well outside of English, then you may want to consider working as an interpreter or a translator. So this is something that you can do online and offline to earn extra income.
Anywhere that you can find an ex-pat community, which is a community where English is not the first language spoken, you will find that there is a need for translating and interpreting for those who live there.
You can easily move all of this into something that you do online as well. Many people will want you to look through things and translate it for them as well, no matter where you live in the world.
Try Dropshipping From The UK
DropShipping is another option that you can use to help you make some money. With this method, you do not need to hold onto any physical inventory at all.
Instead, a customer who comes to you and makes an order, you will turn around and purchase that same item from a third party.
That third party will handle the shipping and gets the product right to the customer.
The nice thing about this option is that you can earn money without having to spend any money on inventory or holding onto the items. You never even need to purchase the products in bulk and then hope you can sell them.
However, you do need to be careful about the products you choose. Look for ones that are high-quality and come from a good company so you can sell them and earn a profit each time.
( I will talk more about dropshipping at the end of this post).
Freelance Proofreader Online
Maybe you are not a good writer, but you understand how grammar and other rules of English work. You could become a freelance proofreader to help you get some money.
Most agencies are willing to pay close to 25% of the price of a translated document over to the proofreader to make sure it looks professional.
This often translates to $75 for a five-page standard business document.
This could mean about $20 an hour for work depending on how long it takes you to go through everything.
Even working part-time on this can bring in some extra income if you are good at proofreading through things.
Create a Podcast
This one will require a few different skills to help you see results. You need to have a good topic that you can spend some time discussing for a long time.
Most podcasts are going to be 30 to 60 minutes and you need to do it once or twice a week in the beginning, if not more.
You also need to have a good speaking voice that others will be drawn to. And you need to know how to advertise to help others find you.
However, you may find that with the right skills, podcasting doesn't need to turn into something complicated.
With some affordable recording software, a good laptop, and a nice microphone, you will be able to get your podcast up and going. Check affordable podcasting stuff here.
You may need to do this a few times a week to get the information out there and ready to go, but once you get some followers, you can get commercial sponsors or ask your followers to pay a subscription to make some money.
Easy Side Hustles To Make Extra Income In The UK
The list above may require some work, it might be slow when you're just getting started, but what about those who need money NOW?
The bad news is that just like offline, there is nothing quick and easy online, if you`re aiming for long term income unlike what anyone tells you, you`ll need to put in some work.
Having said all that, remember that quality and value will always come first.
The shortlist below is for short-time income mostly for anyone who does not want something long-term and does not mind making just some pocket change.
Manage social media for small businesses-
You`re already spending time on Facebook and other social media, but did you know there are businesses that will pay you to manage their social media?
Answer questions on JustAnswer-
This site lets you answer questions people might have and you get paid. (not to be mistaken with surveys).
Although not exactly or directly an online income, tasks on TaskRabbit are found online.
Micro-jobs on Mechanical Turk, Take Surveys, Offer Gigs on Fiverr.
Conclusion On How To Earn Money Online In The UK
If you are still looking for a way on how to earn money online in the UK, try affiliate marketing.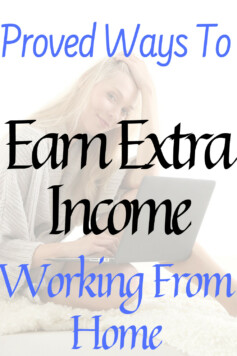 Affiliate marketing is a simple way to earn money based on the products and services that other businesses provide to customers.
You simply need to post a link with the product you want to advertise and then recommend it to your audience and others who read your social media and your blog.
Once someone clicks on the link and makes a purchase, you get a commission off that sale.
It is simple and easy enough for anyone to make a great income, as long as they have a steady following and pick high-quality products.
There is more to affiliate marketing than the few lines here.This post explains more in detail how to find the right affiliate marketing training as you can not learn affiliate marketing on your own.
There are programs out there that can teach you how affiliate marketing works, how to create a website(don`t worry, it takes less than 5 minutes).
It's free to get started programs that will teach and show you everything how online marketing works.