One of the quickest and easiest ways to make money online especially if you`re just getting started in the online world is to take surveys. It`s a quick way to make cents (which adds up fast) in your free time, giving your opinion on products or services.But there are more details than just answering quick surveys and getting paid. So this post will answer questions like earning potential when taking surveys and how you`ll get paid taking surveys for money.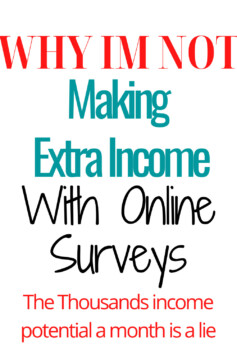 At the end of this post, we`ll look at what else you can do to increase your online income because let's face it, more money means more time freedom.
If you've got an invitation to voice your opinion about a certain product or service online.
Whether it is a laundry product, type of beverage, or some other commodity.
The offer looks good – up to $100 for your thoughts, and even more in some cases, and less in others.
Or you may have been invited to take part in a panel of consumers in market research.
They say it will keep you busy with a wide range of surveys about household products, automobiles, and other consumer goods, on a grand scale. Do you go for it? Is taking surveys the best way to earn money online?
Very often, the online survey is the chosen first for newbies coming into the spectrum of online business as a quick way to get started with making money online but….
Are online surveys really a viable business that will sustain you like you are told in the advertising? Let's take a brief look at earn money online surveys in this brief overview…
What Are Online Surveys
The online survey is a carry-over from the snail-mail variety that was originally targeted to housewives and home-owners who would receive special invitations to take part in marketing research.
In this scenario, a company would mass-mail a product survey out to thousands of chosen consumers, who would open the mail, answer the questions and give their opinions, and then send the response back in a postage-paid envelope provided.
In every sense of the word, online surveys work exactly the same way, except that the physical mailing aspect of it is replaced with file transfer over the Internet.
Today, hundreds of thousands of folks from all walks of life are drawn into the survey industry.
Market researchers can definitely afford to be selective with who gets paid to do the surveys, and who doesn't.
Why Do Companies Pay for Surveys
You might be wondering why anyone would pay you for your opinion on regular things or things you`re already using or doing. The answer is simple, companies rely on consumers`feedback.It's easier to pay an incentive and have more people take part than just ask people to do it as a favor.These surveys help companies improve their services and products as to public feedback. The information companies get from you is crucial for them in improving their products thus making more money, so to make more money, they have to spend money. That's the reason they are happy to pay you cash or in products to take surveys, it's a win-win both ways.
How Lucrative Are Surveys?
Like any other business, in order to make money at doing surveys, you will need to spend the lion's share of your time doing it.
If you are fortunate and have a family, two cars in the garage, and living in a decent middle-class home, and you use a lot of name-brand commodities, you may be a good candidate for the higher-paying surveys.
If you have anything less than this, expect to be turned down for most of the time, though, depending on your circumstances, you will still qualify to take part in the lower-paid ones.
Yes, surveys can be lucrative if you are the cream-of-the-crop in the eyes of market researchers who put these surveys out. This leads to the following question…
Are Online Surveys Worth the Bother?
Most people these days do anything they can to pinch pennies. They live in modest homes, trailers, and many rental apartments and houses.
They buy store-brand products rather than name-brand as they tend to be less expensive.
This goes with medicine as well, with the availability of generic versions that are available. Many folks are driving around in used automobiles.
Bear in mind that market researchers are not interested in used cars, apartment rentals, single, unmarried or divorced folks, even married but no family.
If you tend to purchase no-brand or store-brand products from your grocery store, you won't get to participate in surveys that are for name-brand product research.
Ironically, virtually none of the working poor, though are the ones drawn to online surveys in their attempt to create more income, do very well with surveys when the rubber meets the road.
If you are one of these, online surveys probably won't work very well for you as you will get screened out during survey sessions.
It depends on who you are, whether or not you have a family, what you are driving, what you buy, and where you live.
At best, you may qualify for low-paying surveys which take up far more time than would be profitable for you.
Many surveys have pay-outs of one-dollar, yet it will take you 20 minutes or more to complete.
This is obviously not worth its while. Market researchers have multitudes to choose from to form their panels.
They go for the best of the best, and this is atypical for most people.
Other Alternatives
There are many, many other ways to earn money online. Most surveys do not fall in the scam category but they are very time-intensive.
The earn money online survey mystery still remains a mystery to most people as no one can really figure out how to make real money with surveys.
Alternatives to surveys include multi-level marketing (not recommended,) auction sites, such as eBay, direct selling on places like Amazon, freelance writing(that`s explained here).Voice over jobs for extra cash.
Not sure how Amazon works? understand how affiliate marketing works.
Affiliate marketing remains to be the easiest and most lucrative choice for aspiring entrepreneurs.
It's a good place to start and anyone with average intelligence can create a lucrative business with it.
Your best choice would be to pass up on online surveys as they are pretty low on the business.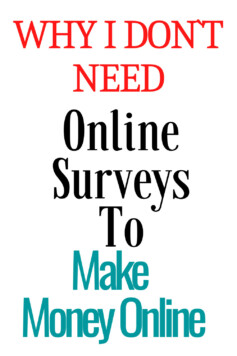 Some Difficult TruthsOnline surveys to me are a waste of time. Now there is something I have to make clear, you might have seen people telling you it's possible to earn up to $50 taking surveys.I'll say only this, such surveys are VERY few and far between, maybe once a year. Another thing you have to understand is that please DO NOT BELIEVE anyone who tells you it's possible to earn hundreds or thousands a month taking surveys, it's a lie, the majority of surveys pays from $0.10(ten cents) to max $5.Not only that, it's almost impossible to take 20 surveys a day because there are not that many surveys plus, some surveys pay you in products or gift cards not cash. So you do the math.
Then Why Is Someone Encouraging You To Join Surveys?
Most survey sites will pay you a small commission if you invite friends and family or anyone for that matter to take surveys, so if you have 10,20,100 referrals taking surveys, they earn you some money.
Now, most blogs will encourage you to join paid online surveys so that they can earn commissions.
But truth be known, most do not even take the surveys themselves as it`s time-consuming for pennies, so they may show you income reports from surveys, what you`ll not know is that the income reports are commissions paid to them from referrals earnings.
Now if you`re answering surveys as an individual, you might give up before you even reach the payment thread.
That's mostly $10 in most survey sites when you realize it will take you like months to reach payout.
But your referral will still get paid as they get paid as soon as you finish every survey.
In the end, they have payment proof to show the would-be referrals, but you`re left wondering where it went wrong. I hope you realize I do not have an affiliate link to any survey site in this post.
I'm not asking you to join any survey site. Check a recent review on another survey site here.
Conclusion To Earn Money Online Surveys
If you want to know how to make money for doing what you like you should check out this product here. It is the best product I've reviewed so far and they offer great step-by-step training for FREE. It is what got me started and today I make a consistent income online.
Updated on 12/11/2020