How To Find Entry Level Work From Home Jobs
Last year was one year that revolutionized the world's economy with the sudden outbreak of the pandemic.
A lot of people lost their secured and paid employment and were confined to staying at home. Even the ever bubbling Las Vegas went to sleep. Work from home jobs became the order of the day. 
But how do your startup without prior experience?
There is always a starting point. There is nothing wrong if you do not have work experience.
Irrespective of why you want to work from home, there are entry-level work from home jobs you sure qualify for.
They do not need a college degree. All you need is a Personal computer with an efficient internet connection. 
I will show you how to find real jobs and avoid scams, how to find entry-level work from home jobs, and websites that list them.
But before we get there, we need to point out some things you need to be aware of. The most common being online scams.
Avoid being scammed when looking for Entry Level Work from Home Jobs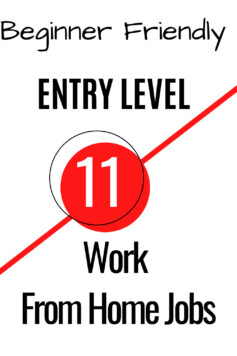 I know "Job-hunting" comes with its excitement and challenges, but don't throw away your guard. There are a lot of job scams as there are genuine, so you have to be careful.
Let us see some proven measures that can help guide you against being scammed. They are based on my findings from indeed and aligns with my experience.
Read that article as you`ll find it handy if you`re new to online work from home jobs.
Below are some tips you`ll find useful as you look for jobs.
1-Research the company
If you are not familiar with the company, do thorough research on the company. You should see reviews about the company.
Also, you can ask some friends and family. You should have an idea about the company before applying. A simple google search with program name+ review should give you answers.
Now understand that every review might be different, even with negative reviews, check what`s the reason behind the negative reviews.

Do positive reviews outweigh the negatives? are the complaints so serious or are they something you can work around? Make your own informed decision.
2-Avoid Sending Money 
It is very outrageous for employers to charge you to begin working with them. Companies that ask you to send money for directories, or any form of equipment are most likely scams.
Top of it is companies that request your bank details or other sensitive information that can aid them to steal your cash.
You must avoid such offers. An example is work from home jobs stuffing envelopes, an old make money online scam that we talked about in this post.
3-Get rich Over-Night opportunities.
Stay away from companies that promise overnight success or wealth. Some of them will claim to make you rich from home by sending a few emails or messages.
Money does not come that way and such promises are meant to lure you in, any work from home job promising you can make an income working just thirty minutes a day are scams, simple as that.
4-If it sounds too good, it probably is. 
Some opportunities will sound legitimate. If they are too good to be true, you must avoid such.
A good example is an unsolicited email claiming to want to hire you for a job you did not apply for, where you can make lots of cash without any skill. 
If it`s too good to be true then as the saying goes, it probably is and you should stay away. There is no quick cash online or anywhere else, you start small and build your way up.
5-Evaluate entry work from home jobs 
Yes, you read it correctly, do a proper evaluation of any of the entry-level work from home jobs that catch your interest.
Enquire if you will earn on a commission basis or monthly salary, find out the support level the company is ready to give, and what equipment you will need. 
Tips To Finding Entry Level Work From Home Jobs
Be Creative and Flexible
When it comes to finding entry-level work from jobs, you must learn to be flexible.
You might be looking for specific positions, but it might need you to combine two or more freelance or part-time positions.
If you are flexible and creative, locating opportunities will be easier.
Check these online jobs with no experience needed to start.
 Consult or Freelance 
Freelancing and consulting are good choices. One good thing here is you can decide to work for a few hours a week, as a freelancer, you choose your work hours.
In case you are still in your paid employment, you can keep it while starting with freelancing. Check out this freelancing site to get started.
Engage Job Search Sites 
Job boards or search sites are a good way out when looking for entry level work from home jobs. With these sites, you can refine your search in a way that best suits you.
You can engage the use of keywords like remote, work from home, freelancing, and lots more. 
Job sites like Flexjobs, Mediabistro will charge a token for a vetted list of Jobs, while indeed, Remote. co and some other job sites offer it for free. 
Use LinkedIn 
If you are not sure of the required skill for the type of work from home job you are interested in, you can always get insight from LinkedIn.
It is a very resourceful platform when it comes to entry-level work from jobs. 
Find people who are engaged in the job you want and look at their profiles. Check their skills, experience, and basic qualifications.
You can then begin to itemize the skills and qualifications that you do not have. The next thing is creating a plan on how you intend to achieve your new findings.
Talk to other People 
You do not have to do all the hard work alone. You can always learn from others. Do not hesitate to interview people who have your dream jobs.
Prepare a set of questions that are of interest, like how did they get there? I am sure that people will be willing to share both their success and failures with you.

Entry-Level Work From Jobs
 A lot of folks who desire to start with entry-level work from home jobs are freelancers. They decide on this to live a life of their own as mentioned previously. 
See below a list of some entry-level jobs you can start as listed by Investopedia.
Virtual Assistant: 

a virtual assistant is an online secretary. You will be saddled with such tasks as responding to emails, call clients, and scheduling appointments. Your skill requirement will be good communication and interpersonal skill. 

 Translators:

If you speak multiple international languages, you will find such jobs interesting. You will be transcribing and translating conversations. 

Data Entry:

If you are vast with numbers, here is a job you can check out on. You will be entering data for payrolls and multiple inventory items. 

Teacher:

Virtual schools are gradually becoming the order of the day. If you are vast in an advanced subject like calculus, you have a chance of earning good pay. 

Customer Service Representative:

amidst entry-level work-from-home jobs, Customer service is also very lucrative. It entails helping people manage orders and other account information. The requirement is usually a good interpersonal skill. 
Now there are more jobs than I could cover in a single post, but you can always check out the blog and see our list of work from home jobs.
Better Alternatives

Now, this may take longer and more work but the income potential is much higher. I`m talking about affiliate marketing, this is where you sell other people's products and get paid commission on every sale you make.
Creating a blog may sound scary, but it`s easier than you think, you don`t need any prior experience, there are platforms out there that will show you over the shoulder how to create a professional blog.
Check some of our recommended programs where you can learn affiliate marketing.
This free-to-start online course is open to anyone looking to get started online, you`ll learn all you need to know about working and making online with affiliate marketing.
Making money online involves many little pieces that you have to join together to make a whole piece, now if anyone tells you it`s possible to do it on your own, they are not being honest.
Another thing to consider is that with so many pieces and tools, paying for every single tool individually can soon turn into $1000s of investment.
With my recommended program, you get all the tools in 1 place at no extra charge whatsoever, keyword tool, social media training, SEO, free WordPress website.
There is no program you`ll find online that has been online for over 15 years, teaching people like you and me how to make money online and still going strong apart from this program that has produced multiple online millionaires.
This program as already said is free to join and you get all the tools you need, give it a try and I`ll be there to help you if you join from this link.
There`s nothing to lose, if you find it`s not for you, you`re free to leave. Click here to give it a try.
Conclusion On Entry Level Work from Home Jobs
Work from home jobs can be difficult to find when you are just getting started, but companies are constantly recruiting keep searching.
Avoid throwing caution to the wind. Be careful as you search. You will find genuine jobs, you will also find scams.