You have created your first blog and want to start earning internet money ASAP but you don't know how to get approved by Google Adsense fast. If you wish the money can start coming in as you figure out making sales then this post is for you.There are many proven, real ways to earn money online. You can promote affiliate products.Join an ad network to place ads on your blog, being a VA, doing freelance work, and much more. I monetize my blog mostly by promoting affiliate products such as Wealthy Affiliate, and also promoting a top keyword tool that helps me find low competition keywords.They have quality products and have a 50% affiliate commission so it`s a win-win.I've previously shared on how to monetize via affiliate marketing or how to earn money online doing freelance writing.Now I will share how to monetize your site by leveraging on Google AdSense and how to get that approval. Google AdSense is one of the most trustworthy, professional, and definitely a real platform to earn money online totally hands-free. This is the most common method used by bloggers to monetize online. However, it is not easy to get your blog approved by Google AdSense due to the strict regulation policy set by them whereby they only approve blogs with high-quality unique content. This is to maintain integrity towards Google advertisers.
I see complaints in social media of people not approved by Google Adsense and they do not know why, so I thought I will let you know how to get approved by Google Adsense fast.
There are some tips to follow in order to give you a better chance to succeed with your application.
How To Get Approved By Google AdSense Fast.
There is no Science to getting Google Adsense approval, sometimes checking at pages that get disapproved by Google, I wonder how they had applied in the first place.
But if you follow through these tips before trying to apply for Google AdSense your chance of being approved is much higher.
Some of these tips like the minimum number of posts and slow loading speed of your blog may seem too small an issue to you but these might just be the reason your application can be rejected.
So, don`t compromise on any of the tips which I am going to share with you now. Here are some of the ways how Google AdSense approves a site.
Important Pages
Many bloggers do not place importance on the pages mentioned below but Google does. These pages very important to get Google AdSense approved fast. Not only that, even your readers sure appreciate these pages.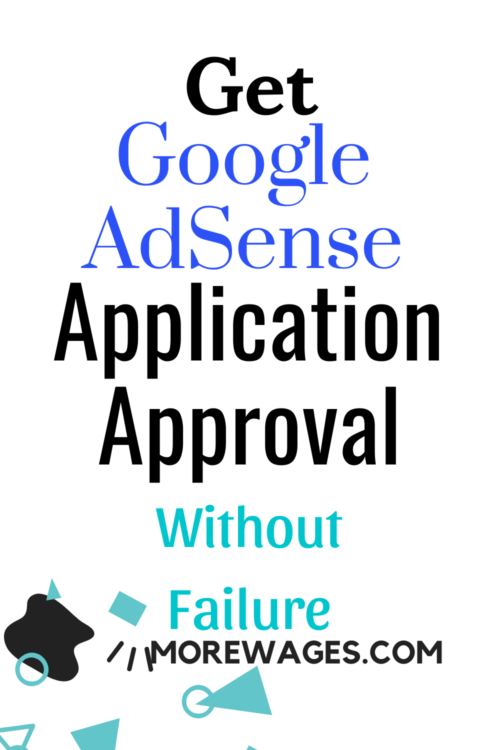 Privacy Policy

Disclaimer Policy

Terms of Usage

Contact Us

About Us

Sitemap
Google (and your readers too) wants to know your identity before approving your application. It needs to know who you are and why are you creating your blog. The more precise your information under the section about us, the higher the chances of getting Google Adsense approval. Here's the section about me on my blog.
Significant Amount of Traffic To Your Blog
Even though there is no evidence showing that Google AdSense doesn't require any minimum amount of page views before approving your account, I still feel that if you have a significant amount of daily traffic.Getting approved will be faster as I`ve known some websites with all the above requirements but almost no traffic so do not get approved. Not only that to earn from Google Analytics, you need the traffic to your site, so being approved but you still have no traffic will not bring you that money. Ways to increase website traffic.
Google Analytics Code and Google Webmasters Verification
Statistics show that many new blogs will not last long, people tend to give up when not seeing any result after 6 months. Check other blogging statistics here. Therefore you need to show Google your seriousness with blogging. Adding Google Analytics to your blog is a sign for Google you`re there for the long haul.By adding  Google Analytics and frequently log in, you are showing Google that you are actively tracking visitors.This is not only for Google but for you to track and understand how visitors to your site behave. If you have yet to create one, click here to register where you can learn how to create a new account and place a tracking code on each page.Another way is to track your website critical error and fix them daily with Google Console. This will add credibility to your domain that you are serious about getting your website visible.
Achieve Minimum Content
If you are using a platform like WordPress, make sure you have at least 40 high-quality content which is unique on its own before applying for Google AdSense. Your content should preferably include a variety of media such as text, images, videos, infographics, or SlideShare. This will give you a better chance to get Google AdSense approved fast. At least 4 of your articles should have more than 1,000 words to make it richer. If you feel you can not manage 1,000 words, get a freelancer to write for you, they are quite affordable.For those of you who are not using any CMS platform, it is advisable to have 40 or more pages on your blog in the form of articles or landing pages. Without meeting these requirements, Google might just reject your application with the reason of "Insufficient Content " which I've encountered before. (Yes I too got denied the first time I applied to join Google Adsense)Remember, the more content you have on your blog, the better chances to get Google AdSense approved.
Prohibited Blog Niches
Blog niches such as internet marketing, health, technology, entrepreneurship, personal development, social media are some of which Google AdSense prefers. To find out whether your blog niche is acceptable by Google AdSense, you can check it out here.For micro niche or event blogging, Google AdSense might disapprove of your application. Therefore, in order to monetize from Google AdSense in this event and microblogs, you need to first obtained account approval through other sites.
User Experience
It is always the top priority of Google to ensure a good user experience. This should be your priority too.I would recommend you to buy a professional template that will not affect loading speed and install on your blog. Do make sure that your template is mobile responsive too as many users do their browsing using smart devices.If you are not sure what is a good design, try to check out websites of an influencer in your niche and choose a similar template that they use. I use  https://whatwpthemeisthat.com/ to detect which template or plugins a WordPress website uses. You might want to try it out too.
Custom Domain and Email
Many bloggers start blogging through Blogspot or free WordPress platforms to apply for Google AdSense. Google places more importance on blogs with its own custom domain than a free domain. Therefore spending $10 for a domain is definitely worth the money if you are serious about getting Google AdSense approved.After getting a custom domain, you need to create an email ID with your name (name@yourwebsite.com) to apply for Google AdSense. Google prefers to see myemail@morewages.com than myemail@gmail.com.
Remove Third-Party Ads or Programs
Now I`m not very sure about this but many bloggers claim Google hates seeing third-party sites such as Chitika, Yahoo Ads, Infolinks or even affiliate links such as from ClickBank, JVZoo, Amazon or ShareASale. So if you ask me how to be approved by Google AdSense approved fast, get rid of the other ads you have on your site, at least until your Google Adsense application has been approved.
Then you can put them back on.Once your blog fulfills all of these criteria and you have read through Google AdSense TOC, then you should start to apply for Google AdSense. Please take note that the tips in this post are just some knowledge I am sharing and it does not guarantee any approval from Google AdSense.
How To Make More Money With Adsense
If your goal is to earn more with Adsense, then you can possibly do three things
Increase your website traffic as much as you can.

Increase your CTR(Click Through Rate)

Increase your CPC(Cost Per Click)
To increase your CTR you can keep the following points in mind:
Use all your ad blocks, and make them large

Place two ads per post content. One at the top and one at the bottom. It might not look very lovely, but it increases CTR. What works best is placing an ad below the first paragraph.

Use Text & Image-Based Ad. Don't just stick to one option.
CPC is the amount you get when a user clicks on your ads. CPC depends upon a lot of factors.
And one of them is your niche, for example, An Insurence Ad pays more than some lipgloss Ad.
Google's algorithms work in a way to show ads that are relevant to your content i.e. keywords in your posts.
Other factors also play a role in determining your CPC such as which countries your visitors are from or the size and placement of your ads.
USA traffic gets a high CPC where traffic from countries like India, Nigeria, Pakistan gets very low CPC.
When All Else Fail
As we all know even after you`ve done everything right, Google may still deny your application, no need to panic, there are very good Google Adsense alternatives out there.
Media.net Again easy to be accepted even if your site is new.
Viglink.com Another Google Adsense alternative that is easy to join and make money

Skimlinks.com

Here you find a site that will accept your application almost immediately.
If you have any experience with Google AdSense or any tips on how to get Google AdSense approved fast, do share in the comment below. I would love to hear your story.