Anyone can write e-books and publish them but then what after publishing? how do you make money from your eBooks?. This post will guide you on how to make money selling eBooks online.EBooks are books that are available in a format that can be delivered online or downloaded to your device.
Now after publication what do you do? how will it benefit you? This post will show you how to make money selling e-books online.E-books allow you to learn, train, guide, and educate as well as make passive income in the process. E-books are easier to write and publish than physical books.It is very easy to publish and sell e-books. Amazon and other online platforms give you opportunities to self-publish e-books.  Now after publication what do you do? how will it benefit you? This post will show you how to make money selling e-books online.Listed below are some tips on how to publish and sell e-books on Amazon.Research Well Before Picking A Topic To Write eBook On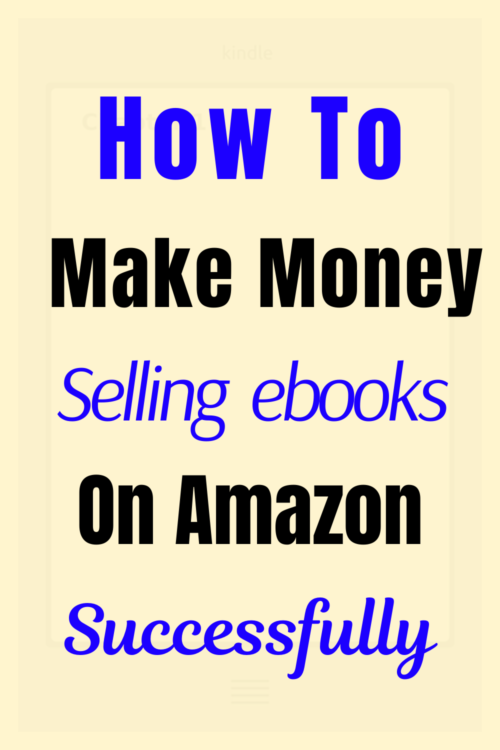 E-books written on specialty subjects are less likely to be sold. You may have plenty of knowledge of the topic but getting too precise and too in-depth may need some re-thinking when it comes to choosing an e-book topic. To cover a large audience base, try to pick a topic with a broad enough niche. A general topic will apply to a larger number of people. Their interest in the book will earn you more income in the long-term. This post on how to make money selling ebooks is for everyone who's never sold a digital product online.To get an idea on what topic to choose, run a search on Amazon's Kindle e-books page,  to know the ebook ranks in sales.  If the ebook ranks under #10,000 then it means that a particular ebook has good traffic. Amazon offers all ebooks you can think of, from motivation, engineering, travel, sports and outdoors, and everything in between, any topic you can think of, there is an ebook for it.
As the example above shows, this ebook has been reviewed over 14,000 times and scores 4.5 out of 5 stars on Amazon.

Choosing a topic for your ebook should not be confusing, ask yourself 2 questions
Are you knowledgeable about the topic

Is the ebook strictly for profit(

then you need to look for profitable related niche ebooks

)
Once you`re clear on the purpose of your ebook, you`re ready to continue your research on Amazon.
You can write about anything and everything, there is nothing you can think of that no-one has not written an ebook about.Find Out The Most Searched eBook Keywords In AmazonWhile going for self-publishing, do research keywords related to your topic. You can use any of the online tools to get you a list of keywords or phrases related to the topic. These keywords are the most searched keywords or phrases on the internet. They can generate good traffic for your ebook. 
Never searched a keyword before? here is an earlier post explaining how to do keyword research and the importance of keywords for any article you write.
You can test the keyword tool here and get 30 free searches, just enter your keyword and click the blue find keywords button.
Use these keywords in your ebook, product description, product title as well as tags. This will enable you to attain a higher digital content rank. A higher rank also means good visibility which means good traffic. It gives your ebook more chances to get downloaded or bought.Get The Cover Of Your eBook Cover Done ProfessionallyA book cover needs to be eye-catching. Most people are prone to judge a book by its cover. The ebook cover is the first thing that catches your eye while searching and scrolling through numerous ebooks. A plain, amateur and bland cover are most likely to be ignored or passed on.Now creating an ebook cover may sound scary, we`re not all talented artists.Let that not stop you, at Fiverr.Com, you will find graphic designers who will take care of any work you need to be done at very affordable prices. A graphic designer can help you design an attractive ebook cover.Visit Fiverr.com and check all they have to offer.Something colorful and interesting on an ebook cover will catch your eye and possibly keep your interest long enough to inspire a click or maybe a sale. Pick Catchy eBook Title And Subtitle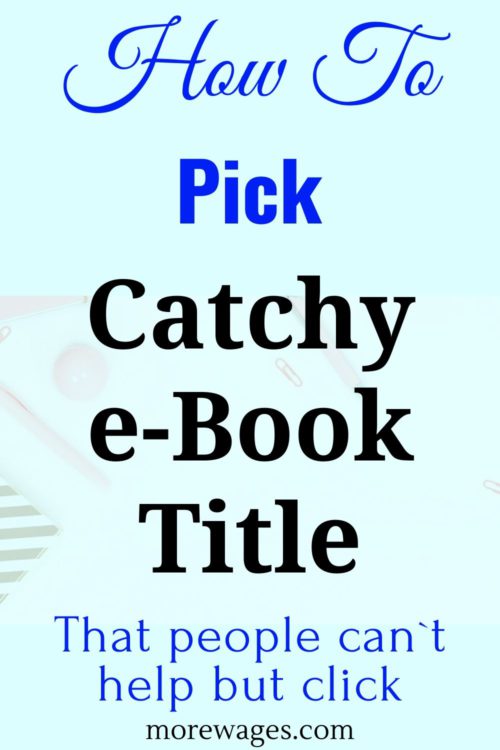 The second thing to grab eyeballs after the book cover is the title of the book. Spend quality time thinking and creating a title that is relevant to the content of the book as well as catchy and engaging.  Keep it short and interesting. Long unmemorable names will not do any good as you want a name a reader can remember easily and come back to if they did not make a purchase on the first visit.Dave from kindlepreneur.com
shares top tips on selecting subtitles for your ebook that sells.
You can read his in-depth and well-written article if you`re unsure how to pick a title as he has some really useful tips.
Take Time In Penning An EBook Description
This is often the thing sellers tend to forget. When you put a product out for sale, it needs product description. It works for books as well.
Your description is where you`ll let readers know why they should trust your product.
What made you write the book and most importantly, how the ebook will solve their problem.
A good book description is important as it holds the power to pull the customers sitting on the fence to your side.
When writing an ebook description, make everything flow.
Write A Compelling Introduction
Introduce your ebook and what readers can expect to find reading the eBook.
Describe The Current Pain They Are In
Who should read the ebook? Ebooks are not like newspapers or magazines that readers pick up and check what`s inside. E-books are targeted at specific people looking to solve a specific problem:I`ll give an example: Someone wants to create their first website but has no idea how websites work, you`ll encourage them to get your eBook or direct them to a different site explaining to start a website as explained in this post.
Explain How Your Book Will Solve Their Pain
Now that you`ve let your reader understand their problem, let them know how your e-book will solve that problem. This is also where you encourage them to get the e-Book and also let them know of similar products(never be afraid of competition).Some will think, why would I suggest other products and lose the sale of my e-Book)?The reality is that readers rarely stop at one product so if you encourage your readers to check other similar quality products, they`ll trust you more.
Set Zero As The Selling Price Of Your EBook
Yes, you read it right. For a new seller, you should start by giving ebooks away for free. Do that at least for a week. This will boost the presence of your ebook on Amazon improving its ranking on Amazon's Best Sellers list. You will not earn anything but it will give you a wider audience. Not to forget the positive reviews you will be able to gather. Later, you can set the price of your ebook as $1.99 to $2.99. Due to wider visibility, it will sell more. 
Product reviews are important for online marketing and any serious eBook seller and publishers are happy for as many reviews as they can get.
Product reviews can make a big difference for any product not only eBooks.
Want to understand more about product reviews? there is an earlier post here explaining in detail why you need product reviews.
Market Your EBook Well
Just like any other product, ebooks also need marketing and social media are cheaper and one of the best ways to do that.
Promote your book on Facebook groups and relevant blogs.
There are tons of Facebook groups like Pinfinite Traffic For Bloggers by lovely Jen of digitalsheeo.com who accept new members.
Join such groups and do networking. Just read the group guidelines and don`t spam.
Conclusion Making Money Selling EBooks
When you first got here, you were looking for ways on how to how to make money selling ebooks, I believe I gave you enough tips to make you succeed.
Get your book out there, find different places you can sell.I`m saying this because I`ve come to learn that, many new would-be sellers think they can only sell ebooks on Amazon.
Don`t limit your self, find what works best for you.
If you plan on writing and publishing ebooks then it is important to take some time researching book titles, subtitles, and keywords.
Do thorough research on the subject chosen and then write.
Check and re-check grammatical errors and sentence formation over and over before finalizing the book. 
Now, this program offers you a free site review and feedback for free.
It`s a blogger community so the motto is it help each other grow and succeed, so after publishing, you can always have someone review your ebook.
I`m saying it because when I got started, and knew nothing about this, I had someone charge me money to do the review for me and I wasn't happy.
Want to have people help review and honestly critique your work so you only produce the best eBook? then Join this community.
With all this done, market your ebook well. 
If you follow these steps then you will be able to make money by self-publishing your first ebook.
And you don`t have to stop at the first, if you love writing, keep the ebooks coming and the cash flow too.
Did you find this article helpful? Try your hand at writing and selling an ebook.
Leave us a comment describing your experience. Leave some tips if you have any.  Feel free to share on Facebook or Twitter by using the share buttons.