Are there online jobs for teens looking for extra income? the answer should not come as a surprise as there is so much you can do online to make money.
The internet has multiple opportunities for you to earn income. And whether you need some urgent cash or you're interested in working full-time, then there are online jobs for teens.
Unlike most beliefs out there, making money online is much easier than it seems.
But, it would be best if you were disciplined for you to have maximum efficiency.
How Things Have Changed
Unlike in the past where you had to share papers, mow the lawn, or wash your neighbors' car to earn extra cash, teens today have a chance to earn money without leaving the house.
There are limitless jobs online for you to choose from. Finding online work to earn extra cash is easier than you think.
Getting that first job and earning your first pay cheque as a teenager is exciting.
Being able to pay for that $10 item you really wanted and mum said no. Your first steps towards financial independence start with that.
But Not So Fast
Before you can start making money online, you need to have a plan. I`m not going to make this more complicated than it is, this is a simple plan just for yourself to make things clear.
You may do it by creating a shortlist(Don`t worry, you`ll see the importance of the list as you read along).
It will be your road map as you enter the world of online earning for teens.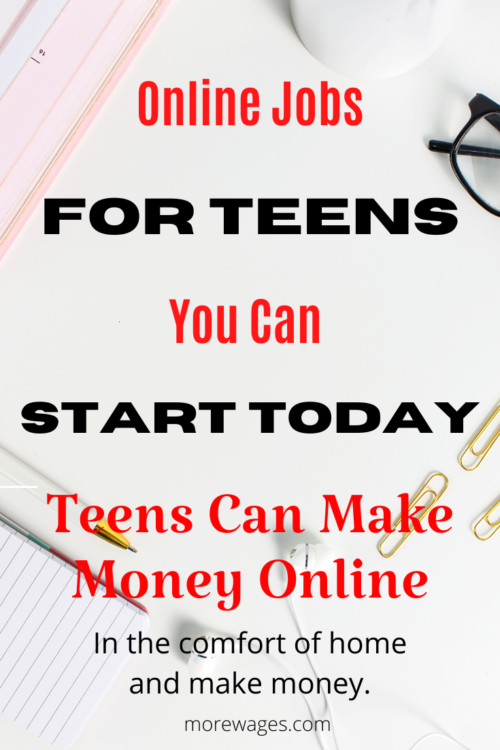 Your List should be something like
What can you do well?

What will you not do at all?

You`re ok at this, but can you do it over a long time?

What will you be sacrificing?

How much time are you willing to invest

What are your goals? Are they a short time or a long time?

What are your expectations?
Make the list as long as you need and then try to answer the questions honestly.
Many people see working online as a dream come true. And they're willing to quit their jobs if they get a venture that'll sort their bills and leave some money behind for saving.
Top Five Ways To Make Money Online As A Teen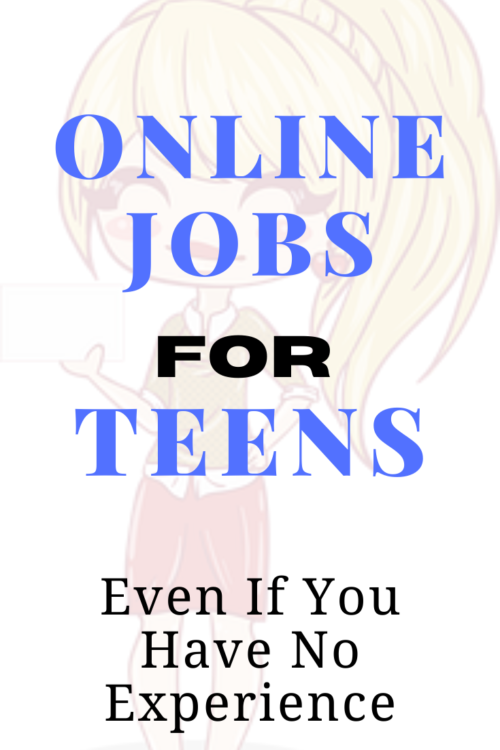 There are many online jobs teens can do and successfully make money online.
As long as you`re patient and ready to put in the work, you will make money online, you don't have to be anyone special.
All you need is a computer and an internet connection.
Below are some online jobs for teens that you can start today. Some require more time to start earning.
Some will make you easy money but if you want to make serious money online, be ready to invest time and be patient.
Just like offline, making cents online is quick, but making serious money or a full-time income may take longer.
Selling Professional Services
With the advent of technology and the internet, it's now possible to sell your services online.
Sites like Upwork, 99Designs, Freelancer, and Fiverr have many clients outsourcing work to professionals such as graphic designers, writers, and programmers.
I wrote a long post here on how to make money on Fiverr and how the whole platform works, check it out if you missed it.
 Join these companies, bid for projects, and make money. But you should know, the beginning might be difficult, but once you get some positive reviews from jobs well done. Finding a job will then be an easy task.
Clients will be asking for you instead of you asking clients. Remember most freelancing sites have repeat customers.
A first-time low paying client may turn out to be your best long-term paying client once they`ve seen the quality you offer.
Sell Stuff You Don`t Online And Make Money
Do you have, electronics or books, old cameras, or other items you no longer need? You could be turning them into cash on sites like Craigslist.
Data Entry and Micro Tasking Jobs
These are small gigs and can be anything from sending e-mails, to answering customer requests, researching on the internet, posting on social media.
Like in any mini-jobs, fees are low, but if you can complete several tasks in a day, the money adds up fast.
Podcasting
Another top way of making bucks online is by creating podcasts. You can also integrate a podcast with your blog. The podcasts enable you to interact with advertisers and sponsors who'll be willing to pay you money to include short clips for popularizing their business.This is the first part of monetizing your podcast. For instance, John Lee's podcast called "Take the Entrepreneur by Fire," generated over $400,000 in March 2018 alone. To get the most out of your podcast, find the ideal niche, create an audience, and be on the lookout for sponsors. And though it'll require some finances to keep it going, it's still a vital way of making money online.
Now it`s not a big investment, all you need is a good quality microphone to get started.
Start and develop a business
If you have dreams of becoming a business owner, then the best place to start would be with a startup business.
There's money online, and if you can start a business that fulfills the various demands of people in the market, then you'll be for some handsome rewards.
 The business will be a hit, but just like other ideas of making money online, expect to spend much effort and resources to get your online business running. 
You will also require customer handling skills, a functional website, and offer the solutions that they'll be willing to pay for.
Before growing a startup business, analyze the market and what you intend to provide.
Start your Blog
One of the top ways of making long-term income online is by creating your website.
You only need to start a website with WordPress, and it takes less than 10 minutes.
 The starter package is free, and you won't need any coding skills. It's only a bit of "drag and drop"; once you complete the site setup, you'll monetize it. 
There is a popular website called "Save the Student" designed by a university student named Owen Burek.
 Burek developed the site during his first year, and it has since grown to become a large online business. 
But starting and managing a blog without experience is a daunting task, but when it picks momentum and grows, it'll generate a sizeable income for you.
But, you don`t have to do it all alone, this program is perfect for beginners and it`s totally free to get started.

Affiliate Marketing
Affiliate marketing is one of the easiest ways to earn money online. The benefit of affiliate marketing is that you don't need to own any product you're selling.
As the image above shows, you don`t need any special skills as there are just four simple steps to start making money with affiliate marketing.
Choose an interest, this can be anything.

Build a website.

Attract visitors to your website.

Earn revenue.
Regardless of whether you plan to own a site or you have one, affiliate marketing is one of the best online jobs teens can do to earn more than just Pizza money. In affiliate marketing, you enter into an agreement with a brand or business to promote their products or services.You'll then link the content in your site to those products/services, and when a customer purchases them, you are given a commission. The affiliate company is called a merchant, and they give unique links to their products or services. There is an in-depth post here about affiliate marketing if you`d like to read more.


There are many popular affiliate programs in the market, including Amazon and Bluehost affiliate programs. But before choosing any program, make sure it's within your blog niche.For instance, if your website is about healthcare, then select products such as natural medicine, supplements, and more. The good news is also that you have plenty of well-paying affiliate programs to choose from.Making money online is no pipe dream nowadays due to the plenty of online jobs for teens in the market. Whether you are writing, designing, or promoting products, you'll get some bucks to help you settle your bills. But I'll recommend you start a blog and be an affiliate marketer to enable you to work at home with more convenience.How Do Teens Get Paid for Online Work?Many teens who get started online have one very important question. How will I get paid? Most transactions online are done through Payoneer, Skrill, or  PayPal. These payment methods require you to be a minimum of 18 years old. Now no need to panic if you`re not yet 18, with your parent's consent, you can sign up to PayPal.Most online jobs will pay you in cash, but there are some online gigs that pay in gift cards or points. Be sure to inform yourself how any program you`re joining pays by reading their terms and conditions.If a program sounds too good to be true look for reviews online, still be careful of reviews written by affiliates trying to sell you a product.Most online work platforms are free to sign-up and get started, they only take a tiny fee from a task that you complete and get paid for. Be careful of a site you find that demands payment before you get started.Conclusion On Online Jobs For Teens
All the above-mentioned are jobs teens can do safely and make some serious cash online, just remember you get out what you put in. Want to earn more then you have to do more.
Want a long-term earning potential then your best bet is learning affiliate marketing here, it`s totally free to get started.
Here you`ll learn how to create a website, write content, drive traffic and make money long term.
The program has been online for over ten years and created very successful online marketers and you can be one of them starting right now.