Unlike in the past when making money meant going out and finding a job outside of the home, today there are so many ways to make money online you can be home in your pajamas and still make money.
One way people make money online is by taking surveys on sites like Vindale research. But what is Vindale research? is it a chance to make extra income or should you look for something else?
The first thing you should know is that there are many survey sites that scam you for your money or your time. It is therefore very advisable to do research before signing up for any survey company.
In this review post, we'll reveal if Vindale Research is a scam or not.
Stick around until the end to find out the absolute best way to make money online and if surveys are your best option for making money online You don't want to miss this.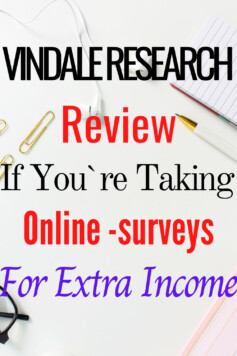 My Vindale Research Review!
Overall Ranking: 4/10
Price per design: Free
Who is it for? People who want to make money online slowly…
Website: vindaleresearch.com
What is Vindale Research?
Vindale Research is a survey site that offers paid online surveys, on their website. You can also earn by reading emails, watching videos, and inviting friends to join the platform(more on that later).
The company is based in New York and is one of the oldest survey companies you'll find. The way Vindale Work is very simple.
There are in total 6 different ways you can make money with them. The 6 methods are the Vindale surveys, reward codes, referring people, submitting a photo of your payments, reward mail, and Vindale videos.
What each and every method is, and how each work can be seen on the image below. You can also visit their homepage and click on each window to view each method in further detail.
Who is it for?
Vindale Research is originally for people who want to make money online, but in my opinion, it's not for anyone really.
And just a heads up, depending on where you are located, surveys and GPTs can be few and far between.USA, Canada,UK, and Australia are ok, but other countries almost have no surveys to answer to earn money.
There are so many better alternatives to making money online that are much more efficient with much higher rewards. Want to know what I'm talking about? I`ll get to that later just keep reading.

Pros vs. Cons
No program is perfect and Vindale research is no exception, although they have some features I like, there are some things that could be improved.Pros:
Vindale research is legit.
Different ways to make money.
You get paid via PayPal.
Easy control over your payments.
Easy to navigate on the site.
Cons:
High thresholds to cash out.
Limited chances for people outside the USA and Canada
Very time-consuming.
Highly inefficient.
Small rewards.
Risk of your inbox being spammed
Overall, NOT a good way to make money online.
How much can you earn With Vindale Research?
As already mentioned, there are different ways to get paid by Vindale. Each method pays differently and this is what we'll be looking at now.
How much does each method pay you and is it beneficial to do any of these methods?
Now when you're at the Vindale research home page, they`ll show you income examples. They are just that, "examples", of real earnings.
If you`re wondering how make money surveys creates some serious income for some people, the answer might not be what you expected.
In reality, you mostly make money by having family and friends join you and start taking surveys too. (More on that later).
But, let`s take a look at what you`ll earn for the sake of this post.
Vindale surveys
Taking surveys is the easiest way to make money at Vindale. Each survey pays anything from $1 to $5.
The payment depends on the length of the survey and also the type of survey. Most surveys are usually between 10-30 minutes long.
Check an earlier post we wrote explaining more surveys in detail and why you should avoid them here if you missed it. 
Reward codes
The code rewards are given to you after you complete different challenges within the Vindale community. These reward codes can be exchanged for Amazon gift cards or for cash money.
Vindale videos
All you have to do here is to watch short online videos. For each video, you watch you'll earn $0.25.Now be ready to watch some guy drooling or whatever…….I`m bored to tears.
Is any of this worth it? In my opinion, NOT AT ALL! You may be thinking, why isn't watching a video for $0.25 worth it?
Well, because you can't watch videos over and over and you really don`t have a say in what videos you can watch.
This means that you'll have to do something else than watch videos all day for money. It's not that easy. (Not to mention there are not as many videos to watch as you may think).
You also can't take surveys whenever you want. The only time you can take surveys is when they ask you to do so when there is a survey available.
If you aren't online at that time, you'll miss your chance of earning tops $5…
How people can look at surveys as a great way to make money online, escapes me but maybe I`m not that creative.
If you want to know a better way of making money online, something that can earn you full-time income with some work, then you might like to read this.
Talking of being creative, many bloggers will tell you that surveys are a great way to earn money, they will show you their income reports from surveys but here is the truth.
They DO NOT ANSWER SURVEYS what they do is tell you and anyone who reads their blog to join a survey site. Most surveys pay you commissions for everyone you refer.
So it`s easier to get hundreds of people to join a survey site, hope some will spend some time answering surveys and they make commissions from YOUR EFFORTS.
Don`t believe me? do the math. A survey pays a max of $5 (if you`re lucky as these are few and far between)and lasts about 30 minutes, Surveys are not available every day.
How long do you think it will take you to make $300 a month taking surveys by yourself? Go ahead, do the math, or take some surveys as a test and see for yourself.
And you know the sad thing, many people taking surveys will even give up before they cash out because they realize reaching $50 that you need to before getting paid by answering a $0.75 survey is like chasing the rainbow.
Now give up or not, your referrer will still earn commissions from Vindale research or any other survey site they referred you to, for referring you and for your efforts.

Vindale Research Affiliate Program
Vindale research affiliate program encourages referring people to Vindale, this is what pays you the best, but it's not very efficient. If you get a person sign up to Vindale through you, you'll earn a commission.
This is the main reason you`ll see even these "big blogs" telling you to join surveys to start making money online. What an insult to your time?
We`ve discussed this above so I`ll not go more into it. But imagine pestering friends and family to join this great survey site you found that pays $1.50 per hour? Honestly, I will not do it, friends will feel insulted.
You know, sometimes I think I might be ok with surveys if there were 20 surveys a day/person, that way, you could reach the minimum thresh hold fast enough but that`s not the case.
Submitting a photo of your payments
This is a very simple and easy way to make a couple of bucks. All you have to do is to submit a photo of your payments. You will get $5 for doing this.
To me, this is a way for the survey sites to get payment proofs so would be members know the site is paying. (There are many scam survey sites out there).
Vindale Research Reward Mail 
Vindale mail is exactly that, email advertisements that are sent to your mail. For each mail you read, you'll earn $0.10. I think there are better ways of earning $0.10 than having your inbox filled with spam emails.
Is Vindale Research a scam?
This is probably the question that brought you to this post. Is Vindale Research a scam or a legit survey website? The answer is no. Vindale Research is a legit company.
Thousands of people have received payments from Vindale. The fact that they were one of the first surveys sites to ever exist and still exist today shows that it most likely isn't a scam.
The biggest issue with Vindale Research and this goes for all survey sites in general, you get paid very little for your efforts and time that you invest in these surveys.
The money you get for completing these surveys isn't even enough for your electricity and internet connection if you were to count individually.
Better Ways To Make Money Online?
There are plenty of ways to make real money online. Still, there is one way that is by far the best (and also super beginner-friendly). I'm talking about affiliate marketing.
If you don't know what affiliate marketing is, then I highly recommend clicking the link to read about what it is, and how you actually make money by doing it.
It is one of the most efficient ways to make money online today. Within only weeks, you can get your own solid income!
I encourage you to try affiliate marketing! Don't waste your time doing low paid surveys. Your time is worth so much more!
If you need a place to start, I recommend you read this post and why you should join this free to get started program, which is the best online platform today to start affiliate marketing!
You also get to learn everything you need to know about making money online within the platform!
Your time is worth more than taking surveys for pennies, your income potential online is much more with the right affiliate marketing training as you learn everything you need to succeed online longterm. As explained in this earlier post.
Creating a website ready for affiliate marketing takes you less than 30 seconds here, even a newbie who`s never created a website can create a functional website in minutes with the step by step training from professionals, all these totally free.
If you have any questions regarding this review, then feel free to leave them down below in the comment section! Also, don't forget to share this post with your friends on social media to spread the words!
If you want to get started in affiliate marketing but still unsure how to go about it, just send me an email or meet me here. so I can help you get started online.