So Amazon just announced they have reduced commissions, what does it mean to you as an affiliate?Amazon affiliate commissions have always been on the lower end, their cookie period just 24 hours, but what does this mean to affiliates and what should you do now?Amazon affiliate program commission was not the best before these recent cuts, you had to sell some high ticket products to make money.For everyone looking to earn some extra income, Amazon probably was a good option but I don`t think it is anymore for full-time affiliate marketers.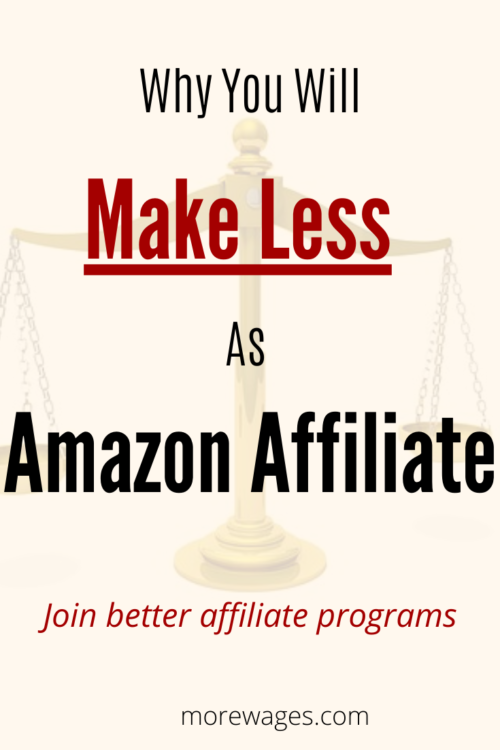 Amazon AssociatesFor anyone with a blog, Amazon is a good way to make money by referring buyers to buy products you have used and trust. Amazon commissions are between 4% and 10% of the sales your links make.Now, this might sound low but it can be very lucrative and a post you wrote years ago can get you sales years later.What most affiliates like about the Amazon affiliate program is not their commission rate which is significantly low compared to other programs that pay up to 25% commissions and have a 30 day cookie period or longer.What I enjoy as an Amazon affiliate are the high conversion rates, I get to earn commissions from everything and anything someone I refer to Amazon eventually buys, it does not matter if I do not offer that product in my blog.

Amazon Affiliate Program Commission Reduced
As said at the beginning of this post, Amazon did what they do and announced that they have reduced some affiliate fees.
Associates Operating Agreement – What's Changed
As mentioned earlier, Amazon affiliate commission rates were quite low compared to other affiliate programs out there.
But let`s be honest, while Amazon's volume has been increasing, their margins are decreasing, they are hiring more people as their volume increases.
Now let`s be clear, Amazon doesn't need us, they built their business themselves and if we all went away they`d still be just fine.
What most affiliates love about Amazon is that Amazon has higher conversion rates than other equivalent retailers. If I want to admit it or not, Amazon is king on conversions.
Although Amazon`s commission rate maybe just 1% on some items, remember Amazon pays you for all products purchased by anyone you refer to Amazon.
Amazon Old Commission Rates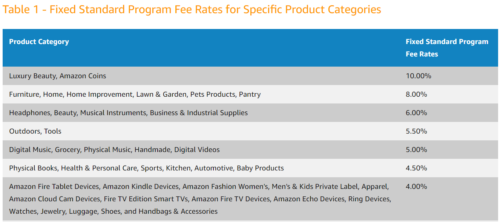 Now all this changed with an email to affiliates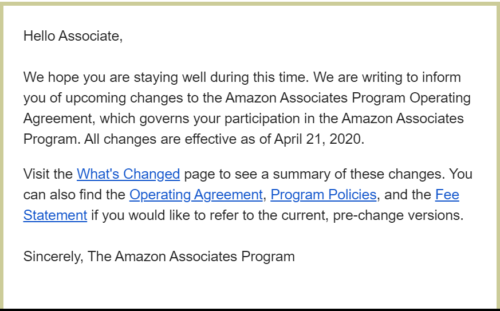 You could not have guessed what was in the email until you clicked and then were met with some very bad news.
Now, this is what may push me and many affiliates away from Amazon, how am I to make money with a 1% commission as an amazon affiliate?
Amazon New Fee Updates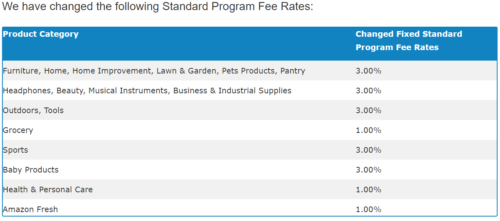 Now that`s different if you compare it to the previous Standard Program revenue linked here in case you`re not an Amazon affiliate so unfamiliar with old commissions.

I have a skin care blog that promotes Amazon affiliate products, as the image above shows, health and personal care products now only earn me a 1% commission!!!
As you can imagine, most Amazon affiliates are already looking for other affiliate programs. I found this discussion by JeannineC to be so accurate.
If you`re unfamiliar with Amazon old rates, it`s also on Jeannine`s discussion post.
Amazon rates were not the best to begin with, I wrote it in an earlier post that I wrote some time ago and mentioned some Amazon alternatives with better rates and even better cookie period and I think now`s the time to act.
How Amazon Affiliate Program Commission Rate Affect Small Blogs
Imagine the mommy blogs blogging about food preparation, they are not going to promote Amazon coins to get 10% commission or, my skincare blog promoting skincare.I know some will say you have to sell higher ticket items but a food blog will sell food storage containers better than trying to sell an inflatable hot tub.In blogging relevance is the word, promoting the right products to the right audience. Understand your readers`problems solve their problems and make money, the process is well explained in detail here.So, now your mommy cooking blog needs a new affiliate program if you are blogging about smart grocery shopping and were promoting Amazon products because, with the new Amazon affiliate commission structure, you`ll struggle to make money to make it worth your time promoting Amazon products.You might also likeAmazon affiliate program alternativesMy #1 recommendation to making money onlineAmazon affiliate program reviewMake money with affiliate marketingWhat NextNow it`s not all bad news, there are still Amazon product categories that stay the same, but for blogs like mine mentioned earlier, it`s time to move somewhere else.Some experts believe it's still possible to make money on Amazon, and it`s explained here how to still use Amazon and earn extra or full-time income.True it`s something I totally agree with, but with a 1% commission, I'm sure there are better programs out there that value my work as a blogger.I think it's time for you to ask, can you really make money with the amazon affiliate program enough to make it worth your time blogging?Just because Amazon commissions no longer works for you does not have to mean bad news, there are ways you can make even more money with your blog and not rely on the lousy Amazon affiliate program commission that`s so low it`s laughable.Diversification When BloggingAs an affiliate you should never rely on one source of income, every business should have
diverse income streams.  Here are some you can start right now:
Sell Digital Products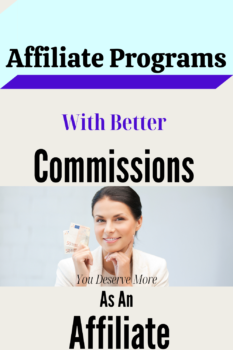 Digital products are consumed by almost everyone, music, online courses, ebooks. Many entrepreneurs have built very successful businesses with digital products.
What makes them popular is that they are easy to maintain and distribute as there is no shipping needed.
With digital products, you only need to create once, keep selling the product and make passive income.
You don`t have to create your own products, there are millions of digital products to sell as an affiliate.

Add paid advertising on your blog
If you want more revenue streams to your blog, and have a good amount of traffic, running ads is the way to go, this is a very passive way of making money online.
Understand this is not a get rich quick scheme, your earnings will depend largely on your traffic and where that traffic is coming from.
Not all people who visit your website will buy, many will read your content and leave. Why not monetize that traffic starting right here totally free.
Join More Affiliate Programs
There are thousands affiliate programs available, with higher commissions. Do some affiliate marketing programs research and find networks with better affiliate commissions.
You will earn more while promoting quality products, other affiliate programs have just as high-quality products.
Programs like this one shows you how affiliates rate retailers so you know what to expect before you join. Still, never forget to check their customer service.
Sell your own products and services
There is so much you can do online to make money, be a freelancer, sell a course, VA, help people create websites, teach people something, sell your own course……… the list is endless. It can be as simple as creating printables.
Get everything done here with reliable and unbeatable support, trusted by entrepreneurs of all sizes.
Conclusion On Amazon Affiliate Commissions
There are thousands of affiliate programs out there, and millions of affiliate products to promote and make money, you just have to find what works best for your blog and niche.
The opportunities to make money with affiliate marketing does not have to look bleak just because.
Although promotion and sales might be different,in programs within easy to join affiliate network or this affiliate network where you have to apply to a program individually, their commissions are much higher and cookie locking periods much better.
If you are an affiliate marketer making money on Amazon, you can make money with any affiliate program out there.
I hope this post helped you look at things in a positive way and will help you look at other programs out there.
My Very Generous Offer To You
If you`re new to online marketing and looking for affiliate marketing training from industry top experts.
I welcome you to check this program where I learned everything to do with blogging, from creating a blog to making money.
Everything is in one place, from Keyword tool, free images, 2 free sub-domains, social media training and more importantly, a community always ready to help you succeed.
It`s free to get started and there are no hidden costs whatsoever. You are welcome to stay a free member for as long as you like. If you want to upgrade, it will be for less than a cup of coffee a day.