If you are still asking what's the best way to make money with affiliate marketing then this post is for you. I will explain how affiliate marketing works and how you can start making money online too.
Making money with affiliate marketing is something that anyone armed with a computer and an internet connection is able to accomplish.
Nowadays, it seems like everyone and their mother has a blog, and usually, the purpose for these blogs is to generate a little (or a lot) of extra money.
But what is the best way to make money online? The most common method of doing this is by getting involved with one or more affiliate programs.
Benefits Of Affiliate Marketing:
There are a number of reasons why affiliate marketing is so popular, and we're going to discuss a few of those reasons before we delve into the "how-to" of affiliate marketing.
Little or no cost to start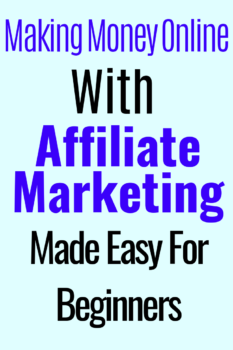 While most startup businesses will require some sort of investment to get them kicked off, affiliate marketing can be started on a shoestring budget.
The fact is, you can actually get a free affiliate marketing website, and joining affiliate programs is free as well (one should not have to pay to join an affiliate program).
There aren't many businesses that one can start without having to invest any money, but affiliate marketing is one.
Affiliate Programs Are Available For All Niches
If there is a hobby, passion, or something that you have a particular interest in, you most certainly will be able to find a relevant affiliate program that you can promote.
Simply perform a Google search for something you are interested in and add a "+ affiliate programs" after the search term. You might just be amazed at the number of results that pop up. Let me give you an example.
Let`s see, I`m a runner and also love skincare and I am interested in promoting skincare supplies or running shoes. I can simply perform a google search for "skincare + affiliate programs" and see what comes up.
No Special Education Or Experience Required
Affiliate marketing businesses can be started by anyone. There are no special degrees or certifications required.
For someone willing to learn as they go, there are a number of resources available that can teach you everything you need to know.
This one is my personal favorite, but I try to utilize any method that I can find that offers quality information.

I always try to avoid methods that promise shortcuts to instant success, and you would be wise to avoid them as well.
Believe me, there is no instant success online and anyone telling you they made hundreds in their first month blogging is not being honest.
Work On Your Own Schedule
Most people that are looking to get into affiliate marketing already have a full-time job. They want to be able to supplement their current income.
While more than a few will hope to completely replace their income and go to work full-time with their own business.
Affiliate marketers have the ability to work around their busy schedules and build their business at a pace that suits their lifestyles.
It goes without saying that the more time and effort that is invested into an affiliate marketing business, the faster one could expect results, but there are no rules.
Affiliate marketing is a great opportunity for stay-at-home moms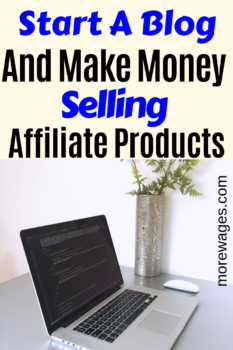 It is hard to deny the many benefits of having a stay-at-home mom or dad.
However, there are many cases that these benefits come at a price.
Nowadays, it's just not easy for most families to make ends meet with only one income.
Starting an affiliate marketing business can help ease the financial burden while building up a business that can really generate a great additional source of revenue.
Students are often some of the most successful affiliate marketers.
One thing that I've frequently noticed is there are a lot of students that get into affiliate marketing.
What a great opportunity to not only make some spending money while in college but to also build up a profitable business for when they get out.

In fact, there is one particular student that comes to mind and he's built up his business from $0 to over 4 figures a month in profits in a matter of months.
Who knows where he'll be by the time he graduates. But if nothing else he will have a nice extra income stream coming in, and that can do nothing but help.
How To Get Started In Affiliate Marketing For Free
One of the most surprising things that most new affiliate marketers discover is just how easy it is to get started.
Once the decision is made to get into this type of online business, you can literally get started in a matter of minutes.
I'm going to bullet out a few things that will help you get started. This is not going to be an A-Z on affiliate marketing, but rather an overview of some of the things that are going to help give you a foundation to build a business on.
An interest or passion that you want to build your business around
One of the first things that's needed when starting off in affiliate marketing is an area of interest.
This should focus on something that you are not only passionate about but something that you can see yourself enjoying for the long term.
Building an online business should be fun for you, as that will keep you motivated to keep putting in the time and effort to make it grow.
What could be worse than starting off with something that you don't enjoy and then getting stuck researching and writing about topics that bore you?
There is no better way to making money with affiliate marketing than choosing a niche you`re knowledgeable about and love.
A website Will Be Your Platform To Success
Having a website is the key to building an internet business. This can be a scary thought for some, as most people tend to believe that they have to be programmers in order to build a website.
The great news is that this just isn't true! Today people with no technical skills(like me) or background are building amazing, money-making websites.
There are platforms such as WordPress that make the process of building a website as simple as using your phone.
Keep your readers coming back with helpful and awesome content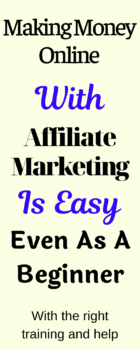 In order for any affiliate marketing business to work, the most important thing is going to be getting people to your site that actually want to see what you're promoting.
You do this by providing useful content that people are actually searching for.
Once you create must-read content and start getting people to your site.
Then you can promote whichever products or services that you affiliate with. Writing is another thing that tends to worry people.
They think, "I'm not a great writer" and fear what people might think. The thing to keep in mind is that you just need to write how you speak.
If you're building your website around something that you're passionate about, it should really come pretty naturally.
If you need more practice in writing, this ebook really helped me improve my writing as I`m not a native English speaker.
An added benefit of creating a lot of quality content is that the search engines will begin to show some love to your site by the way of higher rankings.
These rankings will allow you to get free, organic traffic to your website that is going to be very targeted and very high quality. Another tool I use to help me write is Grammarly which is a Grammer checker tool to help correct my writing mistakes.
Affiliate products to promote
Once you have come up with an idea for your website, started creating some must-read content to place on your pages, and have people that are beginning to visit your blog, it is time to start promoting your affiliate programs.
And this brings us to our original question, what's the best way to make money with affiliate marketing?
This can be done in a number of different ways, but the most important thing to remember is that the items that you're promoting should be totally relevant to your website's content.
For someone that focuses on a hiking niche, promoting football cleats probably wouldn't get a lot of results.
However, hiking boots and outdoor-friendly clothing would likely convert really well.
Example Of Affiliate Sites
There are countless affiliate programs out there, anything you can think of, you can find a market for it, just remember to promote the right products to the right audience.
Check this post on how to find your money-making niche.
The post is a bit long but will explain things in a simple easy to understand way that at the end of it, you will know exactly what you have to do.
Amazon
CJ affiliate
Rakuten
With everything that I've discussed to this point, it would be remiss for me not to mention some of the big players in the affiliate marketing world.(apart from the few named above).
First, we have Amazon. By becoming an affiliate for Amazon (aka Amazon Associate), you will instantly be able to promote millions of products that cover just about any possible niche that one could come up with.
But what's the best way to make money with affiliate marketing? promote products in your niche, this way, you have a chance of making more sales.
Amazon commissions are typically in the 1% – 8.5% range(you may want to check more about Amazon affiliate commissions here).
The cool thing about Amazon's affiliate program is that even if you're promoting a book that sells for $10 and someone clicks on your link and ends up buying a $2,000 TV, you will get the commission on that TV.
This is is not the case with most affiliate programs, you only get paid for the product you promoted that someone bought.
If you're looking for a larger commission percentage, perhaps CJ (Commission Junction) or ClickBank would be good options for you to explore.
These networks offer thousands of different products and services (mostly digital) that can pay commissions of up to 75%, and many of them will be recurring payments. Check my earlier post on how to make money on Clickbank here.
The truth is, most businesses that sell something online, have some type of affiliate program.
Even eBay has an affiliate program available. As previously stated, these should not cost you anything to join, as you are bringing them business, for a small fee of course.
These are just a few affiliate programs I could think of right now, there are countless out there.
Amazon might be the most used by affiliate marketers but check my Amazon review before you join the program
As An Affiliate Marketer Don't Forget Your Audience 
One thing that is important to always keep in mind is who you're actually writing for. You will want to define a target audience and then write content that they would be interested in.
So often, people starting a blog will focus on trying to get the search engines to like there site by overusing keywords.
They forget that the purpose of their blog is to get visitors to the site that actually enjoy the content and want to stay around and read more of what you've written.
This will generate more people sharing your content and help expand your audience. While it is important to know how to SEO an article.
It is equally important to have your reader in mind whenever you do any writing. Here is a video from my favorite mentor on SEO long but worth watching.
Set your expectations appropriately
It goes without saying that the Internet has made a lot of people a lot of money.
Unfortunately, some of those people make their money by selling the false promise of instant success for those that are looking for an opportunity.
Always use your best judgment and remember the old adage "if it sounds too good to be true, it probably is".
One place I really Recommend to learn affiliate marketing is reviewed here.
Building a business takes time, effort and commitment. This is true not only for a brick-and-mortar business but also for an online business.
However, I have no doubt that if you're willing to invest the time and learn the affiliate marketing business, you will be able to achieve success.
Conclusion On the best way to make money with affiliate marketing
As always, I hope I've provided you with some useful information that will help you to determine the best way to make money with your own affiliate marketing business.
If you`re an experienced marketer, what's the best way to make money with affiliate marketing in your opinion?
Remember, the hardest part of starting anything new is just taking that first step. I implore you to go ahead and take that first step, you won't regret it.
There is a ton of opportunity with the internet and it isn't just for the select few, but rather for the masses to take advantage of and help build a better, brighter future.
I`m sure this post answered your question on what's the best way to make money with affiliate marketing, you now know how to choose products and who to target when promoting products.
I'd like to also ask that you share this post via social media with your friends and family.
One last thing, don't forget to sign up for my email list. This way you will get to stay up to date with new content that I post and also some exclusive information that is reserved just for my subscribers.